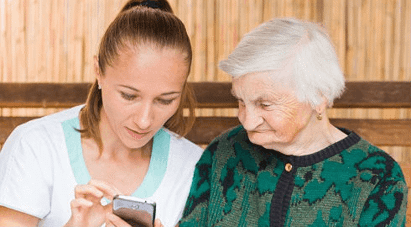 The use of digital technology is becoming a way of life in the health care world. For the staff and caregivers of Homewatch CareGivers of the Lehigh Valley & the Poconos, it's no different. We're now using apps, mobile devices and online portals to increase efficiency, allowing all of us to better meet the needs of clients in our community.
We've always strived to communicate in whatever way families feel most comfortable. If they prefer to email us, it can be done from a contact form on our website. We are highly responsive to emails, and have always been happy to use technology to get the job done. Whether that means text messages, phone calls or even Skype calls, we work with you to develop a Plan of Care however you prefer.
Family communication – the way we keep connected to everyone involved in the Plan of Care – is the most important aspect of our job as a home care agency. Communicating about your loved one's general well-being is paramount, and that's why families can access online data of the care a loved one has received. It allows everyone to stay on top of any changes noted for the plan of care, and more.
We understand the peace of mind this kind of technology can bring to families, because it helps them to be that much closer to a loved one from just about anywhere. That means whether you're away at work, away on vacation, or just across the street, updates are there to prevent any small problems from becoming larger issues.
Our caregivers also have access to a website/mobile app that keeps track of their clients/schedules. The app has GPS functionality so families can monitor when the caregiver arrives and leaves the home, and the app allows the caregiver to send or receive messages with the home office as needed. Rest assured, our management team receives notification on shift check-in issues so we can resolve them with the client and caregiver as soon as possible.
Here at Homewatch CareGivers of the Lehigh Valley & the Poconos, we know in-home care isn't just about a caregiver going through the same to-do list on paper every single day. In person, they aim to really connect with clients to help them maintain independence, make changes easier, and live the lifestyle they prefer. This technology is just one more way to stay connected and provide seamless support and highly transparent service.
If you have any questions about our home service options, please contact us today. You can also find us on social media, including Facebook and Twitter.