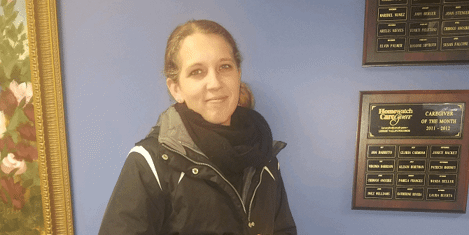 If helping people – especially the elderly – is second nature to you, you may be a perfect candidate for Homewatch CareGivers.
That's the way it was for Kristine Park, whose call to caregiving certainly didn't take a conventional route. She didn't fill out an application attesting to a wealth of experience, but made the most of her orientation and training. In no time at all, she was set up for success with her clients.
Today, Kristine holds the title of our latest CareGiver of the Month. It's an accolade she's earned after five months on the job and a positive attitude that says there are many more days like this to come. She understands exactly what it takes to be a caregiver and treats her clients with dignity and respect.
At the moment I have two clients I care for," Kristine explained. "My weekday client I have been with for 5 months and my Saturday client I have been with for 2 months.
Kristine succeeds as a caregiver because she takes each day as it comes, and always maintains a positive attitude.
My favorite thing about being a caregiver is being there to help when [clients] need help," she said. "And [also] being there for them to talk about anything on their mind.
When asked what kind of advice she might give to someone who is thinking about becoming a caregiver, she also didn't just focus on the qualities of a caregiver such as a willingness to listen and having the ability to multi-task. Instead, she offered this token of wisdom: "Caregivers don't put themselves first. They focus their time and their energy on others and are dependable and compassionate.
Outside of work, Kristine likes to spend evenings (and other precious moments) by focusing on and spending time with her children.
Homewatch CareGivers CNAs, HHAs, NAs and PCAs are here to assist our clients with the activities of daily living and build meaningful relationships. They are screened, bonded and insured. F or more information on caregiver jobs in Bethlehem and surrounding areas, click here.