Personalized Connected Care
In-Home Care Services in Takoma Park
Helping Your Senior Family Member Make Life-Changing Decisions
In 2021, Capital Caring Health partnered with WebMD to conduct a survey that found nearly 50% of respondents over age 50 want to age in place at home.
At Homewatch CareGivers of Silver Spring, we believe that every person deserves to age in the comfort of home with dignity and respect. We offer Takoma Park seniors customizable and robust caregiving services to maintain independence and a great quality of life.
Our highly trained and skilled caregivers are some of the industry's best nurses, nursing assistants, and medical professionals dedicated to your family member's health. We pride ourselves on designing a plan tailored to your aging loved one's overall needs. Whether they have physical, mental, or emotional ailments, we promise to provide a superior level of care that makes life easier for the entire family.
Schedule a consultation with our Takoma Park senior care team today or call (301) 246-8857 for more information.
Customized Caregiving Services to Age in Place
Is your senior loved one struggling to remember simple tasks? Has their home been in disarray due to mobility issues? Do you have a family member caregiver who needs some respite?
If you answered yes to any of these questions, it might be time to consider caregiving services with Homewatch CareGivers®. We offer various comprehensive solutions that focus on keeping your loved one in their home while reducing injury and hospitalization.
We provide personalized services that include:
Elder care – We provide a variety of in-home care services to help individuals aged 65 and older complete daily activities and tasks to live independently. Seniors get assistance with meal preparation, running errands, and light cleaning around the house.
Back-up care – When you have an emergency that requires you to leave and find alternative care for an elderly family member, our caregivers can be trusted as back-up support. You handle your emergency, and we'll take care of your loved one.
Dementia care – Memory loss conditions can take a toll on a family. Still, Homewatch CareGivers is ready to provide assistance to potentially slow the progression of the disease so that your aging family member can live a full life.
Companion care – Caregiving services aren't all centered around medical care and intervention. Our companion care services are designed to build a long and lasting relationship with seniors, so they feel supported in every facet of life.
Bridge care – Sometimes, aging at home isn't the safest option. Suppose this becomes a reality for your family. In that case, our qualified staff can help your elderly loved one transition from home into a well-suited senior community by developing a temporary care plan.
Our Takoma Park caregivers assist other demographics with services, including postpartum care, after-surgery care, child care, chronic conditions care, and more.
Why Do Takoma Park Families Trust Our Team?
Local families know that Homewatch CareGivers of Silver Spring is synonymous with compassion and respect. Everything we do is focused on ensuring your loved one is treated with kindness, dignity, and care. Plus, we're committed to creating strong connections, improving quality of life, and tailoring caregiving services to fit your family's needs.
We Create Lasting Connections
Our caregivers are more than just highly trained professionals. They are mothers, fathers, daughters, sons, brothers, and sisters. They are people who treat your family like their own. We want to build a strong and lasting rapport, so seniors always know they're safe in our care.
We Perform Quality Assurance (QA) Checks
Every 90 days, we perform an in-person QA check on our clients to ensure they get the support we promised. We take our job as your premier caregiving service company seriously, so we want to make sure everyone in our care is completely satisfied with our offerings.
We Provide Several Hours of Employee Training
When we hire a caregiver to assist your family, we do so with the understanding that they have been thoroughly vetted, background-checked, and drug-tested. Our caregivers receive at least 12 hours of annual training to stay updated on best in-home care practices and conduct.
Why We Love Working with Local Families
We know that our caregivers change not only seniors' lives, but also become a vital part of their lives. Investing in people and supporting others is why we love doing what we do.
Working with our team means you're receiving the highest quality care possible for your loved one. We're dedicated to partnering with your family to listen to your situation and recommend options that suit your aging family member's lifestyle.
Check out our customer reviews and see why our clients appreciate our support.
If you have a family member who may need additional assistance at home, call (301) 246-8857 for more information or request an in-home consultation with Homewatch CareGivers of Silver Spring today.
Providing the highest quality of care at an affordable cost. Our local caregivers are trained, background-checked, and insured. This is our promise to you.
About Our Caregivers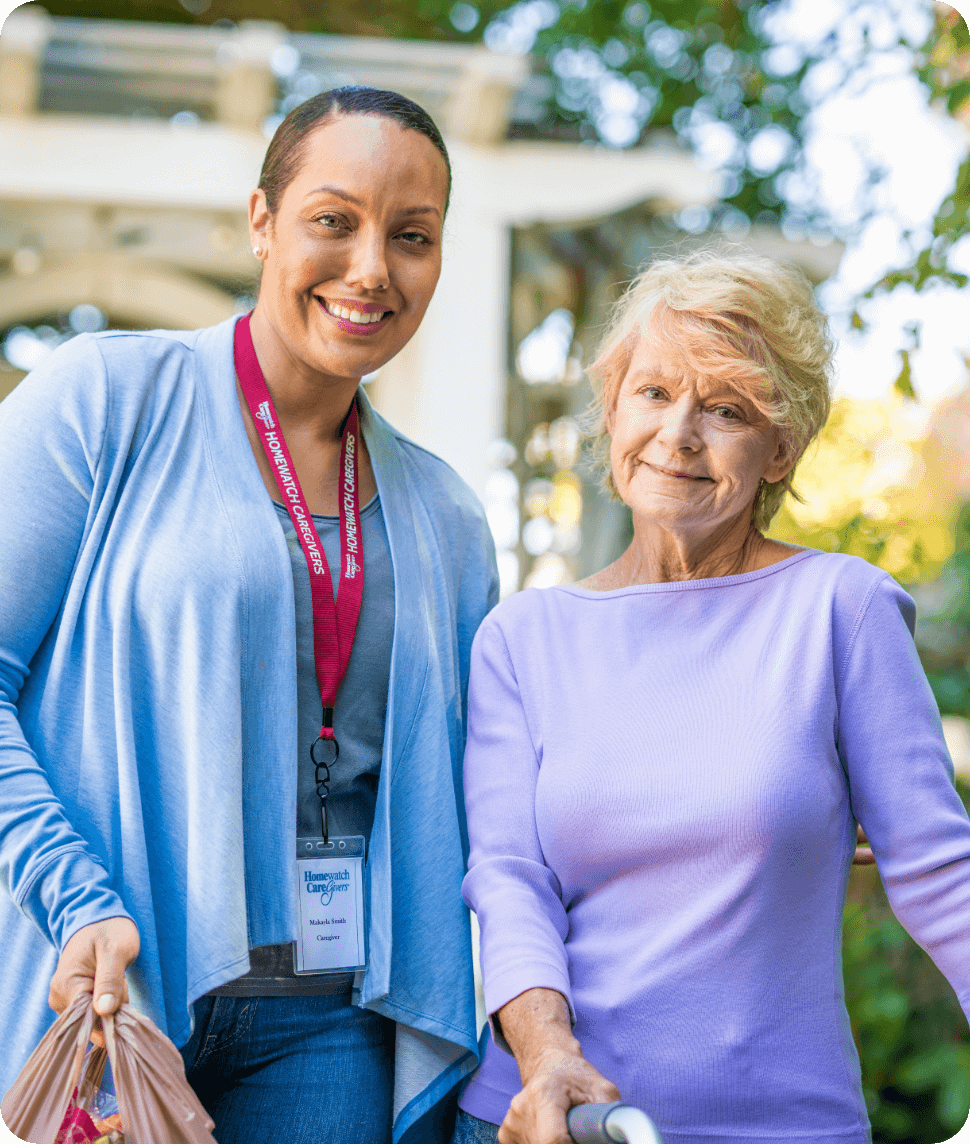 We conduct annual background checks on all local caregivers.

We provide at least 12 hours annually of employee training.

We perform in-person Quality Assurance visits at least every 90 days.

We conduct satisfaction surveys to monitor the level of care provided.

Ready to Speak with an Expert?
Homewatch CareGivers is Here to Help.