Personalized Connected Care
Caregiving Services in White Oak
Looking for additional assistance for an aging loved one or disabled family member can be difficult. It can be scary and challenging trusting an unknown person to care for someone you love the way you would. However, when you have Homewatch CareGivers of Silver Spring partnering with you, your entire family will get the support it needs to thrive.
Our White Oak caregivers are licensed LPNs, RNs, and nursing assistants focused on improving your loved one's quality of life. When we select a caregiver for your family, they are chosen based on how well they suit your situation.
We accommodate clients who need:
Respite care – If you're the sole caregiver for your aging family member, you deserve a break every once in a while. Our team provides respite care to give you a few extra hours to yourself, knowing your loved one is in great hands.
After-surgery care – Regardless of the type of surgery, we help after-surgery clients with everything from getting around the house, dressing, hygiene tasks, and more.
Pre and postnatal care – New and expectant parents get postpartum care to enjoy the beautiful new life they've created without getting burned out or missing too much sleep.
24-hour care – Sometimes, families need a caregiver to be available 24 hours a day to avoid accidents, injuries, or hospitalization.
Companionship – Seniors deserve to build lasting and nurturing relationships with people outside of the family. Our caregivers provide companionship services that create genuine connections.
Transportation support – When your senior family member needs help getting to and from doctor's appointments, we ensure they arrive safely.
Bridge care – If seniors are unable to age in place safely at home, the family may need to transition them into a permanent facility that can better accommodate physical, mental, and emotional needs. With bridge care, it's our job to help your aging loved one transition from home to an assisted living community seamlessly.
When your family requires respectful and caring support at home, Homewatch CareGivers is here for you.
Call (301) 246-8857 and find out why the White Oak community prefers us over other similar companies.
Compassionate & Reverent In-Home Care Support
Have you been looking for a respectful place with dedicated caregivers who value your family's health, well-being, and happiness? Have you considered that place may be at home? Our licensed in-home care professionals in White Oak are completely invested in your loved one's overall quality of life. We prioritize safety above everything else because if your family member isn't safe, they could sustain falls and life-threatening injuries.
How Can In-Home Care Services Benefit My Loved One?
One of the first questions we are asked is, "how will in-home care services benefit my family?" home care offerings are designed to work in favor of our clients because they're customizable and tailored to accommodate the person and circumstance.
Our caregiving services benefit your loved one because:
We ensure all seniors are monitored closely while in our care.
We help seniors remain independent so that they can age in place comfortably.
We keep their morale high amid physical recovery and pain management.
We make sure seniors stay connected with the entire family and don't become isolated.
We directly support illness treatment and stay updated with the doctor's recommendations.
We provide payment options if your services aren't covered by government assistance.
Above are also some of the main reasons White Oak families trust our caregivers. We partner with your entire family to develop a program focused on kindness, compassion, and interpersonal relationships.
How Much Do Caregiving Services in White Oak Cost?
Senior care services involve various factors that can influence the costs greatly. Before hiring an in-home caregiver for your family member, consider physical abilities, length of caregiving, and medical requirements. We recommend asking any potential caregiver about:
Personalized services for the individual
Taxes, insurance, and worker's compensation
Additional expenses like meals and gas for transportation
Our caregivers are here to support your aging loved one with senior care services that advance the entire family.
Your family member is safe in our care. Schedule your in-home consultation today!
Providing the highest quality of care at an affordable cost. Our local caregivers are trained, background-checked, and insured. This is our promise to you.
About Our Caregivers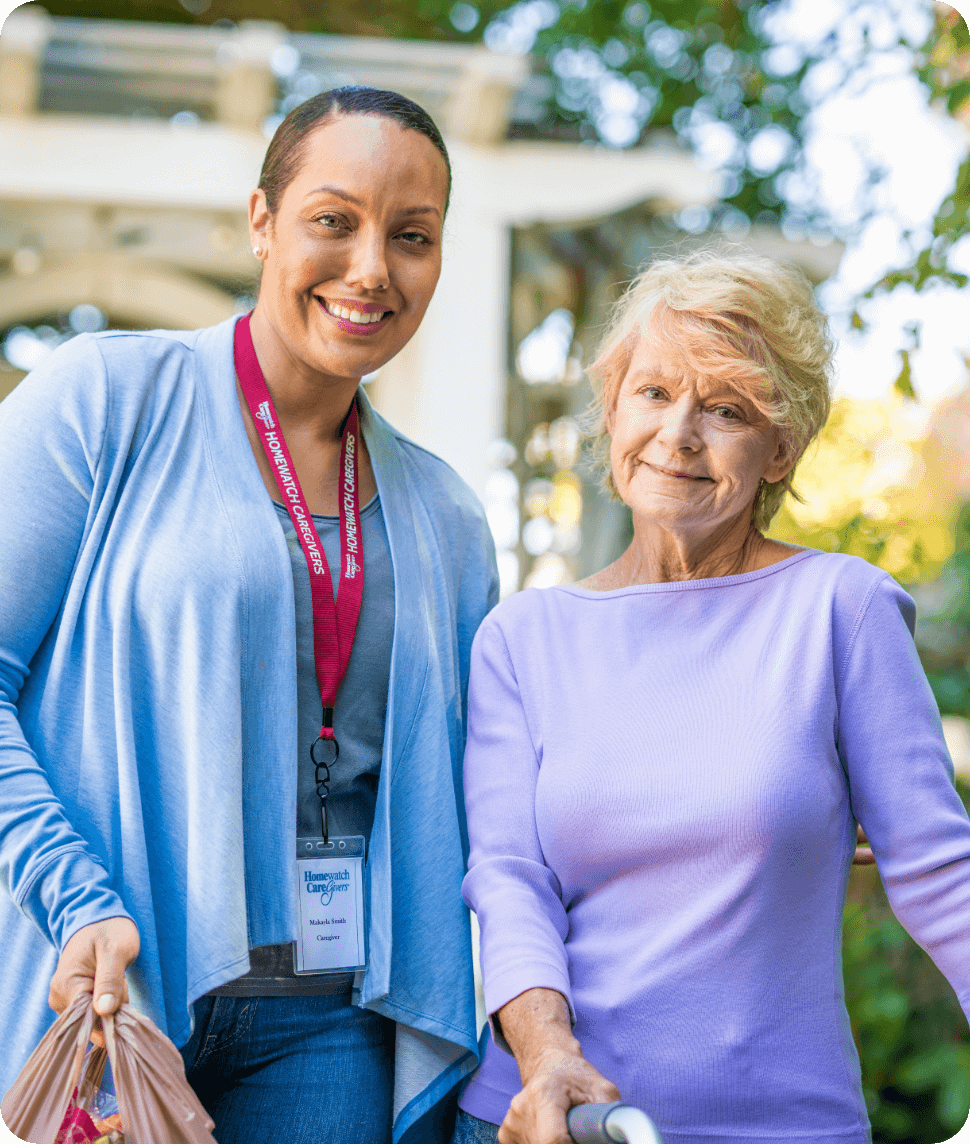 We conduct annual background checks on all local caregivers.

We provide at least 12 hours annually of employee training.

We perform in-person Quality Assurance visits at least every 90 days.

We conduct satisfaction surveys to monitor the level of care provided.

Ready to Speak with an Expert?
Homewatch CareGivers is Here to Help.