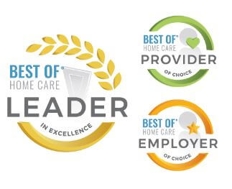 What's better than receiving a Best of Home Care award from Home Care Pulse? Doing it year after year! Homewatch CareGivers earned 23 Home Care Pulse awards this year.
Home Care Pulse®--an industry-leading firm that assesses consumer and employee satisfaction of home care companies in North America--helps franchisees gather honest third-party feedback, then award those businesses with the most consistent results. These surveys are looking for the quality of care delivered and whether employees are feeling fulfilled.
For the fifth year in a row, Mary Martinez, owner of the office in El Paso, Texas, earned a Leader in Excellence® award! Larry Aronson, owner of the South Orange, New Jersey office, is another repeat Leader in Excellence award winner; Claudia Berner and Julia Hasser, owners of the Murrels Inlet, South Carolina office also received a Leader in Excellence award this year. Congratulations to all of you!
Ten offices earned the Provider of Choice awards and ten offices earned the Employer of Choice awards. Please go to the Home Care Pulse website to learn more about the awards.