Personalized Connected Care
Home Care Services Offered
Providing At-Home Care in Every Form & Type
More people than ever are choosing to stay home as they age. An AARP study found that 89% of seniors want to remain in their homes as long as possible rather than living in a retirement community or receiving nursing home care. Seniors make up the fastest growing population in the US, which has major implications for our industry.
Consider the following figures:
By 2030, 1 in 5 US residents will be over age 65
70% of people who are 65 or older will require long-term care
CNAs, home health aides, and other direct-care workers are among the fastest-growing occupations
In short, the need for high-quality home care providers has never been higher, and it will only continue to grow in the coming decades. There's never been a better, more urgent time to enter the home care space and provide our elders with the dignified independence they deserve.
Four Levels of Service
Our Homewatch CareGivers franchise locations offer a full range of home care services, from companion care to complex personal care, as well as care coordination with nurse oversight as state licensing allows. Homewatch CareGivers' unique approach to care is designed to provide meaningful companionship as well as practical and concrete aid that our clients require in their daily lives.
Clients' needs are as unique as they are, but our services typically include:
However, while these describe the type of clients cared for, the kind of care provided falls into four "levels," defined by the client's needs.
Companion Care
Companion care is designed to enhance a client's quality of life but does not extend to physical assistance. That includes tasks like meal planning, cooking, housekeeping, transportation, companionship, and facilitating their social life.
Personal Care
Personal care is also called "hands-on" care, and generally it means assisting our clients physically with daily life. That includes bathing and grooming, turning and repositioning in bed, feeding assistance, and mobility assistance (e.g. help with walkers and wheelchairs).
Complex Personal Care
Complex personal care also includes the physical assistance of personal care, but for clients who have more complex physical and medical needs. Services may include maintaining feeding tubes and oxygen tanks, working with assistive transfer devices, and facilitating comprehensive bowel programs.
Care Coordination
This level of care is typically provided by a licensed nurse for clients who have advanced medical needs. Services include consultation, training of in-house staff and caregivers, regular quality assurance visits, and care management via the creation of a care plan. State and local requirements differ by region, so speak with one of our franchising consultants about your area if you're interested in providing care coordination services.
Turn Your Love Into Community Service
Many of the franchisees at Homewatch CareGivers share the same origin point: many franchise owners got into home care, not as entrepreneurs, but as family members. Having to care for mothers, fathers, children, or spouses helped them realize the power that good home care could have on quality of life. These experiences are what drove many owners to start providing home care services for others who were in the same position.
Listen to franchisees share their stories directly about how caring for a loved one inspired them to provide the same care to others in the community.
Let Your Loved One Live Life on Their Terms
Homewatch CareGivers distinguishes itself from the rest of the home care or elder care franchise space because we see our work as treating the whole person, not just a condition or a disability. That means caregivers not simply task-oriented, but relationship-oriented. Clients thrive when they're part of a community, able to visit with friends or enjoy their independence at their leisure. Even clients who require advanced care do better when they're able to enjoy the company of another person.
Homewatch CareGivers's mission is to provide clients with care that empowers them, offers them dignity, and facilitates their independence. If that's the kind of service you want to provide your community, then speak with us today about investing in a Homewatch CareGivers franchise.
Call (888) 718-5318 or fill out the form below to learn more about franchising with Homewatch CareGivers.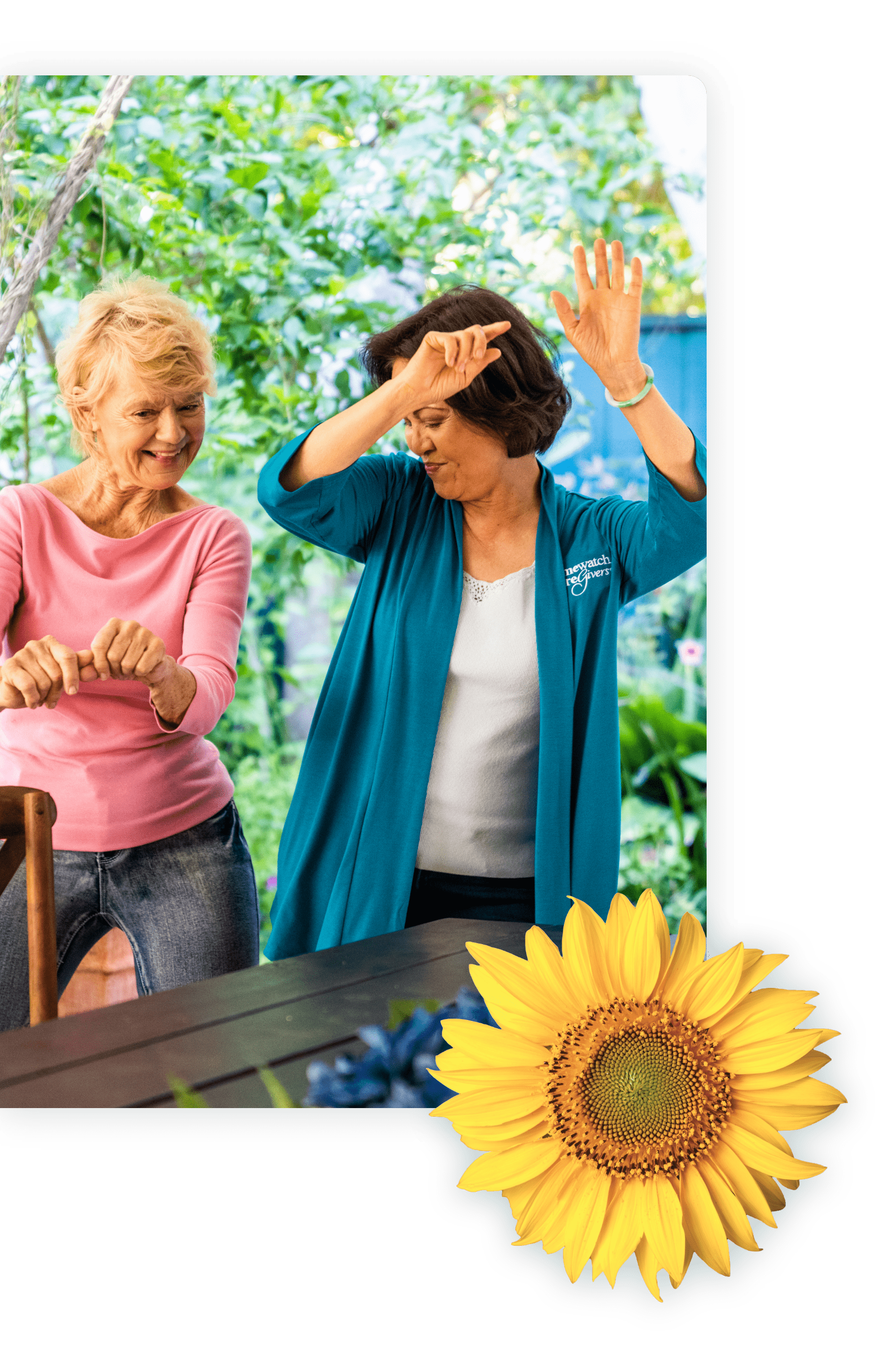 Let's Make Home Care
Better. Together.