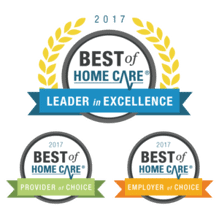 Third-party validation matters when you are considering buying a franchise business; it's also important when you are shopping for in home care for a loved one. Homewatch CareGivers earned 24 Home Care Pulse awards, which are all the result of honest third party feedback.
 
Home Care Pulse® is an industry leading firm that assesses consumer and employee satisfaction of home care companies across North America. Each year surveys are used to help clients get the best care possible and to gain insight into employee fulfillment. 

The annual Best of Home Care awards are the result of months of live interviews with professional caregivers and clients. The fact that their opinions are gathered by Home Care Pulse, and not Homewatch CareGivers directly, means that they get unbiased responses. The result is honest assessment of professionalism, compassion of the caregivers, training, caregiver and client compatibility and more. 

Three Homewatch CareGivers offices received the highest award of Leader in Excellence (South Orange, New Jersey, Edina, Minnesota, and El Paso, Texas); Homewatch CareGivers offices were also awarded as Employer of Choice and Provider of Choice. 

To learn more about Home Care Pulse and annual award criteria, please visit the Home Care Pulse website. Congratulations to all of the 2017 winners!