Care for Your Recovery
After Hospital Care at Home
Do You Have a Plan for Care After Discharge from a Hospital or Rehabilitation Center?
With the transition from one level of care to another comes the risk of falls, mismanaging medications, and failing to meet dietary needs. Homewatch CareGivers can create a plan that helps to ensure a successful transition for yourself or a loved one, offering in-home care after discharge from a hospital or skilled rehabilitation center.
Hospital discharge assistance includes:
Help following discharge orders
Prescription pick-up and errands
Medication reminders
Grocery shopping
Transportation to and from appointments
Authorized communication with healthcare providers, such as hospital or skilled rehabilitation center personnel, as well as home health agencies for a coordinated transfer of care
Authorized communications with loved ones
Meal preparation
Assistance with mobility such as walking, position changes, and transfers like moving from bed to chair
If you need after hospital care by trained and caring professionals, look no further than Homewatch CareGivers. Learn how we can help you transition from a hospital stay to home life.
Types of After Hospital Care
The qualified caregiving team is trained for the transition from hospital to home and is there every step of the way. You can take comfort in receiving quality care after surgery, injury, or an illness. Examples of care we can provide are:
Joint Replacement
Recovering from joint replacement surgery can make simple tasks challenging for several weeks, potentially even months. In-home caregivers and expert team can help with medication reminders and other recommended methods to assist with pain management, encourage prescribed physical therapy regimes, and help maintain proper nutrition and hydration for health and healing.
Heart Surgery
It is invaluable to have reliable and trusted after hospital care services during the recovery period after major procedures, like heart surgery, which generally lasts six to eight weeks. We can help with medication reminders, heart-healthy meal planning and preparation, and running errands since driving is generally prohibited post-surgery.
Eye Surgery
Following eye surgery, vision may not be reliable or functional for a period of time. Our care team can help with day-to-day tasks that you or someone you care for may not be able to do during the recovery period, including driving. We can also handle tasks to help eliminate the need for bending or lifting, which can put strain or pressure on the eye.
Pneumonia Prevention
The occurrence of pneumonia after surgery is not very common, but the risk still exists and is often a result of the anesthesia and lack of mobility. People need to know the symptoms of pneumonia: cough, cold, mild fever, shivering and feeling cold in general, elevated pulse rate, and fatigue. People are usually advised to practice deep breathing and coughing exercises, which expand the lungs to help prevent pneumonia. A clean environment and encouraging good nutrition and hydration for overall health benefits are some of the ways our skilled after hospital caregivers can assist.
After Skilled Rehabilitation Care
Caregiving teams are fully qualified and trained for the transition from a stay at a skilled rehabilitation center to home. After rehab care is a continuation of support that reinforces treatment to get an individual back to doing the things he or she loves. We've highlighted some of our after rehabilitation care services below.
Joint Replacement
Recovering from joint replacement surgery involves intense rehabilitation services like prescribed physical therapy exercises to improve strength and range of motion. This regimen continues at home after a stay in a skilled rehab facility. Our after rehab caregivers and our expert team can help with encouragement to keep up with prescribed physical therapy regimes, as well as menu planning and meal preparation that supports healthy nutrition and hydration to promote continued healing.
Heart Surgery or Cardiac Event
During the recovery period after major heart surgery or a cardiac event, home care services are vital to the healing process. Outpatient cardiac rehab involves monitoring responses to exercise and includes education about cardiovascular risk factors. Once back in the comfort of home, following this program is essential to get you or your loved one back to enjoying the meaningful things in life. This will include follow-up healthcare provider appointments and a heart-healthy lifestyle that may include major changes to diet and exercise. Changes no one needs to face alone, thanks to our skilled caregivers.
Creating an After Hospital Care Plan Suited to Your Needs
At Homewatch CareGivers, we can create a unique plan to ensure a successful transition from the hospital or a skilled rehabilitation center to home. An event like surgery, injury, or illness involves steps to recovery. Our goal is to provide care and assistance that gets someone back to enjoying life even more than they did before. We focus on person-directed care that empowers and includes our clients, forming truly meaningful connections.
Providing the highest quality of care at an affordable cost. Our local caregivers are trained, background-checked, and insured. This is our promise to you.
About Our Caregivers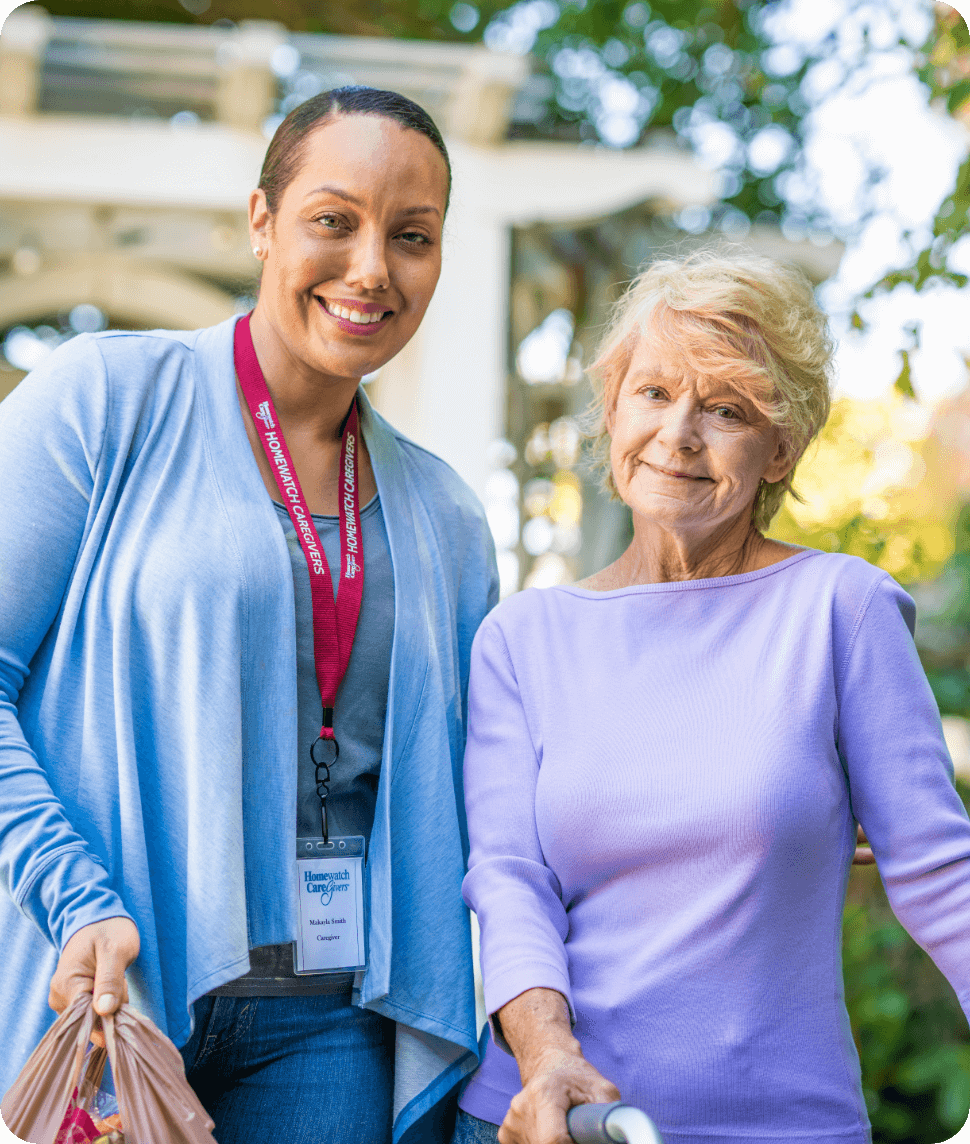 We conduct annual background checks on all local caregivers.

We provide at least 12 hours annually of employee training.

We perform in-person Quality Assurance visits at least every 90 days.

We conduct satisfaction surveys to monitor the level of care provided.

Ready to Speak with an Expert?
Homewatch CareGivers is Here to Help.