Elderly Home Care Services
Homewatch CareGivers: Your Local Elder Care Agency
Providing in-home care for elderly family members is a true labor of love. It's a testament to the bonds you've developed over the years. However, caring for an elderly relative is also a large time commitment and can take a toll on your own health and well-being. If you're experiencing these challenges, we can help.
Professional in-home care for the elderly helps clients and their families navigate the difficulties of aging by bringing caregiving experience and support home.
Homewatch CareGivers is here to help you make informed decisions and enjoy a newfound peace of mind.
What Is Elder Care?
Elder care, also called senior care, encompasses numerous supports to help those living with age-related limitations. Elder care services often combines elements of companionship, in-home nursing services, and other ways to maintain continued senior independence. Your local Homewatch CareGivers team will work with you to create a personalized, flexible care plan with plenty of room to adjust that plan as physical and mental abilities change.
What Elderly Care Services Are Available?
At-home elder care services from Homewatch CareGivers can include:
Grooming, bathing, and hygiene assistance
Running errands
Light housework
Medication reminders
Meal planning and preparation
Companionship
Transportation
And more
Why Hire an Elder Care Agency vs. An Independent Caregiver?
Once you've decided to hire an elder caregiving professional, you must choose between hiring through an elder care agency or looking for an individual caregiver. While the latter may seem less expensive than hiring through an agency, it also forces you to be the employer as much as you are the client. You may have to handle everything from interviews and background checks, to insurance, gaps in care and availability, along with necessary training as medical conditions worsen.
Turning to an elder care agency ensures you're working with a licensed business that employs many screened and trained caregivers. Choosing an agency like Homewatch CareGivers is the most consistent, trustworthy, and reliable elder in-home caregiver option.
Benefits of Choosing Homewatch CareGivers for Elder Home Care
Once you decide to go with an agency for elder home care services, you'll begin searching for the best one nearby. Homewatch CareGivers continues to receive recognition for delivering the best in-home care and setting industry standards.
When you hire Homewatch CareGivers, you'll benefit from:
Extensively trained caregivers – Homewatch CareGivers hires friendly, compassionate, and qualified caregivers. To expand their expertise in delivering the best senior care service, each local Homewatch CareGivers owner ensures that every caregiver receives at least 12 hours of employee training annually and additional training as needed.
In-person quality assurance – Every 90 days, caregivers are reviewed for delivery of quality care and their skill sets are evaluated. This ensures your care plan is followed closely and the quality of care remains consistent.
Research-backed professional tools – To deliver the best care possible, we use professionally developed care tools like the General Practitioner Assessment of Cognition (GPCOG), sleep scale, and Lawton Activities of Daily Living (ADL).
When you choose Homewatch CareGivers, you're choosing a team that's wholly committed to delivering compassionate home care designed to improve your loved one's quality of life.
Find Reliable Elder Care Services Near Me
To get started on your personalized in-home senior care plan for yourself, your spouse, your parent, or another loved one, reach out to our team by finding your local Homewatch CareGivers.
Whether you need immediate in-home care or you're just beginning to explore your options, we're confident that our elder in-home care will meet your specific needs.
Services vary by location. Check with your local Homewatch CareGivers office to confirm all available services in your area. Each location is individually owned and operated.
Call (888) 404-5191 to speak with caring, experienced professionals.
Frequently Asked Questions
How much does in-home care for the elderly cost?
The nationwide average cost for full-time in-home care is around $4,000 per month. However, what you will pay for in-home elderly care depends on several factors, including the level of skill and number of hours required. Learn more about the cost of in-home care and check out our advice about paying for home care.
Can you get paid for taking care of elderly parents?
Yes, you can! To learn more, schedule an interview with your closest Homewatch CareGivers.
Can you tell me how to et in-home care for elderly relatives?
If there isn't a Homewatch CareGivers near you, we recommend checking the Eldercare Locator tool provided by the US Administration on Aging. It's a great resource for finding caregiving services, as well as funding resources and assistance.
Related Services
When your family caregiving team needs a hand, let us step in to provide respite care services.
Resources You May Enjoy
Providing the highest quality of care at an affordable cost. Our local caregivers are trained, background-checked, and insured. This is our promise to you.
About Our Caregivers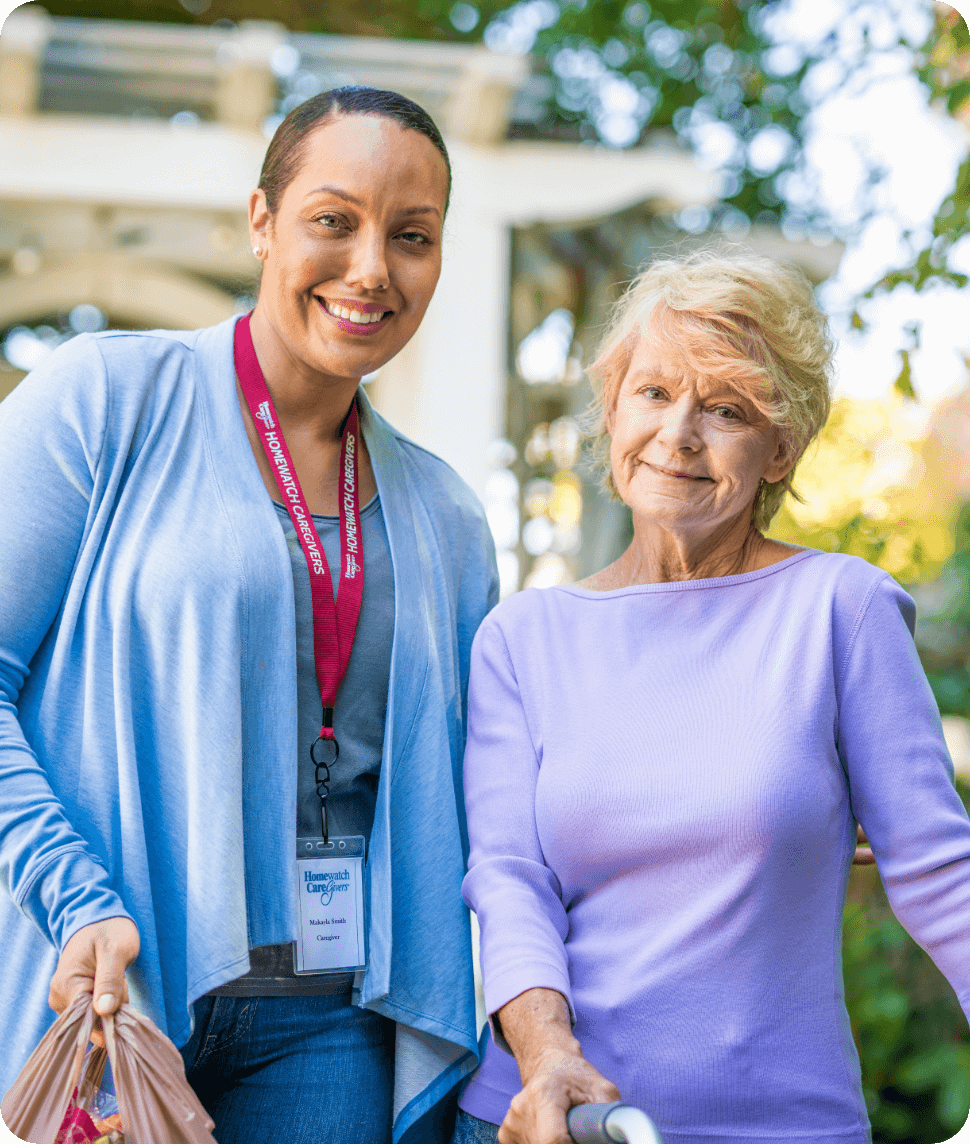 We conduct annual background checks on all local caregivers.

We provide at least 12 hours annually of employee training.

We perform in-person Quality Assurance visits at least every 90 days.

We conduct satisfaction surveys to monitor the level of care provided.

Ready to Speak with an Expert?
Homewatch CareGivers is Here to Help.
Contact Us Today!