Personalized Connected Care
Schaumburg Dementia Care Services
Professional Dementia & Memory Care Services for Your Loved Ones
At Homewatch CareGivers of Schaumburg, we understand that caring for a loved one with dementia can be a challenging and emotionally demanding journey. We are here to provide you with reliable, compassionate, and professional in-home dementia care services in Schaumburg, IL, ensuring that your loved ones receive the highest level of care and support they deserve.
Ensure your family member's comfort and safety. Call (224) 258-0471 or contact us online for our dementia care services today!
Understanding Dementia & Its Challenges
Dementia is a progressive neurological condition that affects memory, cognition, and behavior. Individuals living with dementia often require specialized care that addresses their unique needs, promotes independence, and enhances their quality of life. 
Our team of dedicated caregivers is extensively trained in dementia care and possesses the knowledge and skills to handle the challenges associated with the condition.
Personalized Care Plans Tailored to Your Loved One's Needs
We believe that each person with dementia is unique and deserves a personalized care plan that caters to their specific needs and preferences. When you choose Homewatch CareGivers of Schaumburg for in-home dementia care in Schaumburg, IL, our experienced care managers will conduct a comprehensive assessment of your loved one's condition, taking into account their physical, emotional, and cognitive well-being. Based on this assessment, we will create a customized care plan that addresses their specific requirements, promotes engagement, and fosters a sense of familiarity and security.
Specialized Dementia Care
We offer a range of specialized dementia care services designed to promote independence, safety, and overall well-being. 
Our dementia care services include:
Personal Care: Assistance with bathing, grooming, dressing, and personal hygiene.
Medication Reminders: Ensuring medications are taken on time and in the correct dosage.
Meal Preparation: Planning and preparing nutritious meals according to dietary needs and preferences.
Companionship: Engaging in meaningful activities, conversation, and providing emotional support.
Transportation: Assisting with transportation to medical appointments, social outings, and errands.
Safety Supervision: Monitoring for potential hazards and providing a secure environment.
Benefits of Our Dementia & Alzheimer's Care Services
Choosing Homewatch CareGivers of Schaumburg for your loved one's dementia care needs offers numerous benefits:
Personalized care plans tailored to individual needs and preferences
Experienced and compassionate caregivers who understand the challenges of dementia
Enhanced quality of life through engagement and stimulation
Assistance with activities of daily living, promoting independence and dignity
Peace of mind for family members knowing their loved one is in capable hands
Experience the peace of mind that comes from quality care. Call (224) 258-0471 or reach out online learn more about our dementia care services!
Creating a Safe and Supportive Environment for Your Loved One
At Homewatch CareGivers of Schaumburg, we understand the unique challenges that come with caring for a loved one with Alzheimer's or dementia. Our dedicated team of caregivers is trained to create a safe and supportive environment that promotes independence and enhances the quality of life for individuals with dementia.
Our personalized care plans are tailored to meet the specific needs and preferences of your loved one. We take the time to understand their routines, interests, and abilities, ensuring that they receive the right level of care and support.
Benefits of our dementia care services include:
24/7 support and supervision
Assistance with activities of daily living
Medication reminders
Engaging activities to stimulate cognitive function
Meal planning and preparation
Transportation to medical appointments and social engagements
Regular communication with family members to provide updates on your loved one's well-being
With our specialized dementia care, you can have peace of mind knowing that your loved one is in capable and compassionate hands. Contact us today to learn more about how we can support your family during this challenging time.
Support for Caregivers
Caring for a loved one with dementia can be challenging and overwhelming. At Homewatch CareGivers of Schaumburg, we understand the importance of providing support not only for our clients with dementia, but also for their caregivers. Our team of trained professionals is here to help you navigate the challenges of caring for someone with dementia.
We provide the following support services for caregivers:
Education and resources on dementia care
Support groups for caregivers
Respite care to give caregivers a break
Assistance with daily tasks such as meal preparation, medication management, and personal care
We believe that supporting caregivers is just as important as providing care for those with dementia. Our goal is to make sure that both our clients and their caregivers feel supported and cared for.
Providing the highest quality of care at an affordable cost. Our local caregivers are trained, background-checked, and insured. This is our promise to you.
About Our Caregivers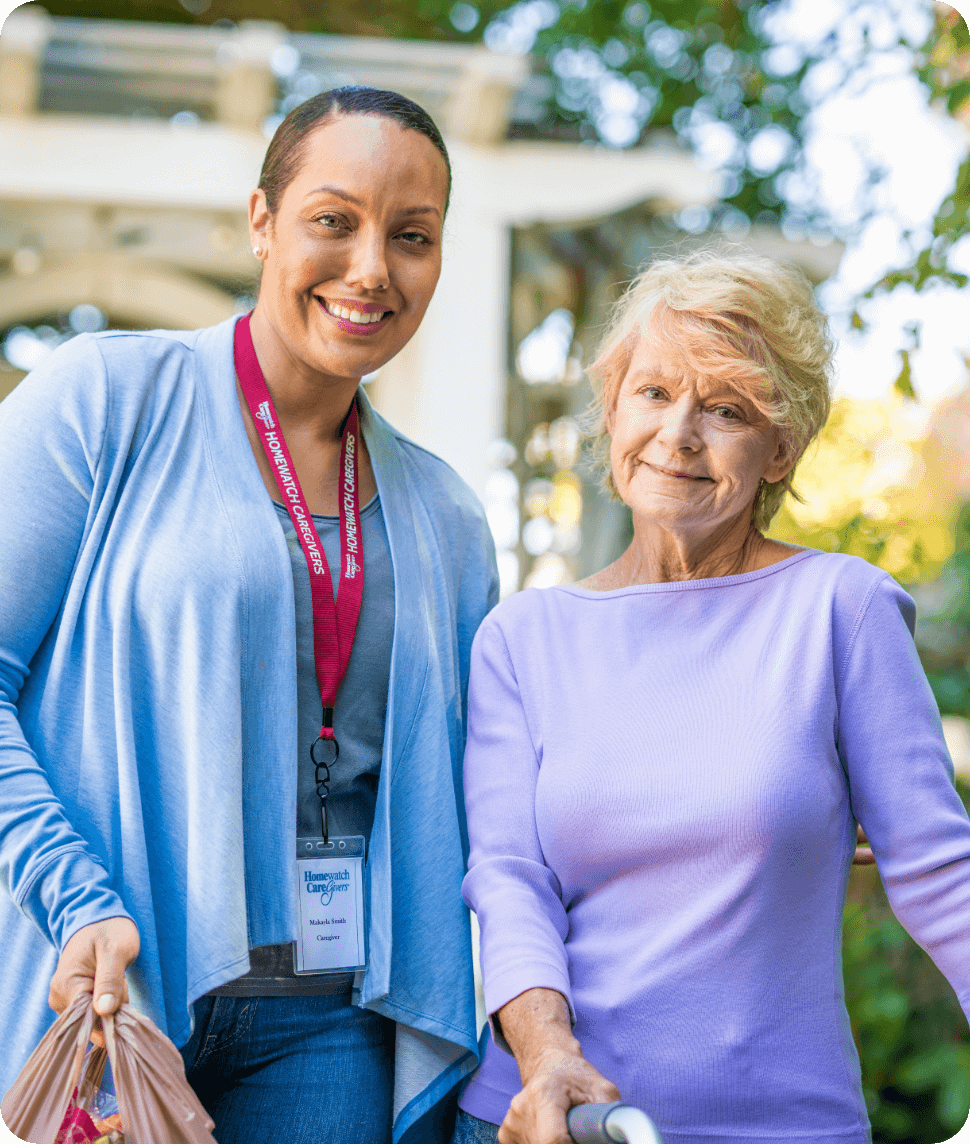 We conduct annual background checks on all local caregivers.

We provide at least 12 hours annually of employee training.

We perform in-person Quality Assurance visits at least every 90 days.

We conduct satisfaction surveys to monitor the level of care provided.

Ready to Speak with an Expert?
Homewatch CareGivers is Here to Help.