Personalized Connected Care
24-Hour Home Care in Schaumburg, IL
Providing Expert Care for Your Loved One Day and Night
Homewatch CareGivers of Schaumburg is your local source for reliable 24-hour home care services. Our skilled team is dedicated to delivering high-quality care, day and/or night. We'll partner you with a caregiver you can trust for your beloved family member.
Comprehensive Support for All Needs
Is your loved one facing the challenges of aging and/or illness? Our Schaumburg 24/7 caregivers are here to provide unwavering assistance. We ensure your family member receives the care they require to stay comfortably at home or in a familiar setting.
Your Companion Around the Clock
Our 24-hour caregivers are more than just caregivers – they're companions. Their mission is to offer top-notch care while preserving your loved one's independence and helping them stay in a familiar environment. For you, it means peace of mind and a support system that's available 24/7.
Understanding 24-Hour In-Home Care
24-hour home care means constant care tailored to your loved one's needs. Whether you're transitioning from daytime care to around-the-clock assistance or exploring in-home care for the first time, our team assesses your requirements and customizes a care plan.
A Helping Hand for Various Tasks
Our 24-hour caregivers cover a range of tasks, including:
Assisting with mobility

Bathing, grooming, and personal hygiene

Medication reminders

Meal planning and preparation

Running errands

Providing companionship

Light housekeeping and laundry
Benefits of 24-Hour In-Home Care
Having 24-hour home care offers numerous advantages for your loved one:
Maintaining Personal Independence: Our caregivers boost confidence, encouraging your loved one to engage in activities they love.

Comfort at Home: Familiar surroundings, family, and pets provide comfort and joy.

Companionship: Emotional and social support is provided, reducing loneliness and enhancing quality of life.

Personal Care: Necessary daily activities are assisted, allowing your loved one to retain their independence.

Family Respite: Caregiving is demanding; 24/7 respite services offer a well-deserved break.
Peace of Mind for Your Family
Our around-the-clock care ensures your loved one has consistent support for daily tasks and emergencies, granting you peace of mind. It preserves their dignity and allows them to live life on their terms.
Recognizing When 24-Hour Care is Necessary 
Early recognition of when your loved one requires additional care is crucial. Signs include:
Frequent falls or accidents

Incontinence issues

Wandering behavior

Increased confusion or forgetfulness

Serious illness diagnosis

Dependence on assistive equipment

Decline in hygiene and grooming

Need for assistance with eating or drinking

Primary caregiver strain
Personalized 24-Hour Care Plans for Your Loved One
At Homewatch CareGivers of Schaumburg, we understand that each individual has unique care needs. That's why our team of experienced caregivers works closely with you and your loved one to create a personalized 24-hour care plan that meets their specific requirements.
Our personalized 24-hour care plans include:
Comprehensive assessment: We conduct a thorough assessment of your loved one's physical, emotional, and cognitive needs to determine the level of care required.
Customized care services: Based on the assessment, we develop a tailored care plan that addresses your loved one's specific needs, including assistance with activities of daily living, medication management, mobility support, and more.
Flexibility and adaptability: We understand that care needs can change over time, so we regularly review and update the care plan to ensure it continues to meet your loved one's evolving needs.
Regular communication: Our caregivers provide regular updates on your loved one's well-being and any changes in their condition, giving you peace of mind and keeping you informed.
With our personalized care plans, you can rest assured that your loved one is receiving the individualized attention and support they deserve.
Why Choose Our 24/7 Caregivers at Homewatch CareGivers of Schaumburg?
Decades of Experience: Over 40 years of delivering top-quality in-home care.

Trained Caregivers: Our caregivers undergo continuous training and quality assurance.

Client-Centric: We track changes in physical and mental health through care tools and feedback.

Trusted Care: Our fully screened and qualified team ensures your loved one is in capable hands.
Looking for trustworthy, 24-hour caregiving services? Reach out to our team by calling (224) 258-0471 or request your FREE assessment online!
Providing the highest quality of care at an affordable cost. Our local caregivers are trained, background-checked, and insured. This is our promise to you.
About Our Caregivers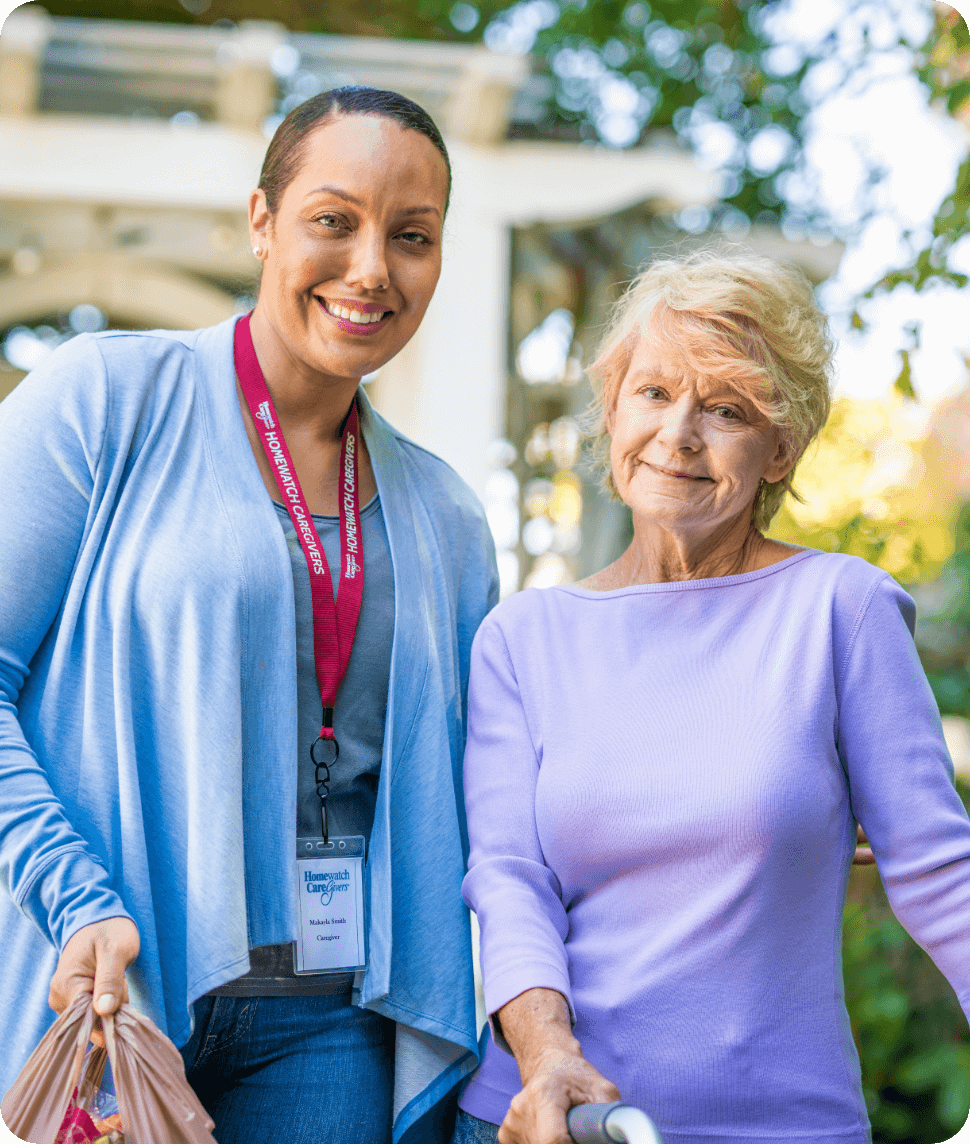 We conduct annual background checks on all local caregivers.

We provide at least 12 hours annually of employee training.

We perform in-person Quality Assurance visits at least every 90 days.

We conduct satisfaction surveys to monitor the level of care provided.

Ready to Speak with an Expert?
Homewatch CareGivers is Here to Help.