Understanding Your Home Care Options
There are many options for home care to consider, and it can be overwhelming to try and sort through all the websites, articles, mailers, and online reviews.
Our goal is to provide information that will help you make an educated decision and the right choice for your unique home care needs, whether for yourself or a loved one.
How to Choose a Home Care Provider
You likely have numerous options for elderly care at home in your area. We've made it a little easier to decide whether you should choose a home care agency or an independent caregiver. Download our handy guide to choosing a home care provider. You'll learn which questions you should ask to ensure you or someone you love is getting everything needed for proper in-home care and safety.
Homewatch CareGivers: A Better Solution In Home Care
Homewatch CareGivers supports clients and their loved ones every step of the way. We begin by meeting in person for a complimentary consultation. The purpose of the consultation is to discuss the client's specific needs and answer everyone's questions. We identify funding options and can create a customized plan of care. Through careful caregiver matching, we ensure that you or your loved one is paired with a compassionate caregiver with common interests.
Throughout the duration of care, know that Homewatch CareGivers will:
Carefully select, screen, and employ caregivers.
Insure caregivers and pay for taxes and workers' compensation.
Require annual training for employees providing care.
Answer the phone live 24 hours a day, 7 days a week, 365 days a year.
Offer same-day care.
Customize personal care delivery.
Offer consistent staffing.
Conduct regular quality-assurance visits.
Partner with other healthcare providers to coordinate care and offer additional resources and support that will improve well-being and health outcomes.
Empower meaningful engagement that fosters lasting relationships.
Learn About Our Options for In-Home Care
Homewatch CareGivers is proud to be one of the top senior home care options in numerous communities nationwide. With more than 40 years in business, we equip our caregivers with a wealth of tools and information to provide the best possible caregiving services. Whether you require occasional companion care or 24/7 support for a chronic condition or age-related challenge, we will be there for you.
Call (888) 404-5191 today to learn more about your caregiver options available from Homewatch CareGivers.
Frequently Asked Questions
Why choose home care?
Most seniors (93%) plan to age in place as long as possible. Flexible home care services make that goal achievable by providing regular companionship, personal care, assistance around the house, transportation, and more. And in most cases, home care is more affordable than a nursing home.
Is home care the right option?
Home care may be the right choice for those living with a chronic illness or disability, or who are recovering from an illness or surgical procedure. Seniors with mobility challenges can often age in place comfortably; having a caregiver offer a helping hand often makes all the difference.
Why is Homewatch CareGivers a better solution for in-home care?
Homewatch CareGivers cares for the whole person, not just their condition. Our primary focus is developing relationships between caregivers and clients. That's why we carefully pair clients with caregivers with similar interests and backgrounds. Once they've established rapport, it's easier for clients and caregivers to work together when updating or following the client's care plan.
Providing the highest quality of care at an affordable cost. Our local caregivers are trained, background-checked, and insured. This is our promise to you.
About Our Caregivers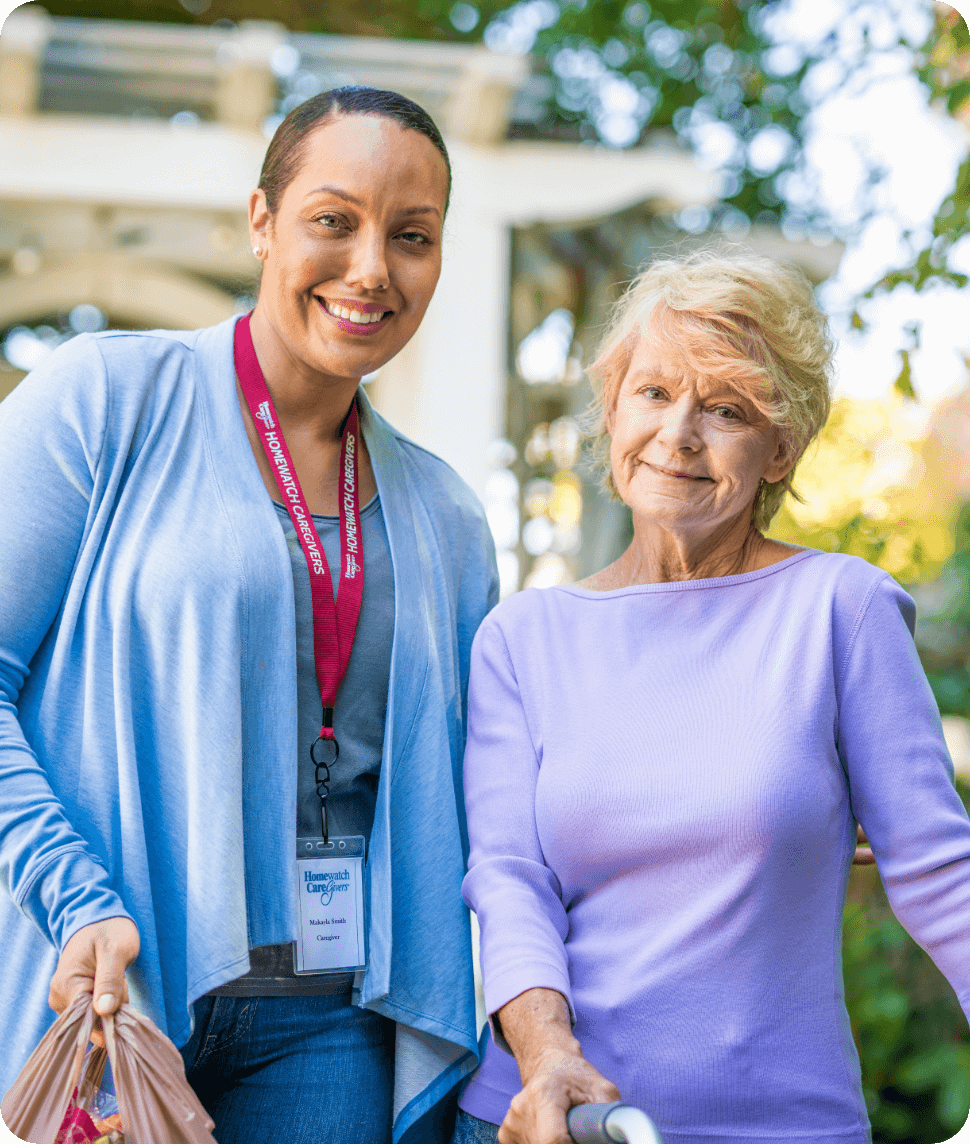 We conduct annual background checks on all local caregivers.

We provide at least 12 hours annually of employee training.

We perform in-person Quality Assurance visits at least every 90 days.

We conduct satisfaction surveys to monitor the level of care provided.

Ready to Speak with an Expert?
Homewatch CareGivers is Here to Help.