Maintaining Your Quality of Life
What Is Home Care?
Maintaining & Sustaining Quality of Life Through In-Home Care
Being independent is something many of us take for granted—until we lose the ability to manage daily activities. Home care is intended to help you or someone you care for sustain and maintain quality of life, all while ensuring safety in the comfort of home, wherever home may be.
Home care* may include, but is not limited to:
Personal grooming, like bathing or dressing assistance.
Assistance moving around the home, such as getting in and out of the shower, chair, or bed.
Reminders to take medications at the prescribed time and as indicated, as well as the purpose and importance of the medication.
Personalized dementia care that encourages involvement and helps build a consistent and familiar relationship between the client and the caregiver.
Transportation services and support for scheduled routine or post-op healthcare appointments, running errands, picking up prescriptions or groceries, or getting to social events.
Companion care to alleviate feelings of loneliness through meaningful engagement.
Child care for those times when the little ones are not feeling up to going to school or daycare or if parents are working from home and need extra support.
Care for people of all ages living with a wide range of disabilities.
Prenatal and postnatal care for parents.
Respite care to give family caregivers a break.
End-of-life care lending to comfort and overall well-being for the individual, as well as minimizing the stress and emotion for those losing a loved one.
*Home care services offered vary by location. Please contact your local Homewatch CareGivers for more information.
Who Needs Home Care?
Home care is provided to people of varying ages, for many different reasons. Some of the reasons one might need home care are due to difficulties executing activities of daily living such as bathing, eating, grooming, housekeeping-related tasks, meal planning and preparation, and shopping. This can be because of age-related decline, health disorders, chronic conditions, temporary mobility issues, loneliness, and much more. For more information on all the ways we can help, visit our Home Care Services page.
Where Is Home Care Delivered?
Care is given wherever the person calls home whether it be in their house, an independent or assisted living community, during outings, and even in medical settings. The goal is to provide as little or as much assistance as needed in the person's preferred environment where care is centered around and directed by him or her as much as possible.
Who Delivers Home Care?
When you or someone you care for requires additional support, regardless of the reason, you want to be sure you are putting your trust in highly qualified, experienced professionals. Matching a skilled caregiver is essential to meet the needs of the person receiving care based on a diagnosis or condition. Equally important is matching the care based on similar interests between the caregiver and care recipient. This can include interests such as music and art, gardening, a shared history like living in the same state or serving in the military, or fitness to help create a long-lasting caregiving relationship. Click here to learn more about caregivers you might meet.
Click here to understand more about how home care compliments home health services, hospice care, and other healthcare options, or contact us to talk about your home care needs.
Providing the highest quality of care at an affordable cost. Our local caregivers are trained, background-checked, and insured. This is our promise to you.
About Our Caregivers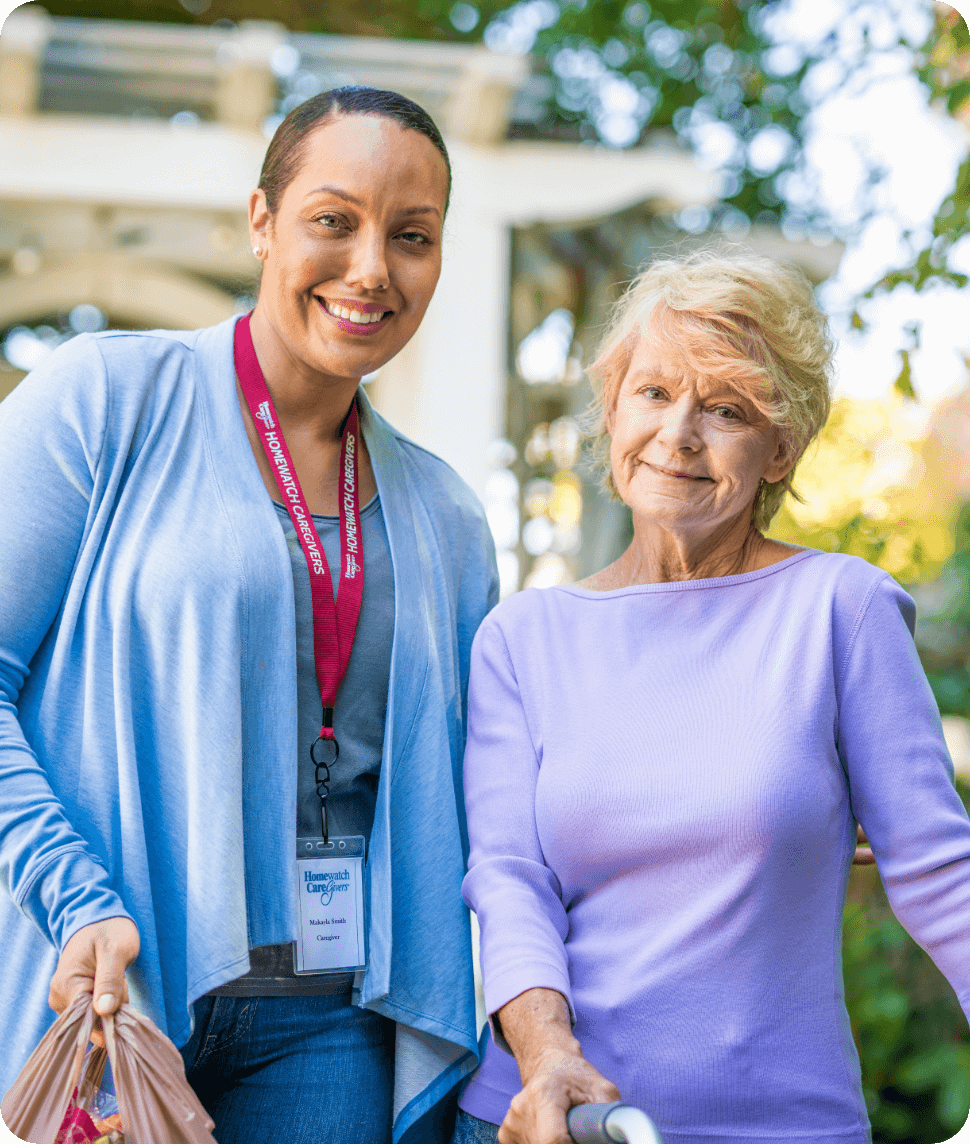 We conduct annual background checks on all local caregivers.

We provide at least 12 hours annually of employee training.

We perform in-person Quality Assurance visits at least every 90 days.

We conduct satisfaction surveys to monitor the level of care provided.

Ready to Speak with an Expert?
Homewatch CareGivers is Here to Help.