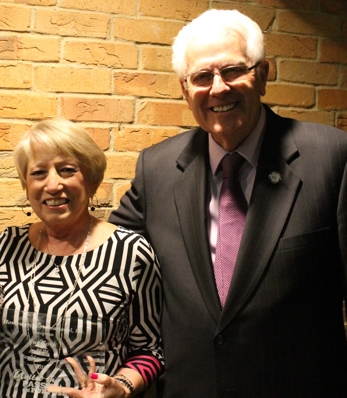 Paul Sauer founded Homewatch CareGivers, but it is the franchisees of today who carry on his vision by delivering care throughout the U.S., Canada and Latin America daily. Mr. Sauer's vision was—and is—for Homewatch CareGivers to be recognized as the premier provider of home care services worldwide.

Each year during the Homewatch CareGivers' Annual Conference we give awards for outstanding performances by franchisees in the past year. One of these is the Paul Sauer Visionary Award for the individual who has best exemplified this vision.

Sue Cook, owner of the Summerlin, Nevada office, received this honor at the 2016 conference in May. She spoke with us about winning and what it means to her:
Q: Were you surprised to receive this honor?
A: Yes! It hadn't even crossed my mind at all to even think about it because I just do what I do. To be recognized for what you believe in and what you do is extraordinary—really just mindboggling to me.
Q: How do you incorporate the company's vision into your business daily?
A: Our motto is, "We don't tell people no." We work towards delivering on our promises. We make sure that we communicate with our caregivers, communicate with our clients and with others who are involved in the care of our clients on a daily basis.
To put that effort into perspective, know that Ms. Cook currently employs 72 caregivers and other support staff. Since opening her office in 2009, they have provided home care service to over 1,000 clients (which amounts to about 320,000 hours of service).
Q: What do you think you do in your business that led to winning this award?
A: I think it's a couple of things: the growth that I've been able to achieve in the last year that has been a result of our client focus; and through that focus we ensure that either through our services or a local care partner our clients get what they need.

I am a founding member of the Personal Care Agencies of Nevada, which promotes home care services for other clients and with other care partners so that the public understands exactly what we do and how we can be of service. These other care partners could be hospitals, home health agencies, hospice agencies, or anyone who works with our elder population to see that they have the care they need and deserve.