We dedicate this business to our fathers.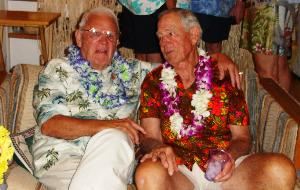 We lost both of our fathers after years of caring for them and arranging care so they could stay in their homes. Recently we lost Randy's Mother, Nadine. Kris's Mom remain strong, but now into her 10th year with Alzheimer's, has been moved to a fantastic Board and Care in Thousand Oaks. Along with our brothers and sisters, our families did remarkably well as we progressed through the years of decisions about care while they were in their homes, having to place Randy's mother and father on Hospice and the tough but correct move of my Mom, Betty. Along the way, we recognized the need for advice and assistance from people who know and understand how to help. We became very aware of the benefits of having caregivers in our parents' homes. The peace of mind it provides to us and the comfort it gives to our parents is invaluable. The decision of bringing hospice gave Randy's parents more weeks of their life and in comfort.
Randy's father was a professional baseball player, so the family was a baseball and sports family. His parents never missed one of their three sons' games, even though they had to meet the demands of their family-owned small-town grocery store. Randy's dad passed away in his home, less than two blocks from the house where he was born 91 years earlier. Except for his time in the service and his baseball days, he never moved away from his home town. Randy's parents celebrated their 70th wedding anniversary two weeks before his passing in 2014. We are extremely proud of them and feel strongly that the in-home care his dad received helped him reach those milestones. My father was an Eagle Scout, studied Architecture at USC, and served in the Air Force during WWII. He married his high school sweet heart, my Mother in 1947. My father passed away at age 87 in 2012, after 65 years of marriage to my mother. Doctors diagnosed both my father and mother with the early stages of Alzheimer's disease in their early 80's. The disease's progression was very difficult for them to accept. My parents played golf up to the age of 81 and passed along a love of hiking, water and snow skiing, camping, and many fun family outings.
The caregiver agency we hired to help my parents with their confusion and memory loss gave them the tools they needed to continue their very social life. The advice and material that the agency/caregivers gave to me and my siblings, as well as our adult children, continues to help us in the struggle to handle parents with Alzheimer's. The help of agency caregivers is a lifesaver and a blessing for our family.
After my father passed the days were very lonely and more confusing for my Mom. I will never forget the struggle I had getting my Mom to allow a caregiver to come help her with some simple task and drive her on errands & doctor appointments. She called me with a smile in her voice; "The girl you sent to help me is so nice, I have a new girlfriend to go places with." I had tears in my eyes listening to her but also a smile on my face too! Because the caregiver knew how to care for a person with Alzheimer,'s it gave my Mom the feeling of being worthy again.
These experiences led to some soul searching four years ago and we discovered that now was the time to move forward and make a difference, spreading the blessings bestowed upon us to others. Our decision to enter the home care industry is largely the result of our desire to assist other families with loved ones in need of care at home and to help others make those difficult decisions as we had to make for our parents.
There is a reason why so many families in Southern California have turned to Homewatch CareGivers when their loved ones need home care. Backed by more than 35 years of experience, we carefully select our caregivers based on their competency, their character, and their caring hearts. Our goal is to give our families peace of mind knowing caregivers provide their loved ones with ways to preserve their dignity and protect their independence. Because you can't plan for emergencies, Homewatch CareGivers is available 24 hours a day. That's how important you and your loved ones are to us.
We love our families and we miss our passed parents. Let us help you care for your loved ones.

Sincerely,

Randy and Kristine Martin
Owners, Homewatch CareGivers
Serving Calabasas, San Fernando Valley, Malibu, all Conejo Valley, Simi Valley, Moorpark, Camarillo, Ventura County, and surrounding areas