Spinal Injury Care
Spinal Injury Care
The spinal cord is complex and responsible for many vital bodily functions like moving, sensation and breathing and swallowing. Injury can be caused by a traumatic effect like violence, sports-related or medical/surgical. Non-traumatic spinal cord injury causes include, spinal degeneration, tumor or cyst, vascular disease, infection/inflammation or autoimmune disorders.
There are numerous complications associated with spinal cord injury to include immobility, muscle loss, the risk for pressure ulcers and respiratory challenges. As you can imagine the person living with an injury experiences emotional fluctuations, decreased coping skills as well as reduced self-esteem.
The effects from a spinal cord injury vary greatly and depends on the location of the injury. Impacts can fluctuate from impaired or absence of light touch, control of body and limb movements to impaired pain and temperature perception as well as motor skill deficits.
Spinal cord injuries are categorized into two functional groups, quadriplegia (paralysis of all four extremities and trunk) and paraplegia (paralysis of all or some of the trunk and both lower extremities).
The goals of rehabilitation for individuals living with a spinal cord injury is for them to:
Be as independent as possible in activities of daily living.
Be able to successfully use equipment that will assist with self-feeding, grooming, upper body bathing, and upper body dressing.
Be able to safely use sliding board transfers to a commode for toileting and tub bench for bathing.
Successfully mauver a manual wheelchair or safely use a motorized wheelchair.
No doubt you may have already witnessed that you or your loved one experiences periods of frustration, anger, agitation, denial, and a lack of motivation.
How Homewatch CareGivers can Help
Managing the effects of spinal cord injuries takes a well-rounded approach and includes help from multiple disciplines to support care. Multiple assistive modalities are needed to promote safety, recovery, and a sense of independence.
Caring for someone living with a spinal injury requires patience. For example, it is important to allow time for a reply to a question or other interaction. Caregivers are trained on a multitude of assistive devices to help an individual to be as independent as possible. Safety and skill are of upmost importance along with compassion and reliability.
Our compassionate care team can:
Provide frequent position changes, to minimize risk of skin break down
Position adaptive devices such as seating equipment, special feeding utensils, and pressurized beds
Facilitate safe breathing by ensuring sitting upright or elevated head of bead when lying down.
Catheter and perineal care
Working with family and or other professional organizations involved in the persons care
Fostering positive adjustment techniques and encouraging social support systems such as peer mentoring programs can have a positive influence.
At Homewatch CareGivers we provide an array of home care support for people living with acute and chronic conditions. Our approach is to always include the person and those closest to them in the decision making about their care.
Help with Activities of Daily Living (ADLs) to include:

Mobility-to reduce risk of skin breakdown
Bathing
Dressing & Grooming
Providing safe, healthy nutrition and hydration
Safety in the bathroom especially with toileting assistance

Help with Instrumental Activities of Daily Living (IADLs) to include:

Planning, shopping, and preparing healthy meals
Housekeeping and Laundry
Medication reminders
Setting up technology to keep them connected to loved ones
Safe transportation to appoints and social outings
This is what Homewatch CareGivers does! Not only the tasks associated with caring for someone but also, empowering them through customized social engagement.
Providing the highest quality of care at an affordable cost. Our local caregivers are trained, background-checked, and insured. This is our promise to you.
About Our Caregivers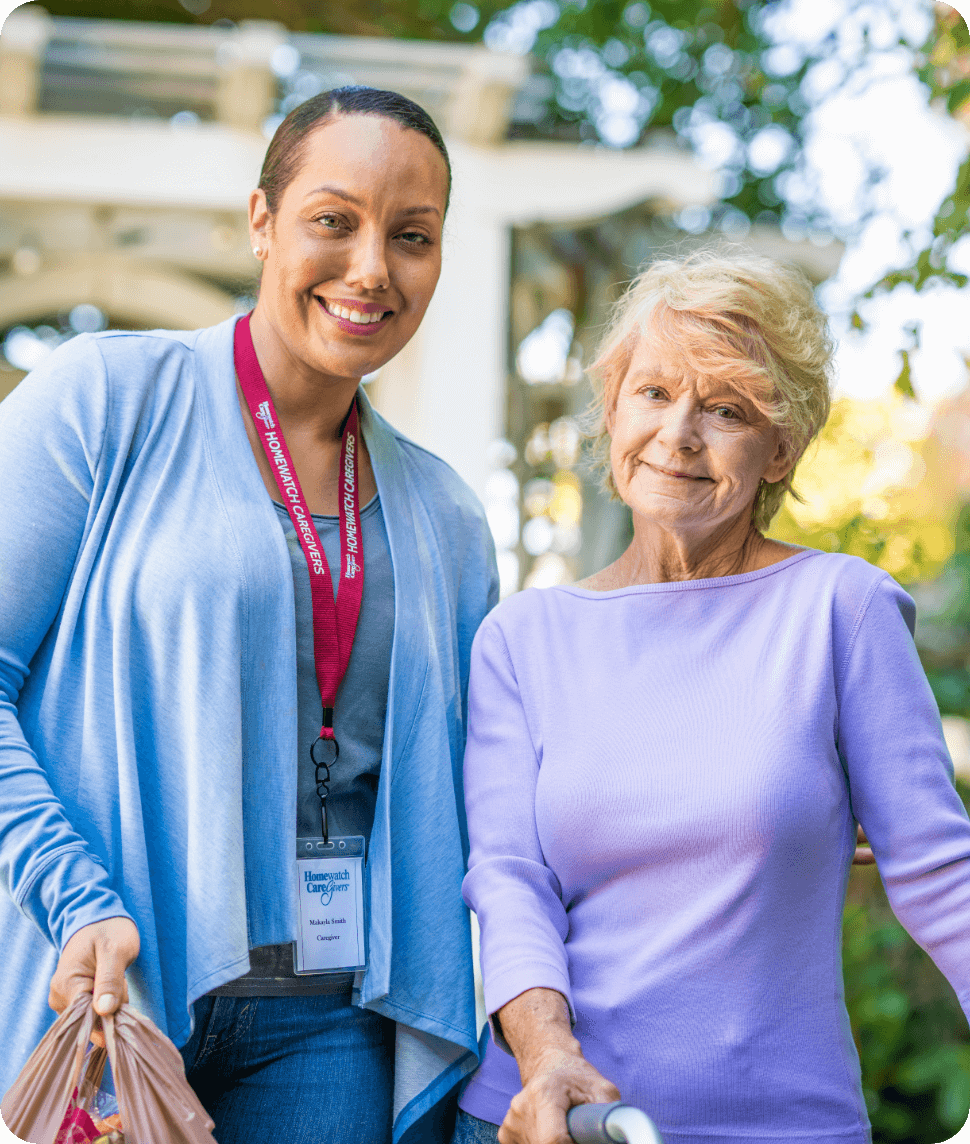 We conduct annual background checks on all local caregivers.

We provide at least 12 hours annually of employee training.

We perform in-person Quality Assurance visits at least every 90 days.

We conduct satisfaction surveys to monitor the level of care provided.

Ready to Speak with an Expert?
Homewatch CareGivers is Here to Help.