Connected Care
Home Companion Care Services for Seniors & the Elderly
Finding the right personal caregiver is more than having someone to complete daily tasks. We take pride in pairing the perfect senior home companion who can connect with the client on a personal, and caring level. Home companions create a personalized plan of care shaped by our experience and training and informed with valuable input from you and your loved one. We all work together to promote physical safety and well-being while supporting emotional health.
At Homewatch CareGivers, we strive to create lasting relationships that engage, enrich, and brighten the days of every senior we visit.
What Is Companionship Care?
Elder companion care is a home-based service that improves the lives of seniors living at home. Our companion caregivers provide a close connection that encourages seniors to stay active physically and mentally. From playing their favorite card games to reliving treasured memories, personal caregivers provide warm social contact that staves off loneliness, depression, and inactivity.
Personal companions for the elderly lend a listening ear and help with preventative care. This can range from preparing healthy meals to encouraging mentally and physically stimulating activities that support long-term health and vigor.
Other Common companion caregiver duties often include:
Light housekeeping
Personal hygiene tasks, such as bathing and grooming
Medication reminders
Errands
Medical appointments
And so much more
Elder Companion Services We Offer
One-size doesn't fit all, especially when caring for seniors. Homewatch CareGivers offers flexible companion care options to positively impact the health, happiness, and safety of our valued clients. Learn about the range of companion care services we offer.
Social Companion Care
Isolation is a health concern many face later in life. Whether they have a disability that makes them less mobile or they are geographically separated from their loved ones, a lack of social connection has physical and mental consequences. A companionship caregiver offers consistent engagement and can also help your loved one remain connected to their friends and family.
Preventative Companion Care
Home companions for the elderly can substantially reduce the risk factors of physical impairment. Issues that commonly contribute to impairment include:
Malnutrition
Weight fluctuations
Decreased stamina
Reduced muscle mass
Find your local Homewatch CareGivers to learn how our team can help keep your senior loved one as safe and as independent as possible.
Emotional Support, Comfort, & Friendship
Being social is essential at any age and helps maintain good mental healthy. Unfortunately, many seniors are at risk of isolation which leaves them feeling empty and depressed. These emotions are often worsened after the loss of a spouse, or a friend, or changes in abilities to continue socializing. By spending time with a caregiver, your loved one will have a meaningful social connection who can partake in the activities they enjoy. These activities bring the joy and mental stimulation that seniors need to stay healthy and vital.
Dignity and Independence
Companion care for elders empowers older adults to live with dignity and without the concern of burdening their loved ones as they age. They keep as independent as possible, enjoy the company of a great friend, and don't have to uproot their lives to move into an unfamiliar environment – which can lead to feelings like anxiety, fear, or depression.
Practical Assistance with Everyday Activities
Housework and the activities of daily living become more difficult with age. Meal prep, laundry, housekeeping, grocery shopping, remembering to take medication, and running errands become more challenging and even risky for seniors to handle alone. A companion caregiver helps with all these tasks and more.
Respite Relief for Family Caregivers
Sometimes primary caregivers find themselves needing to strike a balance between caring for their loved one and focusing on their own goals and obligations. With respite care from your local Homewatch CareGivers, you get professional, caring attendance of your loved one by someone qualified to care for their specific needs.
Bring Care Home with Homewatch CareGivers
Like a true companion, the trained, background-checked, and insured professional you hire from Homewatch CareGivers is there for your loved one – to care for, offer support, and help fill the void of what might otherwise be lonely hours for your loved one. Working with a caregiver also makes the time you spend with your loved one less stressful and more satisfying.
For a complimentary evaluation to customize an appropriate plan of care for your loved one, contact us at (888) 404-5191 or get in touch online.
Professional Companion Services for the Elderly FAQs
What is non-medical elderly companion care?
Most of the companion care duties we offer are considered non-medical companion care. These duties include light housework, running errands, and social activities with seniors.
Does Medicare pay for companion care?
In most cases, Medicare does not cover costs associated with an in-home caregivers. Check your policy to learn what services are covered.
How Much Does Companion Care Cost?
Companion care rates vary depending on the frequency of care provided. There are many ways to offset the cost of companion care so your loved one doesn't have to do without the social interaction they need to thrive.
Explore Companion Care Financial Options & Programs
Homewatch CareGivers will work with you to customize a care plan that fits your unique budget.
VA Aid & Attendance Benefits
This benefit provides monthly payments for qualified veterans and surviving family members. Learn more here.
Long-Term Care Insurance
Policyholders are offered reimbursement for services that assist older adults with daily activities from grooming to eating to companionship.
Medicare
Medicare benefits generally do not help offset the cost of an in-home caregiver. Check your loved one's policy to learn whether they are eligible for reimbursement.
Medicare Advantage
The Supplemental Benefits portion on a limited number of Medicare Advantage plans may cover some in-home care services.
Medicaid
Medicaid frequently helps offset the cost of companionship care. Connect with your local Area Agency on Aging to find out if you or your loved one is Medicaid-eligible.
Emergency Back-Up Care
Adult care needs may be covered if your original plans fail to play out. This may allow for the arrangement of temporary care for your senior.
Other
Various grants and special funding may be available via local programs and projects, such as from the Area Agency on Aging, disease organizations, etc. Additionally, workers' compensation and auto insurance may apply and assist with covering services.
Signs Your Loved One Would Benefit from Companion Care
Your Loved One Has Limited Social Engagement
Do you worry about your loved one sitting on the couch alone, with one hour blurring into the next? This is a common reality for many seniors, even though their loved ones want the best for them. A home caregiver called a companion caregiver can lend a friendly ear and provide the social engagement an elderly individual needs to help their mind stay stimulated and their mood be elevated.
The Eden Alternative Domains of Well-Being® recognize connectedness and autonomy as being two of its seven key principles to care. In-home care can help your loved ones stay connected and preserve their feeling of autonomy by remaining in the comfort of their home. Homewatch CareGivers has a partnership with The Eden Alternative® and shares in the belief that well-being is a human right and that through proper caregiving you can uphold someone's right to a life full of purpose, connection, empowerment, and possibility regardless of age or changing abilities.
Your Loved One Needs Help Maintaining a Routine
Maintaining a routine becomes an even more complicated task when mobility and cognition have declined with age or illness. By establishing a routine, your loved one will reap the benefits of a predictable and comfortable lifestyle that includes help with transportation, reminders to take medication, daily meal and nutrition prep, and much more.
Your Loved One Needs Help With Transportation (Appointments, Groceries)
Many seniors are no longer able to get around the way they used to in their younger years. With their need to see their doctor for checkups, go to church to see friends, or even to make a routine trip to the grocery store, the task can be simply too much for a busy loved one who has to hold down a job and/or raise their own family. A home caregiver can provide much needed support with these tasks that involve the need for help with transportation and driving to various locations.
Your Loved One Needs Help With Meal Preparation
Home caregivers can assist with meal preparation and at the same time connect about stories behind favorite recipes of the client.
Your Loved One Needs Help With Hobbies or Recreational Activities
Everyone needs a friend or partner to do the things they love. Whether that means a game of cards or watching the birds at the local park, your loved one can enjoy quality time with a personal companion provider who will enthusiastically engage with them and encourage them to take part in activities they find meaningful, fun, and stimulating.
Your Loved One Needs Help With Important Reminders
Forgetting to take medication or missing a doctor's visit can have negative consequences. With the assistance of an in-home caregiver, your loved one will keep on track with their medication and appointments to lower their risk for preventable health hazards. These reminders can make all the difference to loved ones who have other tasks of their own to keep in mind.
Your Loved One Needs Assistance With Pet Care
Furry friends offer wonderful companionship to a senior, but they are also a big responsibility. If your senior has a beloved dog they would like to walk, a caregiver can join them for added safety, or a cat whose litter box needs to be cleaned, you can trust that an in-home caregiver can keep up with these tasks. Homewatch CareGivers companions can ensure that even the family pets get the attention and companionship they require to thrive if a senior has mobility problems or otherwise cannot attend to the pets' careas diligently as they need.
Your Loved One Needs Help With Light Household Chores
Housework takes time, energy, and dedication. That's when an in-home caregiver becomes an invaluable asset for your loved one as they provide help with common housekeeping tasks such as doing the laundry or cleaning up the kitchen after preparing a meal.
What's the Difference Between Companion Care Services and Personal Care?
Although many in-home caregivers provide both services, there are distinct differences between companion care services and personal care services. While personal care involves the hands-on tasks like help with grooming and toileting, companion care focuses on providing your loved one with social interaction and help with other basic needs. Companion care is just as important as personal care, because social interaction is crucial for the elderly. Loneliness is not just a burden, but it poses a serious health threat to older adults. Your loved one's in-home caregiver can help an independent person by engaging them in fun activities, and other various household tasks such as light housekeeping chores.
Why Choose Homewatch CareGivers for Senior & Elderly Companionship
Homewatch CareGivers has a simple yet profound philosophy that the elderly must keep engaged, connected, and feel appreciated as they age in place. We bring expert caregivers to your home so your elderly loved one can seek to thrive in a familiar, comfortable environment without the risk of facing feelings of loneliness and isolation. The quality caregiving services and companionship care are delivered by compassionate in-home caregivers who help your loved one with a wide range of needs. All you have to do is contact your Homewatch CareGivers location to begin the process – by doing so, you give your loved one the gift of companionship and socialization that too many seniors might miss out on.
Contact Our Team to Learn More About In-Home Companion Care for Your Loved One Today!
Ready to learn more about how an in-home caregiver could make all the difference to your loved one's well-being? Homewatch CareGivers is ready when you are – contact your local Homewatch CareGivers to learn more about cost and specific services. Homewatch CareGivers is eager to help you and your family thrive by offering meaningful companionship to your loved one.
*Services will vary by location. Check with your local Homewatch CareGiver office to confirm all available services in your area. Each location is individually owned and operated.
Providing the highest quality of care at an affordable cost. Our local caregivers are trained, background-checked, and insured. This is our promise to you.
About Our Caregivers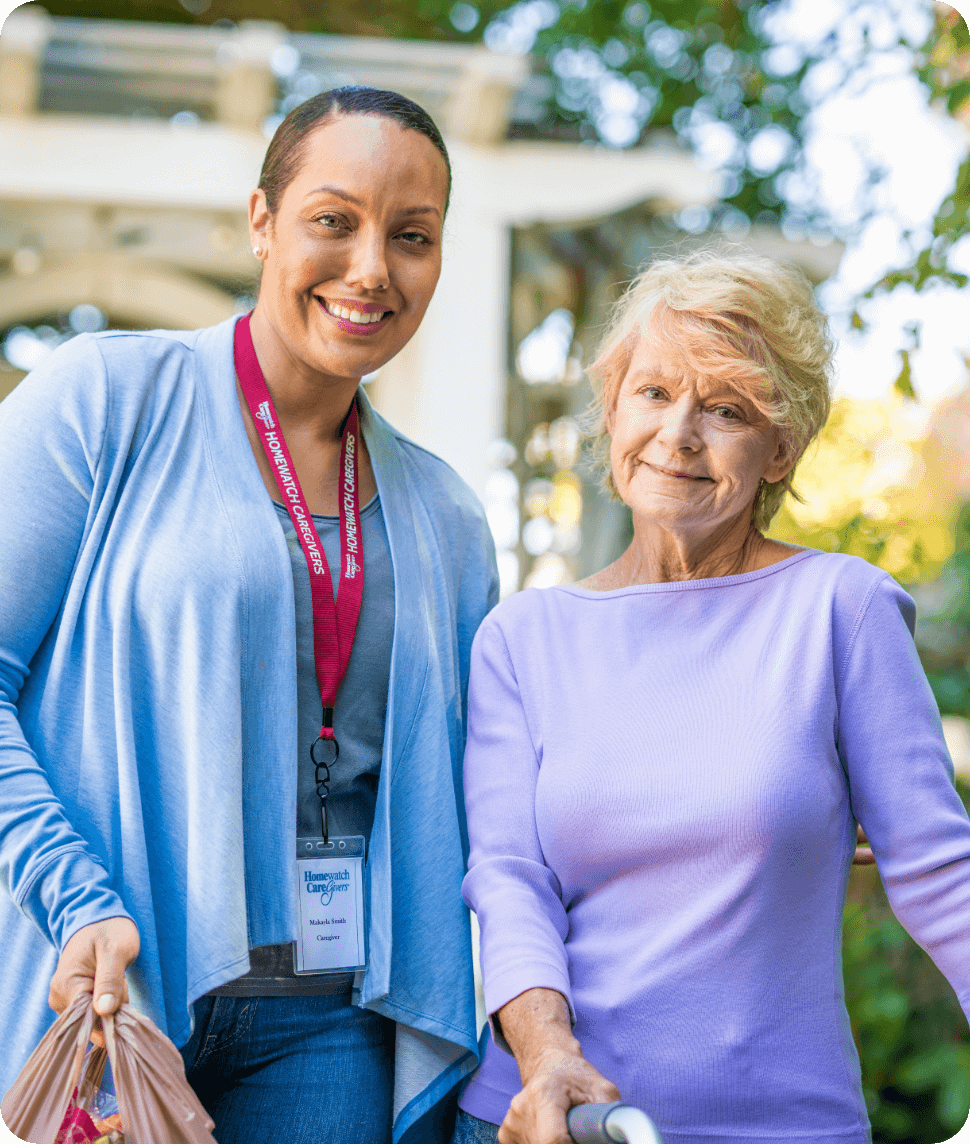 We conduct annual background checks on all local caregivers.

We provide at least 12 hours annually of employee training.

We perform in-person Quality Assurance visits at least every 90 days.

We conduct satisfaction surveys to monitor the level of care provided.

Ready to Speak with an Expert?
Homewatch CareGivers is Here to Help.
Contact Us Today!