Around-the-Clock Home Care
24-Hour Home Care
Expert Care for Your Loved One Around the Clock by a Trusted Team
With 24-hour home care services, your local Homewatch CareGivers provides consistent and reliable high-quality care to your loved one.
Whether they're facing challenges that develop due to aging or those that commonly accompany lifelong conditions, your local Homewatch CareGivers' team will be there to help.
You're never alone with 24-hour caregivers by your side. Each caregiver's goal is to help your loved one receive the proper care they need while being able to remain in their home or wherever else they're comfortable. A caregiver also provides families with peace of mind, helping them know they have 24/7 support for their loved one.
What is 24-Hour In-Home Care?
24-hour in-home care is precisely what it sounds like – around-the-clock nursing care at home. We can help, whether you're transitioning your regular daytime care into 24-hour care or this is your first time searching for help from an in-home care agency. Our team takes the time to assess the needs of your loved one and immediate family to tailor a plan around your specific needs.
24-hour in-home caregivers can help with a variety of tasks, including:
Mobility around the home
Bathing, grooming, and personal hygiene
Medication reminders
Meal planning and prep
Running errands
Companionship
Light housekeeping and laundry
Having in-home care not only ensures peace of mind for your loved one, yourself, and your family. It also allows them to remain at home in their familiar surroundings.
Around-the-Clock Home Care
Around-the-clock in-home care may seem impossible, but the Homewatch CareGivers team provides it to countless clients and their families every day – and night. We offer your loved one continuous care by scheduling a day and night-time caregiver in two eight-to-twelve-hour shifts. This allows families to relax knowing that a professional caregiver is there to assist with daily tasks and monitor for emergencies at all hours.
The Benefits of Having 24-Hour Care
Seniors living with chronic conditions or other individuals with lifelong challenges may need around-the-clock support at home.
There are several other reasons why having 24-hour home care is an excellent option for those in need:
Maintain Personal Independence
While you may assume that 24-hour home care would end up taking away your loved one's independence, this is far from the truth. A person's relationship with their caregiving team can give them the confidence they need to re-engage with their world and the activities they used to love!
Comfortable At Home
In-home caregivers allow families to keep their loved ones comfortable at home around their family, friends, pets, and familiar personal items. Beginning with a free in-home assessment, our team takes the time to ensure your home is as safe as possible before we start caregiving in the home.
Companionship
Social isolation and loneliness can take a toll on individuals' overall health and quality of life. Regardless of the specific conditions your loved one needs help with, caregivers provide both emotional and social support along the way. From striking up a friendly conversation and sharing stories to pulling out puzzles and exploring favorite hobbies, companion care helps curb feelings of loneliness and maybe brings more smiles.
Personal Care
A large part of 24-hour care is helping your loved one with necessary personal care activities. This can include bathing, dressing, and light housekeeping. Your customized care plan is tailored to meet the specific needs of your loved one, helping them preserve as much of their independence as possible.
Family Caregiver Respite
Caregiving can be hard, especially when it's not your only responsibility in life. 24/7 respite caregiver services help your family get a well-deserved break to rest, relax, and recharge.
Peace of Mind for Family
Having around-the-clock home care for your loved one offers peace of mind knowing they have support for daily tasks, as well as continued support in case there's ever an emergency. It also provides a person with dignity by enabling them to safely do what they'd like to do, when they'd like to do it.
How Much Does 24-Hour Home Care Cost?
On average, based on our experience, the cost of 24-hour care at home can range from around $10,000 to $22,000 a month, with the exact cost depending on several factors, including:
Medical or non-medical care – The cost changes depending on the type of care needed. For example, if more acute medical care is needed in-home, it will be more expensive.
Where care is needed – The state in which you live can alter the cost of your in-home care quite a bit. It's best to connect with your local Homewatch CareGivers to learn more about their current pricing.
While this may seem overwhelming, Homewatch CareGivers is here to help you make the best decision for your loved one's health – don't hesitate to reach out to us with any questions.
Explore Our Financial Options & Program
The financial cost of 24-hour care isn't everything when looking for care for your loved one. Still, it's important to understand the options you have when it comes to paying for care, especially when private insurance or paying out of pocket isn't going to cover it all.
VA Aid & Attendance Benefits
Seniors and survivors eligible for VA assistance may qualify for VA Aid and Attendance benefits or Housebound Allowance. These benefits are received along with their VA pension to help with covering in-home care. Veterans are entitled to this additional benefit if they meet one or more of the following qualifications:
You need assistance with daily activities like bathing, dressing, and grooming.
You spend a large portion of the day in bed due to a chronic condition or illness.
You have limited eyesight even when glasses are used.
You are a patient in a nursing home due to mental or physical loss.
Long-Term Care Insurance
Long-term care insurance covers 24-hour care in the home most of the time, including help with daily tasks and companionship. In some cases, it can even help cover any modifications needed to make the home safer and more functional.
Medicare
Medicare is federally provided health insurance for those 65 and older. The exact things covered by Medicare continue to evolve, with most plans only covering medical in-home care. Still, some Medicare Advantage plans currently cover select in-home care services in some states. To be eligible, your loved one must be prescribed at-home care from a physician and receive it through a Medicare-approved agency.
Medicare Advantage
As part of the Supplemental Benefits portion, a limited number of plans may cover some home care services.
Medicaid
Medicaid provides federal assistance to people 65 or older in need. While Medicaid is a great way to offset some of the cost of 24-hour in-home care, it is usually not enough to cover the entire cost of care. To understand the current coverage options, be sure to refer to your state's current Medicaid guidelines.
Emergency Back-Up Care
More than 70% of employed people report being responsible for some kind of caregiving at home. Because of how important consistent care is, it's best to have an emergency backup care option if your regular plans fall through. Our team will be there to provide caregiving help so you can attend to your other responsibilities.
Signs it is Time for A 24-Hour Caregiver at Home
When it comes to getting care for your loved one, it's better to get things started sooner rather than later. It can be difficult to admit when a parent, spouse, or loved one needs extra help around the home, but doing so early helps with the transition into professional in-home care.
Indications that it's time to look for a 24-hour caregiver include:
Increased Number in Falls or Accidents
Has your loved one fallen recently? Was someone there to help? Frequent falls or accidents can signify that 24-hour in-home care is needed. Caregivers help your loved one get around in and out of the home and provide extra support to minimize the risk of accidents.
Incontinence
Incontinence and bladder control issues signify that in-home care could be beneficial. A professional caregiver can help maintain a regular bathroom schedule and assist with clean-up and changing and report any concerns to the family.
Wandering
Wandering is a common symptom of dementia or Alzheimer's disease, and it can be life-threatening when not monitored. A caregiver can help prepare your home to protect someone from danger if they are wandering and provide around-the-clock monitoring for a loved one.
Increased Confusion or Forgetfulness
Along with an increased chance to wander, your loved one dealing with dementia or some other issue may be exhibiting increased confusion or forgetfulness. While this can be as simple as forgetting birthdays or names, it can also include forgetting to lock the front door or shut off a faucet. A caregiver can be there 24/7 to address problems that arise from this type of forgetfulness and confusion.
Recently Diagnosed with a Serious Illness or Chronic Condition
Receiving a severe illness or chronic condition diagnosis can be overwhelming and even hard to accept. A local Homewatch CareGivers team of professional and compassionate caregivers is here to oversee a comprehensive care plan.
Reliance on Assistive Equipment
Assistive equipment like hearing aids, walkers, wheelchairs, scooters, and others can be a great way to help your loved one keep their independence. Increased reliance on assistive equipment may mean that more help is needed, perhaps from an at-home caregiver.
A Decline in Hygiene and Grooming
Have you noticed a decline in personal hygiene, grooming, or general cleanliness? Whether your loved one may be forgetting to do these everyday things or has a hard time completing them on their own, our caregivers are the perfect helping hand needed to ensure your loved one is taking care of themselves.
Needs Assistance Eating or Drinking
If you have noticed food or drink spills around the home, if your loved one's diet has declined, or if new medical conditions have developed, your loved one may need some additional help eating and drinking. Our team can assist in eating during meal times, meal planning, and cooking, making the entire process easier.
Primary Caregiver Cannot Sustain Caregiving Around the Clock
The mental health and well-being of primary caregivers can often go overlooked. While you may feel like you can handle it, at some point, you'll need to eat, drink, shower, use the restroom, and attend to many other responsibilities. We'll be there to help when you need a hand.
What's the Difference Between 24-Hour Care and Live-In Care?
While both provide around-the-clock care, the main difference is how many caregivers are used daily.
24-hour care is delivered to clients via a minimum of two caregivers every day. Each shift lasts around eight to twelve hours with routine breaks. Live-in care instead relies on just one caregiver or a maximum of two. This requires a caregiver to live with your loved one on the property.
It's important to note that one is not necessarily better than the other. The best care for your family depends on the specific needs of your loved one and the type of coverage your family is looking for.
End-of-Life Home Care Services
End-of-life home care services help ensure that your loved one's final years, months, and days are spent as comfortably as possible. Death is a natural yet difficult part of our life cycle. Homewatch CareGivers can provide respite care services while also maintaining a relationship with the client and their family during a challenging time.
Why Choose Homewatch CareGivers for 24/7 Home Care
When you choose Homewatch CareGivers for your in-home care needs, you're receiving help from the best. Our fully screened, vetted, qualified, and trusted caregivers stand out among the rest in more ways than one.
When working with us, feel confident in knowing that our caregivers:
Are backed by an organization with more than 40 years of delivering in-home care to countless families and their loved ones.
Use professionally developed care tools to track changes in physical and mental health.
Receive a minimum of 12 hours of annual training, including specialty care.
Have routine in-person Quality Assurance visits at least once every 90 days.
Learn from client feedback through continued satisfaction surveys.
Contact Our Team to Learn More About 24-Hour Care for Your Loved One
When you're ready to learn more about how we can help, find your nearby location and schedule your complimentary care evaluation! Homewatch CareGivers teams are here to provide you with the highest quality of care.
Local caregivers are background-checked, insured, and continuously trained, ensuring your confidence and peace of mind while your loved one receives 24-hour in-home care.
*Services will vary by location. Check with your local Homewatch CareGivers office to confirm all available services in your area. Each location is individually owned and operated.
Providing the highest quality of care at an affordable cost. Our local caregivers are trained, background-checked, and insured. This is our promise to you.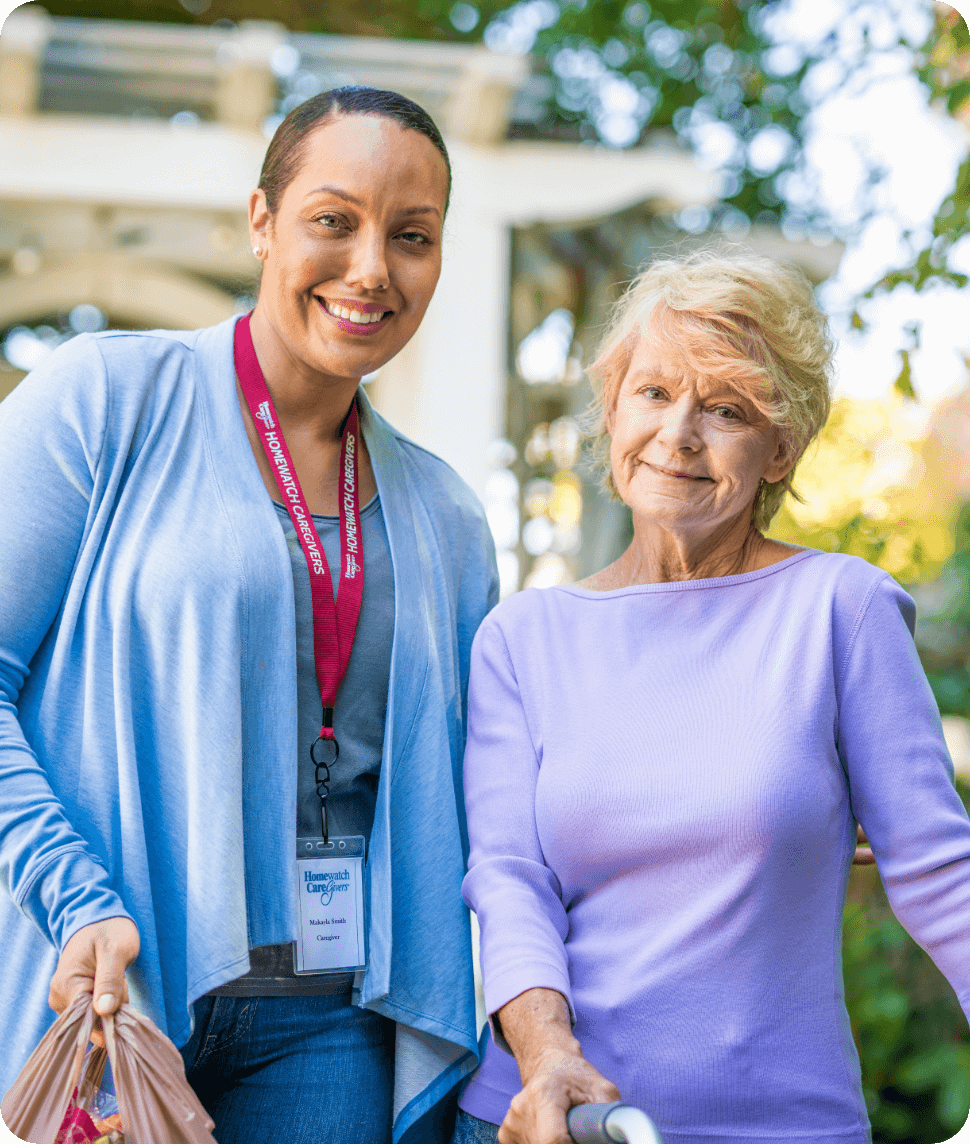 We conduct annual background checks on all local caregivers.

We provide at least 12 hours annually of employee training.

We perform in-person Quality Assurance visits at least every 90 days.

We conduct satisfaction surveys to monitor the level of care provided.

Ready to Speak with an Expert?
Homewatch CareGivers is Here to Help.
Contact Us Today!