Brain Injury Care
Brain Injury Care
The brain is by far the most complex organ of the human body and is considered the body's control center. When an injury to the brain occurs, the results can range from little to no damage to severe damage. The severity and prognosis of a brain injury be different depending on the location and level of damage.
Your loved one living with a traumatic brain injury (TBI) may be exhibiting some changes to include; behavioral expressions, impaired social and coping skills along with reduced self-esteem. No doubt you may have already witnessed that they have periods of frustration, anger, agitation, denial, and a lack of motivation.
The person living with a brain injury may experience cognitive issues and have problems with making decisions, planning, and/or organizing. These cognitive impairments can also affect:
Short- and long-term memory
Problems with concentration and attention spans
Difficulty with completing activities of daily living (ADLs) and instrumental activities of daily living, (IADLs)
Helpful Advice From Homewatch CareGivers
When working with individuals who have a brain injury, it is important to understand how the injury affects overall functioning and the impairments that occur because of a traumatic brain injury (TBI).
Managing the effects of TBI takes a well-rounded approach and includes help from multiple disciplines to support care. Multiple assistive modalities are needed to promote safety, recovery, and a sense of independence.
Adaptive equipment and assistive technology can include devices to help with cognition such as:
Sticky labels to identify items in a drawer
Calendars, checklists and schedules
Pill organizers for safe medication administration
Recording devices for reminders
Communication aides
Assistive Devices and Aides to help with movement and strengthening include:
Adaptive equipment for eating
Sticky liners/surfaces to prevent slippage
Appliances for clothing and footwear
Adaptive footwear including Velcro-lace shoes or shoes with zippers
Other essential adaptive equipment include:
Air pressurized beds to help prevent and manage skin breakdown
Aides for bathing and showering
Wheelchairs, electric scooters, walkers, and canes
How Homewatch CareGivers Can Help
Caring for someone living with a brain or spinal injury requires patience. For example, it is important to allow time for a reply to a question or other interaction. Caregivers are trained on a multitude of assistive devices to help an individual to be as independent as possible. Safety and skill are of upmost importance along with compassion and reliability.
At Homewatch CareGivers we provide an array of home care support for people living with acute and chronic conditions. Our approach is to always include the person and those closest to them in the decision making about their care.
Someone living with TBI will need help with:
Activities of Daily Living (ADLs) to include:

Mobility-to reduce risk of skin breakdown
Bathing
Dressing & Grooming
Providing safe, healthy nutrition and hydration
Safety in the bathroom especially with toileting assistance

Instrumental Activities of Daily Living (IADLs) to include:

Planning, shopping, and preparing healthy meals
Housekeeping and Laundry
Medication reminders
Setting up technology to keep them connected to loved ones
Safe transportation to appoints and social outings
This is what Homewatch CareGivers does! Not only the tasks associated with caring for someone but also, empowering them through customized social engagement.
Resources
Outpatient rehabilitation provides ongoing therapy in an outpatient setting focusing on continued restoration and refinement of physical and/or cognitive skills.
Home health agencies (HHAs) provide nursing and therapy services in the home.
Home care provides compassionate care that can be alongside skilled HHA services support the individual living with TBI and respite for family caregivers.
Regardless of the placement option chosen, the goal is to improve the person's quality of life and functional ability in all areas of life. There are various federal, state, and local groups that exist to help those affected by TBI.
Brain Injury Association of America https://www.biausa.org/
National Institute of Neurological Disorders and Stroke https://www.ninds.nih.gov/Disorders/All-Disorders/Traumatic-Brain-Injury-Information-Page
Providing the highest quality of care at an affordable cost. Our local caregivers are trained, background-checked, and insured. This is our promise to you.
About Our Caregivers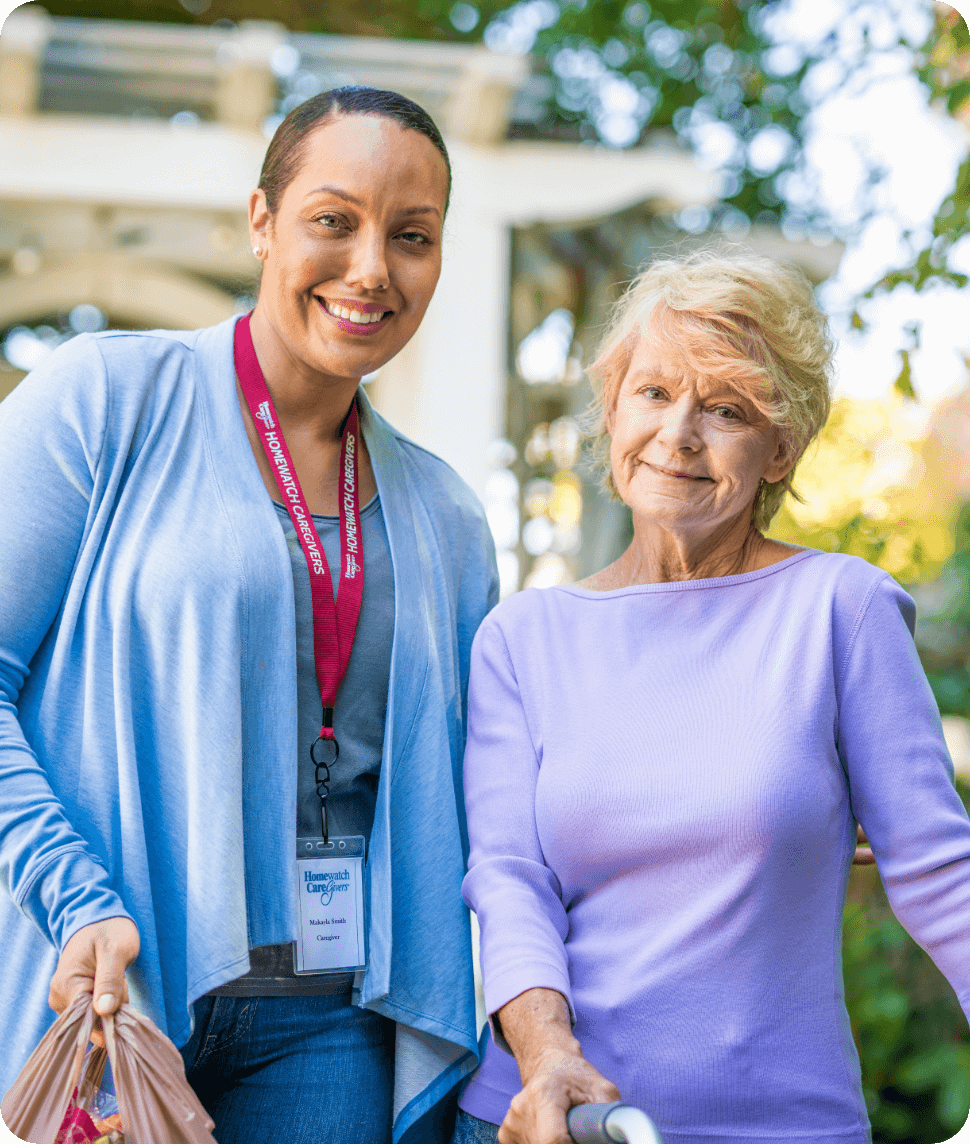 We conduct annual background checks on all local caregivers.

We provide at least 12 hours annually of employee training.

We perform in-person Quality Assurance visits at least every 90 days.

We conduct satisfaction surveys to monitor the level of care provided.

Ready to Speak with an Expert?
Homewatch CareGivers is Here to Help.