Every day, an estimated 10,000 Baby Boomers turn 65 in the U.S. Do the numbers and try to project what the number will be in 10 years? It will grow exponentially to nearly 73 million by 2030 according to a recent AARP survey.
Where will this ever-growing population spend their golden years? What about their own home? Afterall, "there's no place like home.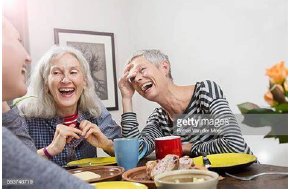 According to the same AARP survey, 73% of people over 45 plan to retire in their current residence (as opposed to a nursing home or a retirement community). And, 41% plan to stay in their home until age 81 or older. In other words, they will be happier staying in their homes; it certainly will be cheaper; and they believe they will live longer at home.
The world has changed. Aging in place is more doable today (more than ever) and seniors are considering it as a real possibility. But what if you're not sure you want to stay at home? Retirement Living shared five (5) benefits of retiring in your own home.
Costs Less – Nursing homes and assisted living communities are expensive. The average cost of a semi-private room in a nursing home in 2016 was $6,844 a month. That totals over $82,000 a year … a lot more than the median household income of $60,293/year according to the US Census Bureau.
More Comfortable – There is no place like the space you are accustomed to, the temperature, the smells, the familiarity of where things are, and the comfort of privacy that just doesn't exist in many live-in facilities.
Slows Down the Advancement of Memory Loss – Loss of memory is a scary prospect for many as they age. Moving into a new environment, particularly an institutional environment, can worsen the progression of memory loss. The ability of keeping your own social network that comes with staying in your own home can slow the cognitive decline.
Strengthens Your Social Network – It allows you to stay near current friends while giving you the freedom to still host social events. Social activities helps you stay active and benefits your health and weight.
Staying in Control – You spent the majority of your life working … so retirement should be about doing what YOU want. Staying at home allows you the ability to be more independent and make your own decisions in areas where you still can. Even with live-in or personal care at home, you're still in charge of scheduling activities instead of complying with a group schedule at a nursing home. You can remain in control over your environment, mealtimes, visitors, thermostat, etc.
When it comes to care in the home, seniors generally require in-home care, home healthcare, or a combination of the two. At Homewatch CareGivers, our mission is to redefine in-home care by caring for the whole person, not just their condition. Our in-home caregivers engage and bond with clients, all in the spirit of providing exceptional, dignified care. We match our caregivers to the needs of each client to ensure they receive the best possible care. We can help with personal grooming, like bathing or dressing, assistance moving around one's home, in and out of the bed or shower, etc., medication reminders, helping to ground or orient those with Alzheimer's or dementia, errands like grocery shopping and picking up prescriptions just to name a few.