Homewatch CareGivers of North Dallas (HWCG) is proud to announce that Ola Afolabi has been selected "Caregiver of the Month."
Ola is almost always selected once a year for this recognition. Why? She puts a lot of skill and compassion into her work. Because of this, our elderly and sick clients stay healthy and happy. By giving her best, day after day, our clients maintain the best quality of life.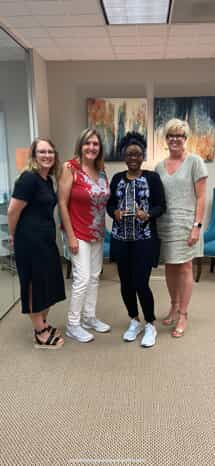 Ola assists clients with all types of health conditions from mild disorders to end-of-life care. Duties may include assistance with activities of daily living such as ambulation, bathing, dressing, grooming, food preparation, buying groceries, ordering medications, and ensuring patients take their medications on time. Medication mismanagement is one of the main reasons an elderly person's health condition may suddenly change. Ola also plays a crucial role in the communication between the client's doctor and family regarding the client's health status and needs. These responsibilities only skims the surface of what Ola does on a daily basis; the way in which she interacts with her patients has a significant and direct impact on their day-to-day experience.
During challenging times, Ola demonstrates a sense of responsibility by going above and beyond. An example of this is the way she has remained consistent with a client with severe schizophrenia. The client has intimidated the most veteran caregivers with his behavior, but not Ola. Her calm, patient demeanor, and consistency has developed critical trust with him and we have seen some monumental successes that has allowed the client to remain independent and living at home alone.
Another example of Ola's exemplary care is when she cared for a disabled child. She developed a great relationship with the child's family that has lasted for years. The client looks forward to seeing Ola. And, seeing them communicate and interact with each other will make anyone smile.
Congratulations to Ola for her outstanding work and dedication towards our clients and their families. Thanks so much for the care you give.