Client Story
­­­­­­Meet Ellie. She grew up on a farm in Ohio. She and her husband raised their two children in California. Both Ellie and her husband are rocket scientists. Ellie used to enjoy motorcycle riding and all kinds of arts and crafts. In July 2020, Ellie fell and broke her wrist. She was in rehab during the COVID isolation for five weeks. They had her heavily medicated and she lost weight. She came out weak and her dementia had gotten worse. Ellie is now on hospice. Homewatch CareGivers of North Dallas (HWCG) currently provides care twice a week for four hours a day. HWCG assists with safe transfers and ambulation, showering and dressing assistance, meal preparation, and light housekeeping. We recently interviewed Ellie and her husband and asked the following questions: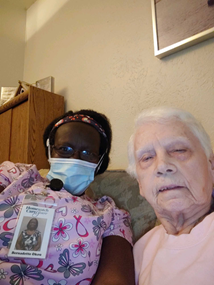 Why do you like HWCG?
"They are so helpful. Everything I have asked for we have received."

How has HWCG been helpful to you?
"Bernadette fixes Ellie her scrambled eggs. She keeps her covered up so she isn't cold. She changes the linens and does the laundry. And most helpful is that Bernadette gets Ellie to shower!"

What is your favorite memory with your caregiver?
"Bernadette always asks Ellie how she is feeling. She asks for her input and talks kindly to her. One day she asked Ellie if she was ready to shower. Ellie's response was "no". Bernadette spoke to her softly and in the end persuaded Ellie to go get in the shower. She is amazing!"

Is there anything else you would like to share?
"When Ellie says, "I'd like some soup." Bernadette immediately goes and gets it ready and brings it to Ellie. And every time Bernadette is here, she insists on taking out the trash. We really appreciate all the help she gives us!"

Homewatch CareGivers of North Dallas partners with hospice companies in providing supplemental care for its patients. We are honored to provide the care that Ellie needs. We look forward to helping her stay healthy and safe living at home for many years to come.