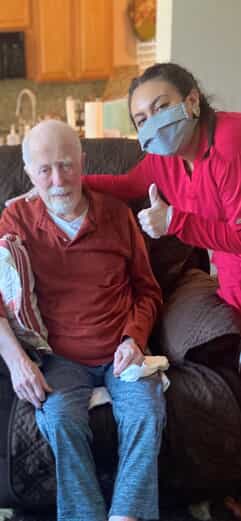 Tom and his wife, Carole, have been married for 65 years. They have three children and a handful of grandchildren and great grandchildren. They are blessed with family that are actively involved in their care. Tom was an electrical engineer for AT&T for 40 years. His hobbies were golf and computers. Tom has several health issues including dementia and diabetes. Our caregivers assist Tom in getting up in the morning, helping him get dressed and ready for the day. They assist with showering, grooming, meal preparation, laundry, light housekeeping, and medication reminders. Tom is a fall risk, therefore, our caregivers provide safe transfers and ambulation. Tom is receiving physical therapy. Our caregivers also assist him with the exercises on days when physical therapy staff are not there. This brings increased progress. Another important task is that our caregivers assist Tom in taking and recording his blood sugar making sure that he has accurate records of his health vitals. At the end of the day, our caregivers assist Tom in getting him ready for bed before they leave.
I spoke with Tom's wife and son. They answered the following questions.
Why do you like Homewatch CareGivers of North Dallas (HWCG)?
"The caregivers are very professional. They are all caring, knowledgeable, and reliable. We love that when a caregiver needs off or calls out, a qualified substitute is available."
How has HWCG been helpful to you?
"They are responsible for Tom's care. He gives them less resistance than he does the family. This results in less conflict for us. We love that the caregivers show up – on time! We love that they have a good rapport with Tom. He enjoys their companionship."
We know you have used other caregiving companies in the past. Is there something that stands out when comparing HWCG to other companies?
"There is no comparison. It is like night and day. The quality and reliability of the staff is above and beyond the other company we had. Engaging HWCG has increased Tom's wellbeing."
Would you please share a favorite memory you have with your caregiver?
"We love that the caregivers work on the memory board with Tom."
Is there anything else you would like to share?
"Homewatch CareGivers has our gratitude. We have loved every caregiver, even the subs!"
Homewatch CareGivers of North Dallas is honored to provide the care that Tom needs. We find that when a family engages our company, it allows family members to enjoy their roles of wife, sons, and daughters. We look forward to helping Tom stay healthy and safe living at home for many years to come.
Contact us online for more information about our Dallas home health agency, or to schedule a free consultation, c