Homewatch CareGivers of North Dallas (HWCG) is proud to announce Lolita Green as its "Caregiver of the Month." Lolita has been engaged with HWCG for six years as a caregiver. She has a fun, infectious personality that clients love. She has a great sense of humor and uses her humor as a way to connect and relate to her clients.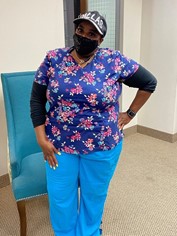 Lolita is just as comfortable helping individuals with varied chronic conditions as with clients who are on hospice and need more intensive care. What makes Lolita a great employee is that she often takes on additional shifts at the last minute, she communicates well with the office staff, and she gets along with her peers especially when working with a team of caregivers. Being an exceptional caregiver is hard work … and not everyone can live up to it. But … Lolita makes it look easy. She has a huge heart and gains her client's trust with her positive, compassionate attitude, and her laughter.

Lolita has had several long-term assignments that lasted until the patient's heavenly transition. She made their final chapter as comfortable as possible by nurturing not only their health condition, but their mind and spirit. HWCG not only addresses its patient's physical needs but all aspects of the individual's life … a holistic approach to care. One particular year, during HWCG's annual holiday party, Lolita led a game of Bingo with several competitive clients. She was the life of the party! She made our elderly clients feel comfortable and everyone had an incredible time.

Please help us wish Lolita the best! We appreciate the dedication she puts into her work.