Homewatch CareGivers of Phoenix is proud to have been a sponsor of the Alzheimers Association's Walk to End Alzheimers Disease for every year of our existence; that is, 17 years now. We have always sponsored the Walk in both the West Valley and Central Phoenix.
The Walks serve to raise money that is used to support vital services that offer assistance to those suffering from Dementia and related diseases, such as Alzheimer's Disease, and their families.
Though the Walks were conducted virtually this year, we were not only a sponsor, Dannis Murphy, a Client Care Coordinator for Homewatch CareGivers of Phoenix was the Chairperson of the West Valley Walk. We offer a big thanks to Dannis for assuming this lead role, that reflects our company's leadership position as a provider of home care services to those afflicted with all forms of Dementia.
Homewatch CareGivers of Phoenix supports the Walks in many different ways. Garry Pregler another of our staff members was recognized by the local chapter as a Champion, for his fund raising efforts, putting together a team. Dan Fern has also supported the Association, the Walk, and all of their activities as a member, and previously the Chairperson, for the Association's Regional Leadership Council for over 12 years.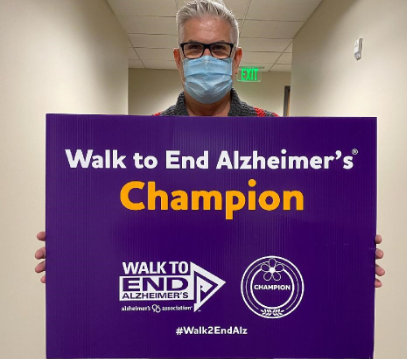 Caring for those with Dementia requires specific knowledge acquired from continual training, direct experience, and anecdotal knowledge that is shared amongst all the caregivers in our organization. No one situation is alike. Nonetheless, there is much knowledge that can be transferred from understanding the commonalities underlying the nature of specific problems, and the identification of appropriate techniques that offer solution to immediate issues. It is the sharing of this body of knowledge and experience that makes Homewatch CareGivers uniquely qualified to provide the best in home care for those with Dementia. Family members can rest assured that their loved one is in capable hands, to ensure that there is quality of life.
Homewatch CareGivers of Phoenix understands that continuity of care is the most critical aspect of care that will influence success. To that end, our scheduling staff works tirelessly to ensure that we have the fewest, the most qualified, and consistently scheduled caregivers working with each client. Continuity of care is the primary indicator of success when caring for those with Dementia, and we track it continually to improve that end of our performance.
Homewatch CareGiver of Phoenix as a group of practitioners understands Dementia, and specifically Alzheimer's Disease. We will offer you and your family nothing short of the best in care.
If you have a family member with Alzheimer's Disease and are considering care options, we would welcome the opportunity to conduct a free assessment and consultation; we would collaboratively work together to determine how home care could meet your needs.
We are a family run and operated business. Call today, and "Let our family care for yours.