Personalized Connected Care
Dementia Home Care Services in North Chicago and Lincolnwood
Compassionate Memory Loss Support for Your Loved Ones
As we grow older, we cherish the memories we have accumulated throughout our lives. But for those with dementia, many memories can become harder to hold onto. As the disease progresses, they may struggle with even basic tasks, such as dressing or feeding themselves. If you are unable to care for your family member who is living with dementia, you need a caregiver who can provide the same level of care as if they were family.
At Homewatch CareGivers of Lincolnwood, we are here to answer your call. Our experienced caregivers are specially trained to provide compassionate support and care in Lincolnwood, North Chicago, and the surrounding areas. We focus on our clients' abilities and enable them to live life to the fullest by creating a customized care plan so that they can maintain their independence and live safely and comfortably in their own homes.
When it comes to Dementia and Alzheimer's care, we also follow leading practices from the Alzheimer's association. Click here to learn more!
Get in touch with us to discuss how we can help improve your loved one's quality of life with our dementia care services in North Chicago. Call us at (773) 974-8832 today!
Dementia Caregiving: The Benefits of In-Home Professional Support
When it comes to dementia care, in-home caregiving can offer a more compassionate and effective solution for memory loss conditions. At Homewatch CareGivers of Lincolnwood, we create a customized care plan that enables our clients to maintain their independence and quality of life.
Some of the benefits of our dementia care services include:
Safety in and around the home – Our caregivers can ensure that the home is safe and free from hazards that could cause injury or accidents.
Promoting independence by modifying steps to an activity – Our caregivers can modify activities to promote independence and make tasks more manageable.
Allowing time for the person to participate in their care – We can provide time for the person with dementia to participate in their own care, promoting a sense of control and independence.
Engagement at the right time – Caregivers in Lincolnwood can offer appropriate engagement and stimulation, ensuring that the person living with dementia is not over-stimulated or under-stimulated.
Creating safer, more manageable space – Our caregivers can arrange closets and drawers in a way that promotes independence and makes it easier for the person with dementia to find what they need.
Monitoring stimuli – We can monitor the environment for reactions that may cause distress to the person with dementia, such as loud noises or uncomfortable temperatures.
Understanding cues – Our caregivers are trained to recognize when a client needs quiet and rest, providing a calm and peaceful environment.
Staying engaged in physical activity to promote circulation and muscle strength – Our team encourages physical activity to promote circulation and muscle strength, improving overall health.
With our personalized approach and commitment to quality dementia care, Homewatch CareGivers of Lincolnwood can help provide peace of mind for families.
Giving Your Loved One the Best Possible Care
Our mission is to deliver quality home care services in Lincolnwood, North Chicago, and the surrounding areas while creating a fulfilling work environment for our employees. We are committed to establishing ourselves as a reliable and esteemed participant in the healthcare continuum, dedicated to delivering optimal care to our clients.
To achieve this, our caregivers adhere to our unique and meticulous THINK PEACE approach that encompasses the following essential elements of dementia care:
Toilet – The person may need to use the restroom and not know where to go. Our caregivers assist in toileting routines to ensure comfort and safety.
Hunger – The person may feel hungry or thirsty and is frustrated. We meet dietary needs by providing nutritious meals.
Incontinence – Incontinence causes a person discomfort and embarrassment. We support individuals in managing incontinence and promoting hygiene.
Noise level – Is the area too loud? Are too many people talking at once? We create a serene environment by managing noise and minimizing distractions.
Know – Know what's familiar to the person. Being able to talk with them about their past can be helpful. We utilize effective communication techniques to help individuals stay engaged.
Pain – Pain gets in the way of life. Are shoes too tight, possible headache or arthritis? What makes it better? We address signs of discomfort and ensure appropriate pain management.
Environment – Is it too cold, too bright, too dark, too cluttered? The person may respond drastically to changes. We establish a safe, comfortable, and familiar living space with memory cues.
Activity – Meaningful engagement diminishes boredom. We engage our clients in stimulating activities tailored to their abilities and interests.
Crowded – Are there too many people in one room? The person may become anxious in crowds. We ensure comfort and personal space by avoiding overcrowding.
Exhausted –The person may need to lie down and rest. We support rest and assist with daily activities to prevent exhaustion.
With this THINK PEACE approach, Homewatch CareGivers of Lincolnwood helps pioneer the field of dementia care by emphasizing the importance of well-being and cultivating meaningful connections. Learn more about our THINK PEACE approach to dementia care by reviewing our brochure.
Additionally, we offer ongoing professional development of our caregivers, providing them with the latest trainings in dementia care, including the SAVVY Caregiver program.
The Savvy Caregiver training provides our caregivers with the necessary knowledge to better meet the needs of our clients, including:
Strategies and Skill Development – Our caregivers have acquired effective strategies and techniques to handle various aspects of dementia caregiving. They can adapt their approach to meet the changing needs and behaviors of individuals with dementia.
Stress Reduction and Self-Care – Applying proactive planning and self-care practices allows our caregivers to provide the best possible care while maintaining their own balance and resilience.
Daily Life and Behavior Management – This training equips our caregivers with strategies to effectively manage the daily life and behaviors of individuals with dementia. They create supportive environments by establishing routines, adapting to changes, and maintaining a structured approach.
Effective Communication – Our caregivers have honed their communication techniques and skills through the SAVVY Caregiver training. They listen attentively, use appropriate verbal and non-verbal cues, and adapt their communication style for each client.
Through this comprehensive training, our caregivers acquire valuable strategies and skills, enabling them to deliver exceptional care and unwavering support to our clients.
Choosing a caregiver for a loved one is a serious decision, but with Homewatch CareGivers of Lincolnwood, we foster clear and empathetic communication to ensure that the thoughts, feelings, and needs of our clients are understood and respected.
Quality, compassion, and expertise are at the heart of everything we do. Call us at (773) 974-8832 today to get started with trusted in-home dementia care for your loved one.
Providing the highest quality of care at an affordable cost. Our local caregivers are trained, background-checked, and insured. This is our promise to you.
About Our Caregivers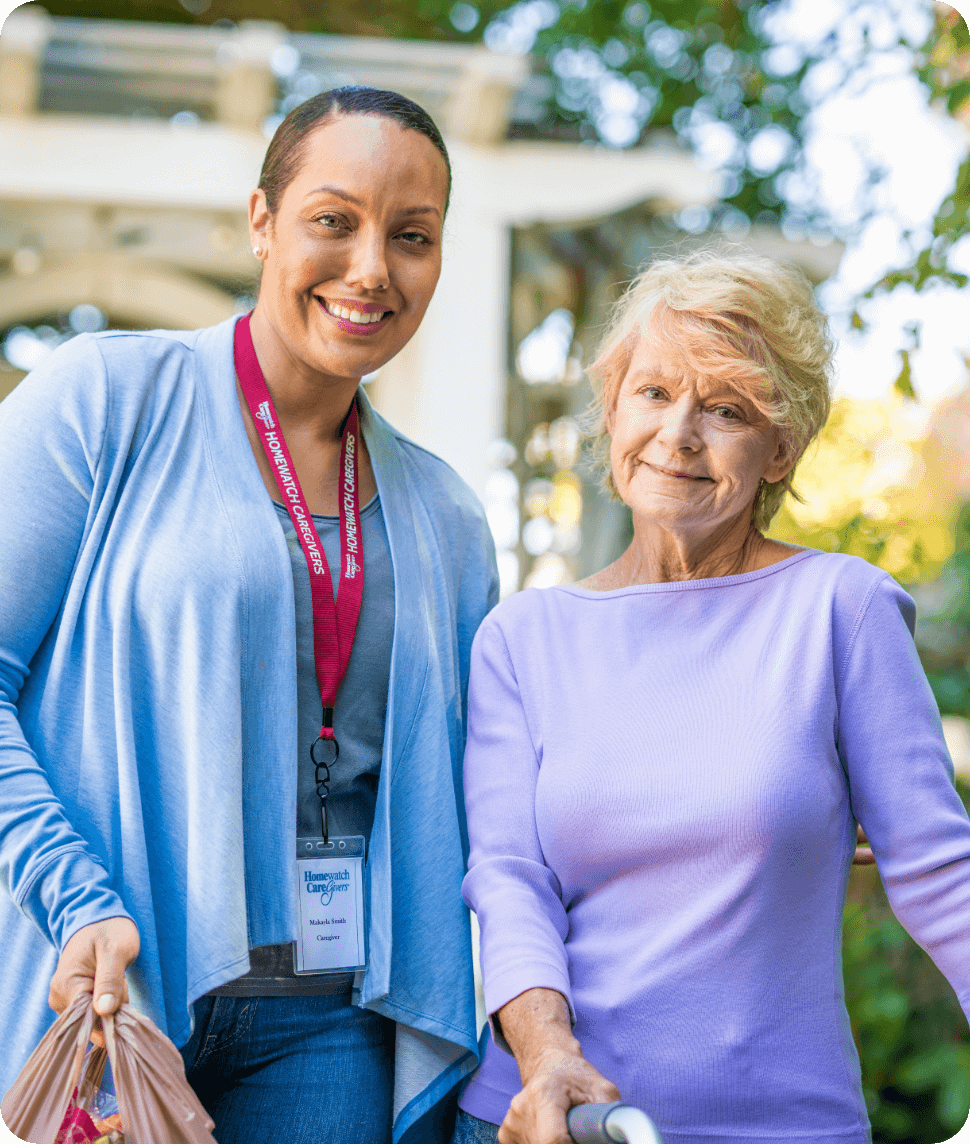 We conduct annual background checks on all local caregivers.

We provide at least 12 hours annually of employee training.

We perform in-person Quality Assurance visits at least every 90 days.

We conduct satisfaction surveys to monitor the level of care provided.

Ready to Speak with an Expert?
Homewatch CareGivers is Here to Help.