Author: Alma Garcia
Blue Cross Blue Shield says 3.6 million Americans have missed or delayed a medical appointment due to transportation barriers.
Imagine how many of those Americans are elderly patients who do not have physical access to transportation because they live in a retirement- or an assisted-living community that does not provide transportation … or the adult children work full-time and do not have the available days off to take them to their medical appointments.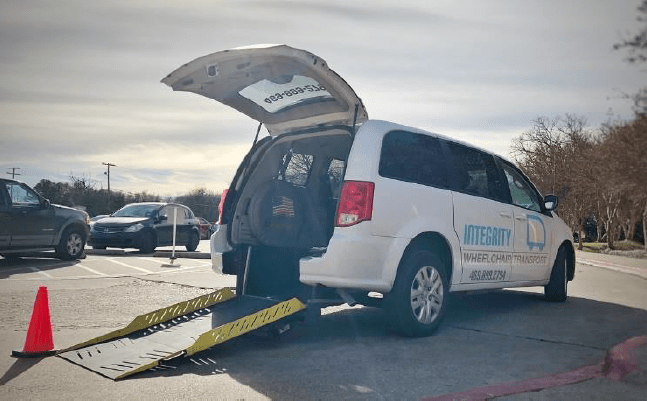 Residents in Dallas, Collin, Denton, and Tarrant counties can now breathe a little easier. Integrity Shuttle entered the market in 2018 to fill a void that has existed for too long. Integrity Shuttle is a privately-owned company that provides safe, reliable, non-emergency wheelchair transportation services between residential communities and medical facilities to points across the Dallas/Ft. Worth metroplex. Cities with a growing elderly population are seeing the difference companies like Integrity Shuttle are making. It is the difference between promoting independence and gently forcing someone to relocate because of transportation barriers that may exist. Integrity Shuttle also provides mobile notary services … an innovative approach to helping elderly patients remain independent. All Integrity Shuttle passengers are treated with the dignity, warmth, and compassion they would receive from friends and family with the added benefit of a highly-trained driver in a safe, comfortable, and well-maintained vehicle.
Here's how the services works …
Business to Business – Many retirement communities, assisted living facilities or rehabilitation hospitals have contracts with Integrity Shuttle. When a resident/patient has a medical appointment, they will make arrangements with Integrity Shuttle for a pick-up and payment.

Private Pay – An individual can make arrangements with Integrity Shuttle if he/she needs to go to the movies, mall, grocery store or restaurant. Integrity Shuttle can provide transportation regardless of whether he/she lives in a private residence, retirement community, assisted living, etc.
Scheduling – Appointments for pick-up can be made directly online or an appointment can be made by calling Integrity Shuttle at (469) 899-2794. Vans will arrive promptly at requested pick-up time. If you schedule an appointment at the spur of the moment, please allow 45 minutes to 1 hour for arrival.

Payments – Fares are prepaid via a credit card. Integrity Shuttle can provide you with an invoice to file with your insurance company, however, most insurance companies do not pay for transportation. Businesses who have contracts with Integrity Shuttle will cover the costs of transportation for their residents/patients.
Integrity Shuttle is the lifeline for a sustainable healthcare system for individuals receiving medical care as outpatients, those with disabilities, and for the increasing number of people with chronic conditions by providing consistent and efficient access to transportation.
To learn more about Integrity Shuttle visit their website.