Author: Alma Garcia 
COVID-19 has introduced unprecedented challenges to humanity and a disproportionate threat to the health, lives, rights, and well-being of the elderly. It is crucial to minimize these risks by addressing their needs and human rights in our efforts to fight the pandemic.
Two very important needs are (1) access to the outdoors and (2) interpersonal communications. Homewatch CareGivers (HWCG) is helping these realities faced by older persons by minimizing their social isolation and improving their health outcomes.
Access to Outdoors – We all know that Vitamin D is directly related to a more positive outlook and can help reduce a number of physical ailments such as rheumatoid arthritis, multiple sclerosis and heart attacks, according to a February 2017 article by Elder Care Alliance. Spending as little as fifteen (15) minutes each day in the sun can make a huge difference. Nature is known to boost mental health and build healthy immune systems. Taking a walk outdoors can help a person feel more energized. Exposure to natural light is a powerful healer and can help with the recovery of injuries.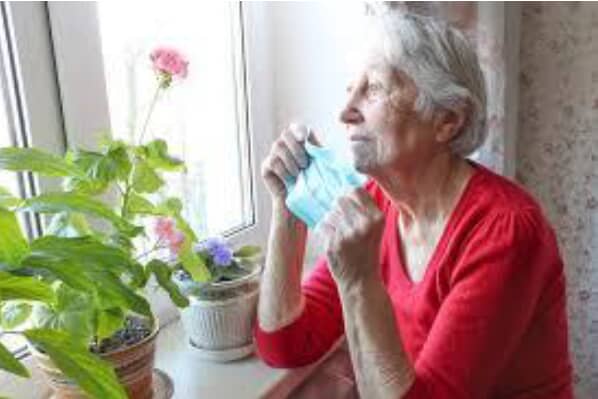 HWCG caregivers ensure their clients get exposure to the outdoors. For example, one particular client, who uses a walker, enjoys walks around the block with her caregiver after her morning coffee. This simple routine help jumpstart her day feeling revitalized. Another client, with more mobility but limited sight, still wants to be independent and walk his dog several times a day. A caregiver accompanies him by guiding him through the cracks in the sidewalks and stepping up and down the curbsides.
Taking a break from everyday routines by going outside and breathing in some fresh air contributes to higher attention levels and overall improved wellbeing.
Interpersonal Communications – The pandemic has also presented the need for physical distancing. For millions of Americans who live alone or in care facilities, physical distancing has restricted loved ones from visiting and has limited group activities. This social exclusion is having a negative impact on the physical, mental health, and wellbeing of older persons, particularly those with cognitive decline, memory loss, and who are highly care dependent. HWCG is an essential business that provides personal care wherever the care is needed (i.e., private home, retired community, assisted living facility, memory care center, rehabilitation hospital, etc.). Services vary depending on the level of care needed.
HWCG helps older persons by (1) keeping them connected with their loved ones, many of whom live out-of-state. This may simply involve connecting a client via video or FaceTime with a friend or a family member or dialing a number for an old-fashioned phone conversation; (2) keeping them engaged with games, word puzzles, adult coloring books, jigsaw puzzles or looking at photo albums for persons with memory loss; and (3) listening to stories from their past. Reliving the past can be therapeutic, stimulating and uplifting.
Let us not underestimate the power of eye-to-eye contact and listening without interruption … especially with the elderly population. This validates them and makes them feel complete.
"Know that you are the perfect age. Each year is special and precious, for you shall only live it once. Be comfortable with growing old." ― Louise Hay