Homewatch CareGivers of North Dallas provides valuable assistance with activities of daily living (ADLs) such as companionship, personal care, light housekeeping, meal planning, transportation to recreation center, medication reminders, and overall supports a safe and healthy lifestyle. They also provide comfort and support to individuals after the loss of a loved one by keeping the surviving spouse engaged, physically, mentally, and emotionally while continuing to live independently in his/her own home.
Jack … a 93-year-old WWII veteran still cries when talking about his wife who he lost to cancer over twenty years ago. They had been married for more than fifty years and endured so much together … a war, the death of a child, a failed business, and a life-threatening disease. They traveled around the world, collected wine, loved sailing, and enjoyed spending time with their children, grandchildren, and lifelong friends.
Even after 20 years, the overwhelming feeling of grief overcomes Jack at different times. And, it becomes difficult to cope living without her all over again.
For years, we were told that the grieving process included 5 stages … (1) denial; (2) anger; (3) bargaining; (4) depression; and (5) acceptance.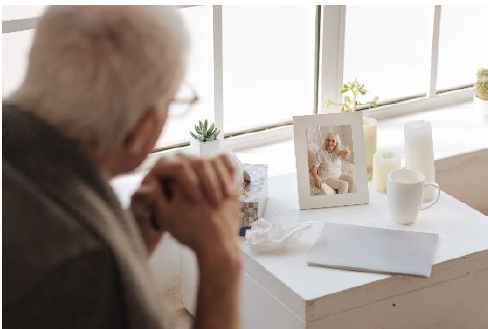 In November 1, 2008 Scientific American article entitled, Five Fallacies of Grief: Debunking Psychological Stages, the article says there appears to be no evidence that most people go through these stages in this or any other order. According to Russell P. Friedman, executive director of the Grief Recovery Institute in Sherman Oaks, Calif. (www.grief-recovery.com), and co-author, with John W. James, of The Grief Recovery Handbook (HarperCollins, 1998), "no study has ever established that stages of grief actually exist, and what are defined as such can't be called stages. Grief is the normal and natural emotional response to loss. No matter how much people want to create simple, bullet-point guidelines for the human emotions of grief, there are no stages of grief that fit any two people or relationships.
What we do know is that a deep depression and an overwhelming feeling of helplessness are often a part of the grieving process. And, mood swings can be part of it too. Like Jack, a widower might feel anxious and emotional one day and feel quite cheerful the next. Over time, those mood swings fade away in terms of the frequency and intensity until a level of emotional adjustment is reached.
Jack had to learn how to go on with his life. He joined a grief support group at his local church, adopted a pet which has turned out to be a great companion, and also signed up to play bingo at a nearby recreation center. His family and friends have played an important part in his grieving process by providing emotional support.
Grief sometimes goes away on its own. We must remember that everyone mourns differently. How a person is able to move forward depends on his/her physical, psychological, and spiritual condition and the kind of support they receive from friends, family, and companies like Homewatch CareGivers of North Dallas.