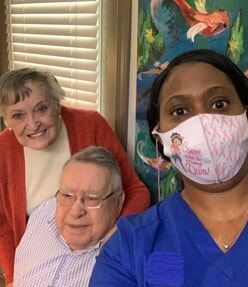 Client Story
Meet Tom and Verity. They are originally from Wisconsin.Tom graduated from high school at the age of 16 and went to college. He joined the Navy at 18 and served in World War II. At that young age, he was in charge of the radar system on the ship. Tom then returned to finish college. Following that, he met Verity. They moved to Minnesota where he worked as an electrical engineer. He was a pioneer in computers. He then went to night law school and became a patent attorney. He started the patent departments for both Control Data Corporation and Dell Computer. Verity is an artist. She began teaching dance at the age of 13. She has enjoyed sculpting, pottery, basket making, tap, ballet and baton twirling. Verity went back to college at the age of 50 and earned a degree in interior design. She then managed her own successful interior design business. Tom and Verity have been married almost 73 years and retired about 25 years ago. They have four children, ten Grands, and sixteen Greats. They are currently living in an independent living community. Tom is now legally blind. Our caregivers assist them with companionship, medication reminders, light housekeeping, and laundry. Since neither of them drive anymore, they greatly appreciate that our caregivers provide transportation for shopping and appointments. We recently sat with Tom and Verity and asked the following questions …
Why do you like Homewatch CareGivers?
Verity said, "I like both our caregivers, and the office staff are on top of things. Human beings answer the phone. I feel that they actually care about me. I see other residents with their caregivers, and I am always thankful that we are with Homewatch."

How has Homewatch CareGivers been helpful to you?
Tom said, "Someone is here to help me put on my shoes and socks!
I like that they walk with me and encourage me to get exercise. I am legally blind. I enjoy that that caregivers read to me. Having transportation is a big deal. Knowing someone will be there for me. They are dependable."

What is your favorite memory with your caregiver?
Verity said, "Cathy and I have fun shopping at Dollar Tree together." Tom said, "Vicki and I are both enjoying a great book together!"

Is there anything else you would like to share?
Verity said, "We have had lots of laughs together. Our caregivers are incredibly helpful to us.They are both Homewatch Gems!"

Homewatch CareGivers of North Dallas is honored to provide the care that Tom and Verity need. We look forward to helping them stay healthy and safe living in their independent living community for many years to come. Schedule an appointment online to learn more about how our home health care agency in Dallas, TX, can improve your loved one's quality of life.