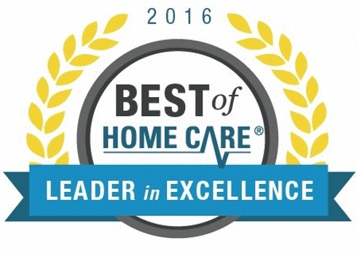 Homewatch CareGivers of Thousand Oaks announced today that they have received the distinguished Best of Home Care Leader in Excellence Award from Home Care Pulse, a third party customer satisfaction company. Homewatch CareGivers is the ONLY Home Care/Caregiver Agency in North West San Fernando Valley, Calabasas, Malibu, all of the Conejo Valley and Ventura County to earn this recognition.
In addition, Homewatch CareGivers of Thousand Oaks has been awarded the Best of Home Care Provider of Choice and Employer of Choice for 2016.
Home Care Pulse is the home care industry's leading firm in performance benchmarking and quality satisfaction management. They survey clients and caregivers for over 800 home care agencies across North America. This year 56 agencies offices were selected for the 'Leader in Excellence' Award, with only 7 in California. "Since these awards are based on real, unfiltered feedback from clients, family members, and caregivers over the course of the previous year, Homewatch CareGivers of Thousand Oaks has proven their dedication to providing a great work environment and solid training to employees, while maintaining their focus on client satisfaction. We are pleased to recognize their dedication to quality, professionalism and expertise in home care" says Aaron Marcum, CEO/President of Home Care Pulse.
"We are very proud to receive this "Leader in Excellence" recognition. We pride ourselves in developing a unique relationship with each client and, when appropriate, their family members The key is having trained and reliable caregivers who form a care team with each client, any loved ones involved, and our office staff." The office team consists of Esabel DeSousa, Office Manager; Malyse Evans, Client Caregiver Coordinator; Barbara Oldfield, Community Outreach Coordinator and Kristine and Randy Martin, President and CEO/Owners. "It takes a team effort to achieve this recognition," says Ms. Martin.