Author: Alma Garcia 
During my 20's, I believed anyone who was in their 60's was old. Today, I am 64 years old and … let me tell you … my perspective has changed, especially since I feel like I am in my 40's. The late Leonard Cohen was cited as saying, "It's been a long time since I stood on a stage in London. I was 60 years old, just a kid with a crazy dream."
Reality check. Aging is inevitable. But how we age is up to our attitude, perception, and acceptance.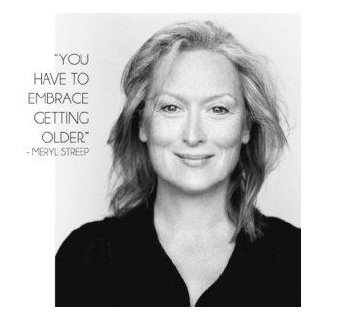 In a recent article, Things Necessary for Aging With Dignity And Grace, posted by Aging in Place, they quoted … "The art of graceful, dignified aging begins with affirmation. In a society that is collectively consumed by body image and an attitude of avoidance, aging is a prospect that haunts and strikes fear into the hearts of many. Due in part to media portrayals of aging, some negative notions surrounding older people have resulted in thoughts and processes that dishonor the aging process by transmuting it into a belief that it must be avoided at all costs."
Attitude – Let's be flexible about how we look at the aging process. If we think of age as just a number, we can let go of the widespread idea that our ability to "think" and "do" is tied to our calendar age. Instead, let us have a sense of responsibility so we can continue to have life goals and live healthier lifestyles.
Perception – Let's change the perception of when we believe people become "old." My perception of people becoming old at age 60 changed dramatically after I hit 40. These perceptions should not be static. Our perception changes as we ourselves change.

Acceptance – Let's accept the fact that people nowadays are living longer. It is our opportunity to plan accordingly … maybe even come up with a second act or discover new hobbies. It is also important to accept physical and mental changes. If we understand what's going on, we are better prepared to cope with the changes.
In conclusion, a person with a healthy mindset can embrace getting older with dignity and grace depending on their attitude, perception, and acceptance. We can turn the media's portrayal of aging around by demonstrating that "old and gray" can be sexy. And, let us adopt an attitude like Leonard Cohen, "just a kid with a crazy dream."

"We don't stop playing because we grow old; we grow old because we stop playing." — George Bernard Shaw