Author: Alma Garcia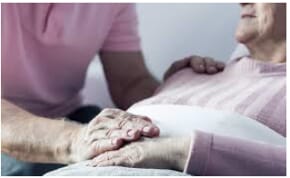 Hospice care is misunderstood by many because too often people associate it with dying. It is important to understand what "hospice care" is and how it can be an essential element in your loved one's care.
To understand what "hospice care" is all about, first, let's debunk some myths and talk about what "hospice care" isn't.
Hospice care is often confused with the following ideas …
Hospice care is a place/location.
Hospice care means the patient is dying.
Hospice care is affiliated with a particular religion.
Hospice care is expensive.
Hospice care is a service provided by a private company for any life-threatening condition. The service can be provided wherever the patient is living. This may include their private home, an independent living community, an assisted living facility, a memory care unit, a skilled nursing facility or a hospital. The service comes with many benefits such as a hospital bed; medical supplies (i.e., oxygen, walker, disposal underwear, bed pads, bedside toilets, pain medication, etc.). The service also includes a nurse that visits regularly to take vitals and monitor the patient, and a medical doctor that oversees the patient's plan of care.
Hospice care is about living. It is about the patient making a recovery and living the best quality of life possible. Many patients enter hospice services, get better and return to normal care. If it is an end-of-life situation, the services are centered around palliative care which is the management of pain, symptoms, and addresses the physical, emotional, spiritual, and social needs for both the patient and their family. End-of-life services are only for those patients who no longer seek curative or aggressive treatment and do not expect a future hospitalization.
As it relates to the spiritual needs of a patient, hospice care can provide a chaplain that can spend time with the patient and his/her family if spirituality is important to the patient. No particular religion is used, and the family chooses whether or not this service is wanted.
Hospice care is underutilized. It is estimated that only one-third of Americans use this benefit. Many patients and their families are not aware that hospice care is high-quality care … and that it's FREE! Medicare covers the expense.

There is much more to learn about hospice care. For example, Homewatch CareGivers can be there for families when hospice care is focused on the patient with complementary services such as light housekeeping, meal preparation, respite care and more. Start by having a conversation with your loved one to understand his/her wishes and talking with your loved one's doctor. Oftentimes, a doctor will recommend reputable hospice and personal care companies they are familiar or partner with. Hospice care is a loving way to care for someone. A patient's relative said it best … "hospice care is a perfect combination of expert professional care and truly loving consideration."