Paralysis is most often caused by damage in the nervous system, especially in the spinal cord. Other major causes are stroke, trauma with nerve injury, polio, cerebral palsy, peripheral neuropathy, Parkinson's disease, ALS, spina bifida, multiple sclerosis, and Guillain-Barre syndrome. Certain drugs that interfere with nerve function can also cause paralysis.
A May 2019 article entitled, What to Expect When Caring for a Quadriplegic at Home, tells us that "caring for someone with quadriplegia can be overwhelming because you essentially become their arms and legs." The article also goes over what you should keep in mind when caring for a quadriplegic at home and how to approach their recovery after inpatient rehabilitation.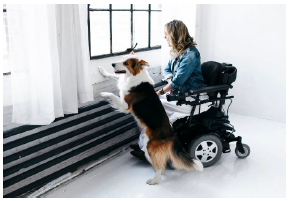 Homewatch CareGivers (HWCG) provides services to individuals challenged with chronic conditions, cardiac diseases, memory loss and disabilities such as quadriplegia. It takes a special type of caregiver to care for a quadriplegic.
Because of the inability to move limbs, as the article above describes, the caregiver becomes the patient's arms and legs. If there is an itch on the nose (for example), the caregiver becomes the hand that relieves that sensation. Some quadriplegics can feel sensations on their skin, like pain but are not able to move their limbs to relieve the pain. This can be a point of frustration for the quadriplegic patient.
Because of the inability for the brain to communicate with other parts of the body, a quadriplegic must learn new ways to empty the bladder and bowels. A caregiver must be well versed in emptying and cleaning colostomy and catheter bags.

Because of decreased mobility, quadriplegics are susceptible to infections and bed sores. Any device with electrodes or tubes under the skin are other factors for irritation and infection.
Because of feelings of hopelessness and helplessness, there can be a lot of emotional stress on the quadriplegic. Depression, anxiety, and anger are very common in quadriplegics and can be transferred to others around them, maybe even people caring for them, if supportive systems do not exist to keep them emotional strong and healthy.
Because families with quadriplegics are stressed, often times relationships can be strained. If an outside caregiver is involved, triangulation between patient, family member(s) and caregiver may occur. Having an experienced, caring, and compassionate caregiver who can manage sensitive relationship situations is very helpful.
The United Spinal Association is a 501(c )(3) organization committed to advocating for greater civil rights and independence for people with disabilities, including expanding education and employment, improving enforcement of the Americans with Disabilities Act (ADA), ensuring adequate access to public transportation and taxi services, and amending Medicare rules that restrict many individuals to their homes and nursing facilities. Visit their website to learn more.