By Alma Garcia
As my mother aged … and her memory started to decline … my siblings and I started having discussions on how to get her safely off the roads. The last straw was when I received a call from one of my mom's friends. My mom had secretly reported to her that while driving to Walmart one day, she became disoriented and ended up in a different county. Mom was forced to knock on a stranger's door to ask directions to her own home. This was a red flag.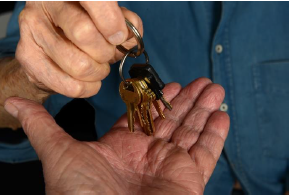 During the years of helping family caregivers in memory support groups, the topic of "taking the keys away" came up time and time again. Below are some methods we discussed in our group:
Have Someone Borrow the Car – Out of sight; out of mind. If the car is not in the driveway or garage, it is hard to remember that a car exists. Simply tell the elderly parent that a relative needed to borrow the car because theirs was in the shop in need of repair. This approach prevents any emotional confrontations and prevents your parent from getting depressed about not being able to drive.
Call the DMV – Believe it or not, the Department of Motor Vehicles (DMV) accepts calls about unsafe drivers. When this happens, most states will require an appointment for a retest. A parent is less likely to be angry with you about failing a driving test. I have known family members who have not been comfortable calling the DMV on their elderly parents, but when they shared their concerns with their parent's doctor, the doctor was able to write a letter that they could then take to the DMV.
Disable the Car – You can unplug the battery or remove one or multiple leads from the spark plugs. A parent may be able to get the car keys but will not able to drive a disabled car. This may even be an excuse to have the car removed (for repairs) and taken away from the home permanently.
Hide Car Keys – You may simply have to hide the car keys and tell your parent that the keys are lost.
In my mom's case, a family meeting was held and the announcement was made that she would no longer be able to drive. Calling a family meeting was key as no particular son or daughter would be blamed. We showed mom her car's fender where damage had occurred and reminded her that it was no longer safe for her to drive. She could hurt herself … or hurt innocent people. Lastly, we reassured her that she would still go out on shopping excursions; she would have a personal taxi (her children) to take her wherever … and whenever she wanted to go.

Agencies like Homewatch CareGivers provide personal care services that includes having a caregiver do the driving for older adults. They keep their independence and the caregiver can provide transportation to doctor's appointments, shopping, private outings, etc.
Daily Caring … a website for caregivers … explains "many older adults get offended, defensive or angry when asked to stop driving. That's because driving is a major symbol of independence and control." If your parent is already dealing with the loss of control over their health, asking them to give up driving will be yet another blow to their self-esteem. Read the full article here. "The middle of the road is where the white line is - and that's the worst place to drive." – Robert Frost