Seniors in the Northshore and throughout the Chicagoland area living with osteoporosis pose a greater risk for falls. When seniors fall it can be terrifying, but it can be especially scary for elderly women with osteoporosis. This condition causes bones to become brittle, weak and easily breakable. Falls for seniors with osteoporosis can lead to a hospitalization and possibly a need for in-home care after discharge.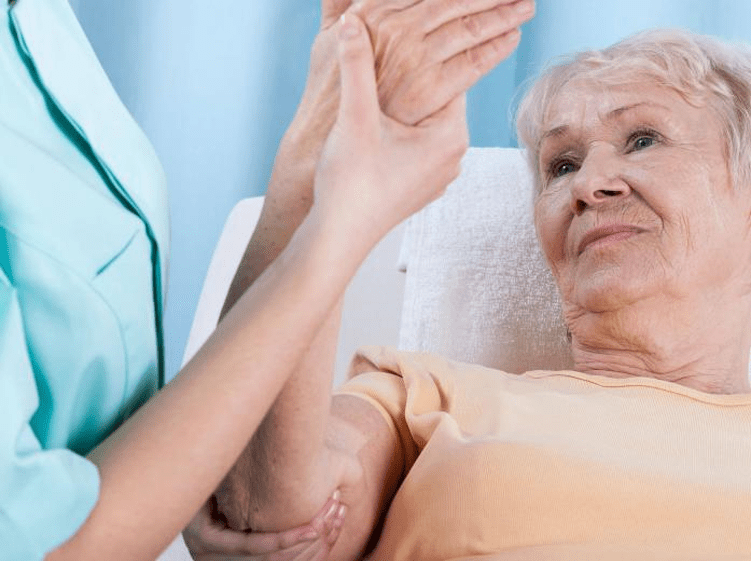 How Common is Osteoporosis?
The National Osteoporosis Foundation reports that over 10 million American seniors have osteoporosis and over 34 million have a lower bone mass. Statistics show that 24% of people over the age of 50 who experience a hip fracture will die within the year following the fracture. The National Osteoporosis Foundation also estimated that the cost of osteoporosis-related fractures will be around $25 billion by 2025.
When a senior with this condition falls, they are at risk of breaking more than just a hip – they can fracture their wrists or arm. Trying to break a fall by extending out your arms is an automatic response; thus multiple breaks can occur for those seniors living with osteoporosis. This condition causes bones to become so fragile that bones may break without even falling. Lightly bumping into furniture, standing up from a chair, and even sneezing can all cause a broken bone in an osteoporosis patient.
Prevention and Care
One key to preventing osteoporosis is maintaining a calcium-rich diet and adding vitamin D. Experts also recommend adding fruits and vegetables into meals, because the nutrients in those foods are good for bone health. It is also imperative to limit smoking and alcohol consumption as those increase the risk of getting osteoporosis. Finally, regular exercise can aid in the regression of this condition.
For those who are currently living with osteoporosis, here are tips on how to prevent falls and keep them safe inside and outside of the home:
Put away loose rugs or any other tripping hazards in the home.
Install grabs bars in the shower and next to the toilet. Also consider a bathmat inside the tub to prevent slipping, and insert a shower bench inside the tub
Wear clothes that fit properly. Avoid long skirts and dresses that could be tripped over
Do not wear slippery socks or flip flops. Low heeled or shoes with rubber soles can provide more grip and stability.
Have bed rails installed to assist with getting in and out of bed
Install handrails on both sides of the stairway to provide more support going up and down the stairs.
Research homecare agencies in the area to find a caregiver to assist with activities of daily living.
Protecting Seniors with Osteoporosis
Any senior living alone should consider purchasing a personal emergency response system. Seniors who experience a fall can use the emergency response system to call for help with a push of a button. They can also carry a cell phone or small cordless phone in their pocket, which would provide another way for them to call for help.
The National Osteoporosis Foundation explains some medications can cause side effects that can cause a senior to fall, such as allergy medications, blood pressure medicine and sleeping pills. Medical conditions, like low blood pressure, can also cause a senior to fall.
People with osteoporosis can still live independent and active lifestyle, while decreasing their risks of falling at home. Muscle strengthening and weight-bearing activities are beneficial for improving balance. Medical professionals also suggest people with osteoporosis get their sight and hearing checked, as both of those senses affect a senior's balance.