Personalized Connected Care
Seattle Plan of Care
There is no cookie cutter plan of care and that's why Homewatch CareGivers of Western WA area work with you to a develop a plan of care based on the unique preferences and needs.

For example, one of our clients, living with dementia, loves the outdoors. We were able to match him with a male caregiver who shares the client's passion for fishing. On any given day, when the weather permits, you can find the two of them at the waterfront together, with their lines in the water and coffee cups in hand.

We also are able to work closely with families. For example, we have a 92 year-old client who has been with us since 2010. She and her family are an outstanding example of how to work in tandem with us. Our caregiver team has made it possible for her to remain independent in her own home with 24-hour care. The caregivers keep her engaged, active, and socializing. We value the family's ongoing support - adding extra protection in some areas of the home, providing funds for their mother to have special outings, and encouraging social visits. The sense of fulfillment the caregiver feels with this kind of support validates their purpose in caregiving.
Your home care service plan may include some of the items below:
Bathing, Dressing, Grooming & Toileting

Bathing Assistance
Catheter/Ostomy Bag (Empty Only)
Comb & Set Hair
Denture Care Assistance
Dressing Assistance
Incontinence Care Assistance
Nail Care (File and Clean)
Oral Hygiene Assistance
Perineal Care
Skin Check
Toileting Assistance
Housekeeping & Laundry

Change Bed Linens
Clearing Clutter & Trip Hazards
Organizing Household Items
Vacuuming & Dusting
Meals

Cooking Together and Eating Together
Incorporating Food Preferences & Dietary Restrictions
Menu Planning
Nutrition & Hydration Oversight
Report Refused Nutrition/Hydration
Errands & Transportation

Dr's Appointments
Grocery Shopping
Pharmacy
Social Outings
Medications

Adherence to Time of Day, Dietary Considerations and Activity Scheduling
Communication About Adherence & Adverse Side Effects
Medication Reminders
Remote Care Technology Medication Dispensers
Social Engagement

Arts & Crafts
Cards & Board Games
Music & Movies
Outings & Social Activities with Friends and Family
Story Sharing & Reminiscing
Safety Precautions

Ambulation Assistance
Assistive Devices
Bed-Bound Repositioning
Fall Risk Evaluation
Full House Safety Evaluation
Remote Care Technology & Safety Alert Systems
Transfer Assistance (Bed, Car, Chair)
Quality Oversight

Care Plan Documentation
Caregiver Matching
Family Involvement in Plan of Care
Indepth Social History
Quality Assurance Visits
Lifestyle

Adherence to Smoking & Alcohol Reduction Recommendations
Routine Exercising
Sleeping Patterns
Care Communication

Communication with Family
Communication with Providers Coming into the Home (PT, OT, Home Health, DME, Oxygen)
Communication with Providers Out of Home (PCP, Specialist, Pharmacist, Clinic)
Dr Appointment Scheduling and Updates
Providing the highest quality of care at an affordable cost. Our local caregivers are trained, background-checked, and insured. This is our promise to you.
About Our Caregivers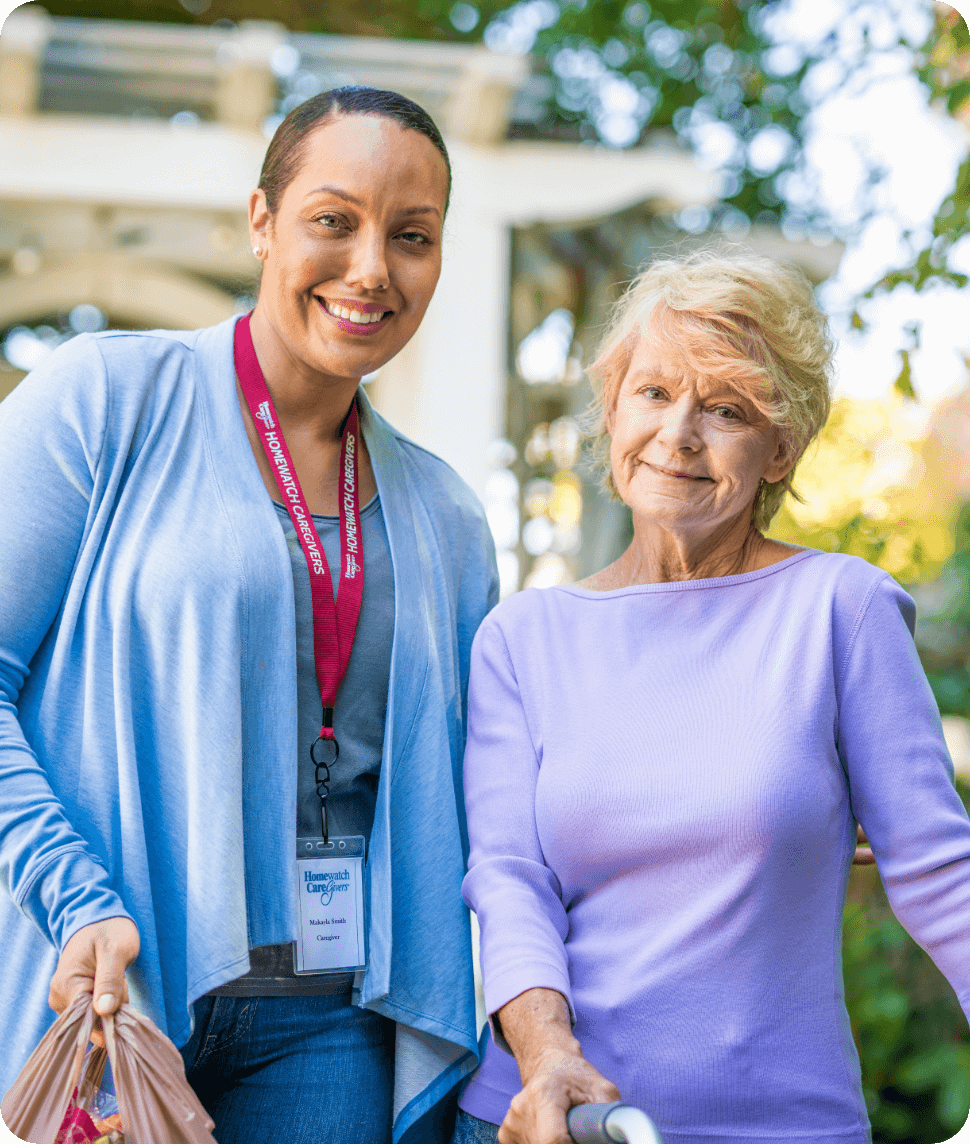 We conduct annual background checks on all local caregivers.

We provide at least 12 hours annually of employee training.

We perform in-person Quality Assurance visits at least every 90 days.

We conduct satisfaction surveys to monitor the level of care provided.

Ready to Speak with an Expert?
Homewatch CareGivers is Here to Help.