Personalized Connected Care
The Story of Homewatch CareGivers of Hickory Hills
Homewatch CareGivers' servicing Orland Park, Oak Park, Oak Lawn, and South West of Chicago is committed to being the premier provider of home care in the Chicago area.
Our outstanding and dedicated office staff and caregivers work diligently to provide in-home senior care, hospice and respite support, specialized Alzheimer and Dementia, emergency child care, and those recovering from an injury or illness throughout the Chicago Suburbs
Home care is our passion and we focus on services that allow our clients to remain independent, maintain the comfort and security of their home, and preserve their dignity; while receiving the care they need. In addition, family members are put at ease knowing their loved ones are cared for.
I remember when I met "Joe", he was very determined and was refusing to have a caregiver to help him and his wife. Joe was on hospice and his wife had dementia. He was proud that he was able to be independent for all these past years and he wasn't about to accept help now. I sat down with "Joe" and we had a long and pleasant discussion, the beginning of which I share with you here:
Zahra: "Joe what is your fear?"
Joe looked at me and was quiet for a while, and then he said softly, "To die alone!'
I held his hand and said, "My goal is to make sure I meet your expectation by allowing me to have a caregiver to look after you and your wife so you will not be alone when the time comes."
Zahra, "What is your perfect death?"
Joe: "After dinner. I would have everyone gather in my house for a nice meal. Then I would like to retire to my room where I can hear everyone laughing and talking. Then nicely and with no pain I will just slip away…."
By the end of our conversation, Joe had accepted the care he and his wife desperately needed. Joe did not die alone.
Our Care Coordinators
Our care coordinators are experienced professionals who collaborate with physicians, nurses, pharmacists and other health care providers such as home health and hospice to improve patient health outcomes and reduce health care costs. They offer ongoing feedback and reporting to family members.
We are a reliable, predictable and responsive staff. We are available 24/7 because we understand that the well-being of your loved one isn't only important during normal business hours, and if you're in a crunch we can respond quickly to your needs.
We tailor our care for the "whole person" addressing the physical, social, intellectual, emotional and spiritual needs of our clients.
We guarantee client and caregiver matching.
Call today (708) 501-6795 to learn more about our exceptional and committed team and schedule a free consultation, home safety inspection, or fall risk assessment.
Our Caregivers
Because our caregivers are the ones with whom your loved one spends the most time, it's important to us that they meet the very highest of standards. That's why they are put through an extensive screening process and are chosen for their dependability, experience and affinity for elder care.
All of our in home caregivers are passionate about their vocation. We understand that our business is people, and whether the caregiver is required for a few hours a day or around the clock, they must not only be an assistant but a companion to your loved one, building a lasting relationship of trust and comfort. Relationships and personalities matter.
Just as important, our caregivers must be educated, experienced and well-referenced, which is why we hire not only companions, but Certified Nursing Assistants (CNAs) and Certified Home Health Aides (CHHAs). Our caregivers' continual communication ensures that your loved one gets the care and quality of life they deserve. This highly coordinated and personal attention also results in the entire family enjoying a greater peace of mind.
Finally, all our caregivers are , insured, tripled screened for criminal records, professional references and pass TB and drug tests.
"Just a quick note to thank you for your kindness in talking to us about my aunt Marie care. Recently you made us all feel so confident that she would have been taken care of, and in such a caring way. You helped make a difficult decision easier…unfortunately my aunt passed away and we didn't carry it out. I just wanted to express how much you were appreciated."
Sincerely Debbie C. - Palos Heights
"For all you do for my aunt Kay, can't thank you enough."
Best, Victoria A. – New York
Homewatch CareGivers of Hickory Hills
708-501-6795
Schedule a Consult Call

Providing the highest quality of care at an affordable cost. Our local caregivers are trained, background-checked, and insured. This is our promise to you.
About Our Caregivers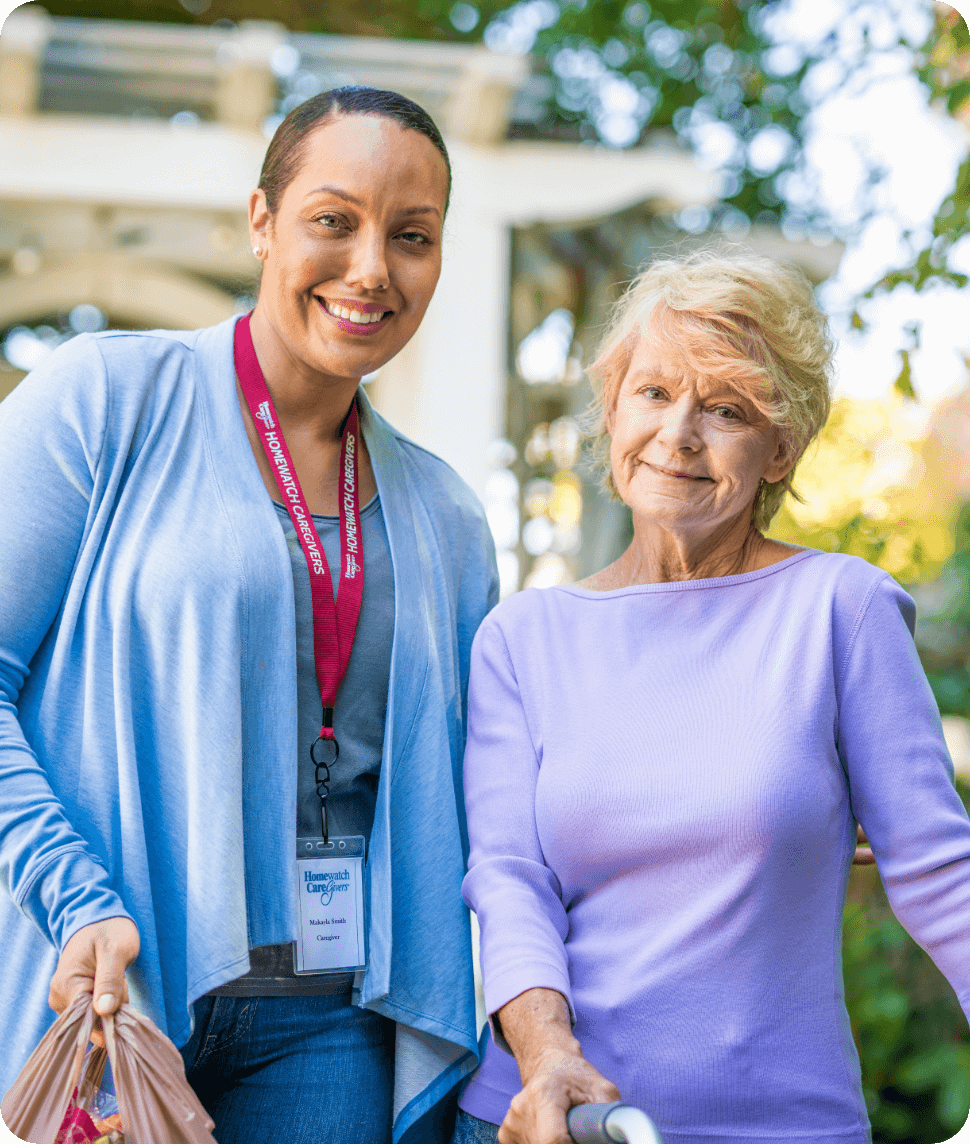 We conduct annual background checks on all local caregivers.

We provide at least 12 hours annually of employee training.

We perform in-person Quality Assurance visits at least every 90 days.

We conduct satisfaction surveys to monitor the level of care provided.

Ready to Speak with an Expert?
Homewatch CareGivers is Here to Help.