Personalized Connected Care
Silver Spring Dementia Care
Compassionate Dementia Caregivers in Silver Spring, MD
Dementia is a progressive and incurable disease that is often associated with age and some neurological issues like Alzheimer's disease. In addition to the physical signs of aging, dementia introduces a wide range of complications that can increase the difficulties that come with providing care to your loved ones. Through delicate training, our Silver Spring dementia care team provides the attentive care needed to ensure the safety of your loved one.
An important aspect of dementia to be mindful of is as it progresses, the person will have much more difficulty conveying their needs. Because of this, it can be difficult to provide meaningful care to those living with dementia. We carefully train our caregivers to be patient and compassionate as not to hurting your loved ones feelings or compromise their dignity. Our unique plans are designed to suit your requirements and the person's needs to ensure they live their lives to the fullest. We work hard to preserve these core values of life in Kensington, Takoma Park, Langley Park, and areas around Silver Spring.
For those living with dementia, maintaining quality of life and a sense of dignity can be difficult. Our dementia caregivers provide compassionate and meaningful in-home care.
Contact us now or schedule a free consultation online to learn more about our dementia caregiving services.
The Impact Dementia Has on Daily Life
Dementia refers to the neurological condition that impairs memory, executive functions, motor skills, and the thought process of a person throughout their daily life. Unfortunately, these impairments can have drastic emotional impacts on every aspect of their personal life and the lives of their family members. Those living with dementia can forget to pay their bills, important dates, the names of family members, and much more. This will oftentimes result in unnecessary stress in their lives.
Our Silver Spring dementia caregivers will work to reduce these stressors and will offer support in an attempt to keep your loved one at ease in their own home. Our team will address your concerns and from there, create a unique plan of care that will provide a meaningful experience for your loved one. Plan of care could include reducing environmental stimuli, management of physical decline, and assistance through daily life. Common Dementia Care Services may include:
Companionship
recreational activities, or visiting friends.
Personal Care
Assistance with walking, bathing, dressing, eating, & encouragement with staying active.
Homemaker
Housekeeping, meal preparation & cooking, and shopping.
In-Home Care for those living with Dementia
In-home dementia care may be more beneficial for those living with dementia that present no urgent and pressing need for clinical care. Moving locations or being in an environment they do not immediately recognize can be stressful for dementia patients. These aspects of dementia care are taken into consideration when you meet with our team during your initial consultation. We will provide you with a unique plan of care most impactful for your loved one because there safety and happiness is what matters most!
In-home dementia care services are gaining popularity for many reasons:
Physicians agree in-home care positively impacts recovery and rehabilitation.
Family members may not be ready to move the patient to a nursing home.
Nursing homes are costly, and can be difficult to maintain financially long-term.
Many nursing homes may not have any room.
Why People Trust Homewatch CareGivers of Silver Spring
Our in-home dementia care services are designed to constantly improve the the quality of life and overall well-being of your loved ones in the comfort of their own home. Dementia simply means that your ability to do some tasks is reduced or diminished, but your zeal for life, love, care, and warmth is still there.
Our dementia home care team works to ensure:
Preserve the dignity of your loved ones.
Provide daily encouragement to continue living to their fullest.
Assistance with routine tasks and work.
Maintain a safe environment in a safe place, their home.
Proper and timely medication.
FAQ
What are the Benefits of Dementia Care Services?
Dementia can be a challenging condition for both the affected and their loved ones. Dementia care services offer a range of benefits that can help manage the symptoms and improve the quality of life for those living with dementia.
Some of the benefits of dementia home care include:
Personalized care: Dementia care caters to the individual needs of each dementia patient, as they are designed to support activities of daily living, mobility, social interaction, and cognitive stimulation.
Improved socialization: Provides opportunities for socialization and engagement through activities such as group outings and games, reducing feelings of isolation and loneliness.
Safety and security: Provide a secure and supervised environment that reduces the risk of accidents, falls, and other safety concerns. Care providers also monitor medication, nutrition, and hydration to ensure they meet their needs.
Peace of mind for loved ones: Peace of mind for loved ones, knowing that their family member receives the support and care they need. This can reduce caregiving stress and burden.
Improved quality of life: Help individuals with dementia maintain independence, dignity, and quality of life. Care focuses on enhancing strengths, abilities, and interests to promote overall well-being.
Do you or a loved one need a little extra throughout the day? Call Homewatch CareGivers of Silver Spring today or schedule a free initial consultation online now!
Providing the highest quality of care at an affordable cost. Our local caregivers are trained, background-checked, and insured. This is our promise to you.
About Our Caregivers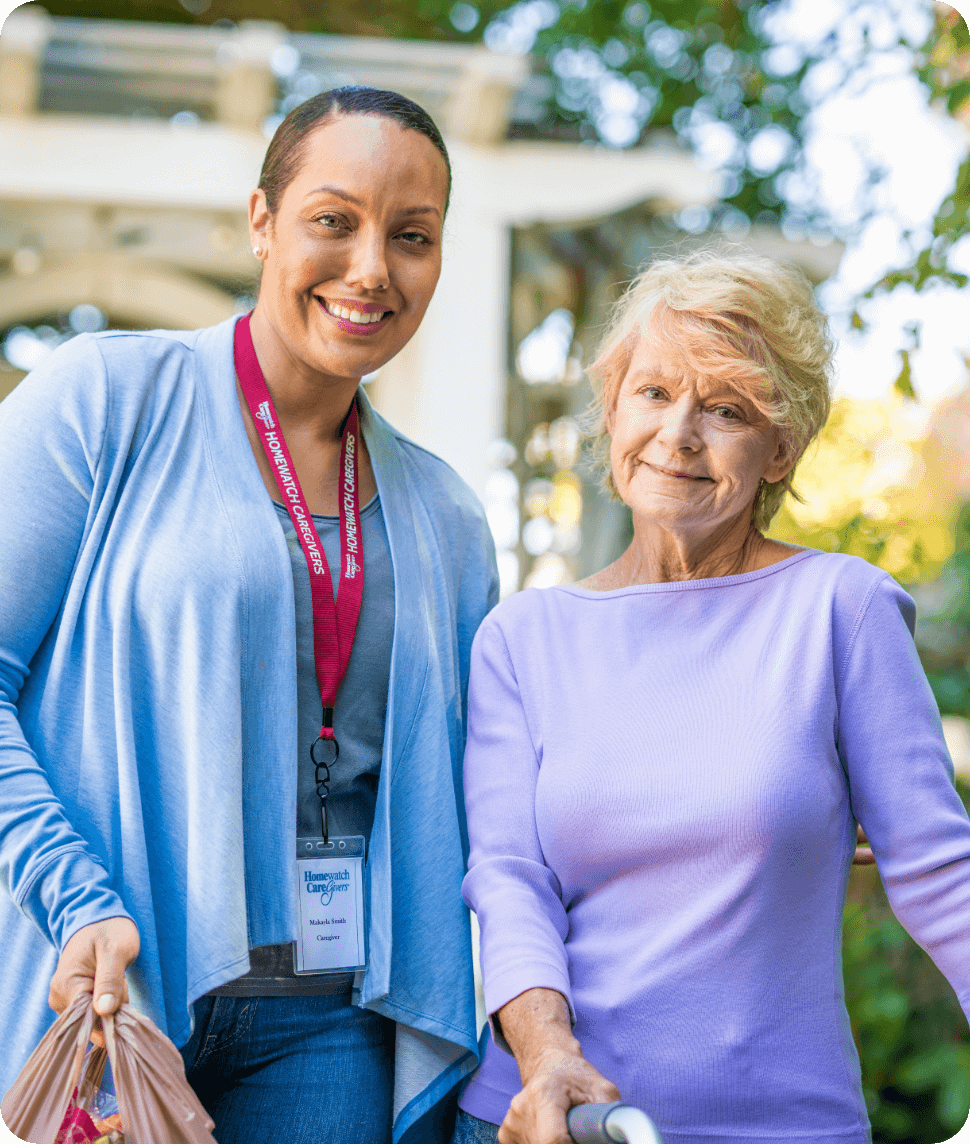 We conduct annual background checks on all local caregivers.

We provide at least 12 hours annually of employee training.

We perform in-person Quality Assurance visits at least every 90 days.

We conduct satisfaction surveys to monitor the level of care provided.

Ready to Speak with an Expert?
Homewatch CareGivers is Here to Help.