Happy fall ya'll! This is one of my favorite seasons! Pumpkins, sweatshirts, firepits, football games, and hot apple cider...these are just a few of my favorite things!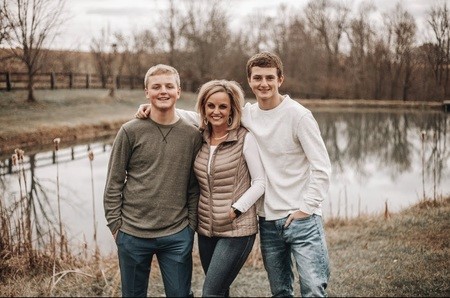 We have many new clients and partners, and I would like to introduce my family and a little bit about me. I live in Verona, KY with my 2 sons. William is actually a freshman at EKU studying Health and Safety and Nick is a sophomore at Walton Verona and is a football and basketball player. I am also an active member on the Walton Verona School Board. We all stay busy cheering each other on and catching college football games on Saturdays when we can. I purchased this franchise in July 2020 because I knew there was a huge need for excellence in home health care and I decided I was the one who would make that change. What is my why? My why is to show my 2 sons that hard work, diligence, faith and honesty will provide a good career for you and that you can do anything that you set your mind to and you will be successful if you want it bad enough. This meant sacrificing time at home and asking other parents for help with carpools. However, the boys see changes happening in me and they hear the wonderful stories of impact that we are making in NKY. Outside of running our agency, you will find me running on the streets of Covington and Cincinnati as I am preparing for the upcoming Queen Bee half marathon and hiking at Red River Gorge.
I want to be fully transparent with my clients and fellow business partners. Staffing has been extremely challenging the last few months due to the economy and COVID challenges. It is our goal to have one or two caregivers per family so that the relationship between client and caregiver can flourish. Thank you for your patience as we navigate staffing and substitutes. Each of our team members are fully onboarded and ready to work in our homes. I have also spent a great deal of time in the homes as well as a substitute. I enjoy doing this so that I remember the challenges that our team members face. It is very important to me that they stay mentally, emotionally, and physically healthy. We do give each staff member 2 days off a week so they can have a break. It is also crucial to our leadership team to foster relationships with our team, so they know they are appreciated. We couldn't be successful without happy and healthy employees who are committed to our clients.
Did you know that we also work with local assisted living facilities to provide additional care to your loved ones? If you need any referrals or additional information, please give our office a call.
We are also diligently working with Humana and Anthem to become accepted in their network to be a home care provider. I will make the announcement soon once it is finalized.
I want to wish everyone a happy October!
Blessings,
Stacey