As exhausting as caregiving for a loved one can be, it can also be precious time with them and provide a sense of purpose for the caregiver.
One woman who cared for her husband for four years explained it this way four months after he passed away: "I spent four years as caregiver for my husband. He passed in January. It does not get any easier when they pass. You go from a job that lasted 24/7 to zip. Even after four months, I wake up hearing him calling my name."
Another woman who cared for her sister with dementia commented about the experience of losing her sister after two years of caregiving for her: "I didn't realize just how stressed I was until it was over. I feel a little guilt at the weight that has been lifted off of me, but I do know that it is a normal feeling."
The Hospice Foundation of America notes, "Caring for a loved one during a life-limiting illness can impact the grief reactions we have after the person dies. In addition to more expected reactions, we may feel an acute sense of loss over the role that caregiving has played in our life, or even relief that intense caregiving duties are over."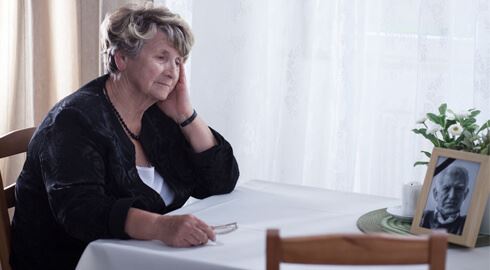 You've Heard This Before
The advice that many family caregivers get when they are in the thick of things is the same they will hear after a loss: take care of yourself. The Family Caregiver Alliance recommends the following self-nurturing tips:
Acknowledge your feelings—good and bad.
Start a journal—maybe one to pour out grievances, another to be a gratitude journal.
Get support—from friends or professionals.
A death after caregiving can be complicated with what is called "anticipatory grief" and guilt, along with the sadness. "When caring for someone over time, we may start to grieve that person long before they die… Sometimes, when someone has grieved a death over a long period, there is less grief when the person dies; sometimes there is more pain when a person dies," states the Family Caregiver Alliance.
There may also be resentment if a primary caregiver did not feel supported by other family members, who are now grieving. No matter what the circumstances, there is no right or wrong way to grieve and each person will go through the process that is best for him or herself. There might be shock, anger, depression, and acceptance.
What's Next?
When someone has altered their life—maybe quit their job, moved to another state, or made some other significant change—in order to provide care for an elder loved one or spouse, it can be challenging to know how to put one foot in front of the other after mourning their loss.
Experts recommend that former caregivers take time to get used to the changes that might follow—whether it's no longer seeing a nursing staff, removing hospital equipment from the home or no longer being needed around the clock.
The woman who lost her sister found a new calling in life. "I also know that I can now be a caregiver for someone else. If I can do what I had to do with my sister, strangers should be no problem."
There is a new path post-caregiving and loss of a loved one, but each person will have their own timeframe and process. The Hospice Foundation of America has a guide for people who have been family caregivers and experienced loss.