Personalized Connected Care
In-home Elderly Care Services in Ashburn, Virginia
At Homewatch CareGivers, we recognize the vital role of offering premium in-home care services for seniors that are adapted to meet the distinctive needs of our clients. Our devoted team of caregivers is passionate about elevating the life quality for the elderly and individuals grappling with chronic illnesses in Ashburn, Virginia.
Why Opt for Homewatch CareGivers?
Unmatched Quality of Care: At Homewatch CareGivers, we are committed to more than just delivering high-quality in-home elder care; we are dedicated to improving the holistic well-being of our clients in Ashburn. Our strategy encompasses not only physical health, but also the emotional and social dimensions of our clients' lives. We craft personalized in-home care plans for every individual we serve, ensuring they receive the precise level of care and support they require.
Skilled and Empathetic Team: Our prestige is anchored in our team of devoted caregivers. Each team member is meticulously chosen following stringent screening and background verifications. They are continually trained to be abreast of the newest care methodologies. In 2022, our relentless pursuit of excellence was acknowledged when we were listed as one of the Top 100 Home Care agencies in North America by Home Care Pulse, affirming our steadfast commitment to offering the finest care.
Customized Services Aligned with Individual Preferences: We acknowledge the uniqueness of every individual, and their in-home care needs are no different. We invest time in comprehending the specific demands and preferences of each client. Be it 24-hour in-home care, companion care, or specialized in-home care for chronic illnesses, we tailor our services to harmonize seamlessly with our clients' lifestyles and health statuses.
Trustworthiness and Dependability: Families in Ashburn trust us with the welfare of their dear ones, and we honor this trust with utmost seriousness. Our clients can be at ease knowing that our caregivers are not only very skilled, but also incredibly compassionate individuals who treat every patient as family. With Homewatch CareGivers, you are not merely getting a service; you are securing a dependable ally in-home care.
Our Primary Services Include:
24-Hour Care: Our 24-hour in-home care services guarantee that your loved ones are always accompanied and have assistance readily available. This uninterrupted in-home care service is perfect for individuals needing constant supervision or those who have frequent nocturnal disturbances. Rest easy knowing that help is always at hand in Ashburn, day or night, with our committed caregivers.
Companion Care: Isolation can adversely affect one's health. Our companion care service emphasizes fostering sincere, warm relationships. Our caregivers extend beyond mere assistance with daily chores; they offer friendship, engage in enriching conversations, share in beloved hobbies, and accompany clients on excursions, fulfilling their social and emotional needs.
Chronic Conditions Care: Coping with a chronic condition can be demanding. Our specialized in-home care for individuals with enduring health issues, such as diabetes, heart ailments, or arthritis, aims to control and ease symptoms, promising an enhanced life quality. Our caregivers are equipped to oversee health statuses, manage medications, and conduct therapeutic exercises, all while providing emotional backing.
Dementia Care: Facing dementia can be an intimidating experience for both the individual and their family. Our specialized in-home dementia care focuses on establishing a secure, recognizable, and nurturing setting for seniors with memory difficulties. Our caregivers are adept in strategies to navigate the unique challenges presented by dementia, safeguarding the safety, well-being, and comfort of our patients.
Elder Care: As individuals age, daily tasks can become taxing. Our in-home elder care services aim to aid seniors in their daily activities, ensuring they can retain their independence and safety within their homes. From reminders for medication to help with mobility, our caregivers are present to guarantee our elders enjoy their golden years with respect and elegance.
Service Areas:
We are proud to serve a variety of locations in and around Ashburn, including Brambleton, Broadlands, Sterling, Leesburg, Potomac Falls and Stone Springs. If you are seeking "in-home elder care services near me," your search concludes here - our team of caregiving specialists is at your service, ready to assist you.
Ready to discover the unique approach of Homewatch CareGivers? Get in touch with us today at (703) 215-2230 to schedule a consultation.
Homewatch CareGivers of Sterling
703-215-2230
Schedule a Consult Call

Providing the highest quality of care at an affordable cost. Our local caregivers are trained, background-checked, and insured. This is our promise to you.
About Our Caregivers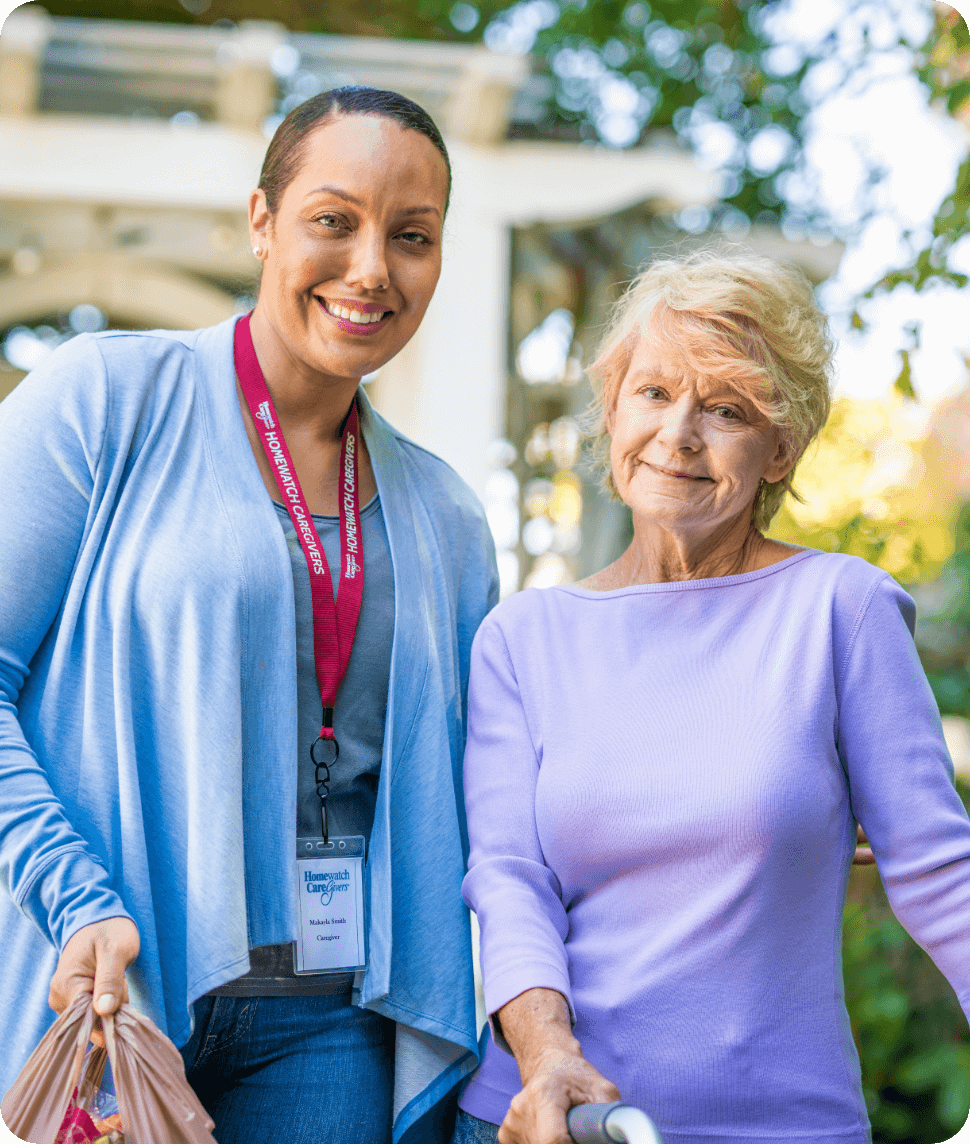 We conduct annual background checks on all local caregivers.

We provide at least 12 hours annually of employee training.

We perform in-person Quality Assurance visits at least every 90 days.

We conduct satisfaction surveys to monitor the level of care provided.

Ready to Speak with an Expert?
Homewatch CareGivers is Here to Help.