Homewatch CareGivers University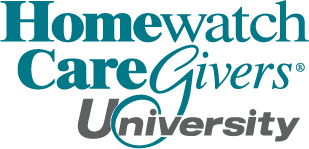 Homewatch CareGivers University is a professionally-developed platform designed to train, inform and support employees, as well as family members of clients. Learners have access to online specialized training such as dementia care, behavioral health, caring for those living with chronic conditions, and instruction on caring for those living with developmental disabilities, just to name a few categories.
Our standard is that employees providing caregiving services receive a minimum of 12 hours of continuing education annually.
Many have concerns about safety precautions, particularly right now, and that's why there are courses such as "Infection Control in the Home," "Basic Cleaning in the Home," and "Orientation for Home-Based Services: Safety and Compliance" to name a few.
Please click here to request access to our complimentary online resources.
Click here to learn more about why courses are required and what else is on offer for family caregivers.