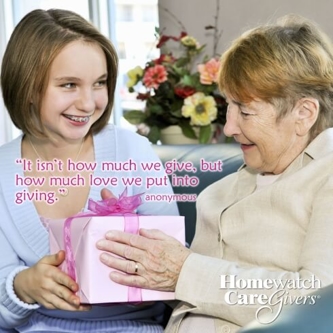 Oh dear. It's that time of year again—already! For those who didn't do their shopping six months ago, it's hard to know what to get that saintly person who does the lion's share of the family caregiving for a loved one or it feels impossible to find a gift for a loved one who says there is nothing they want or need.
Here are a few ideas that can be budget-friendly, meaningful and leave you glowing with the good feeling of giving a gift to a family caregiver that is cherished. Remember, not all gifts need to be wrapped. What matters is that they come from the heart.
For those family members who are receiving care from you:
Listen—and record. In the day-to-day activities, many people just check off the task list and don't stop to truly hear what someone is saying. Although the holidays are busy, set aside time to talk—and listen. You can plan to record their stories (with their permission) and then have an expert turn those stories into a book that can be given as a gift to the rest of the family.
Bake a treat. Is there a special recipe that your Mom or Grandpa loved that they don't make anymore? Surprise them by keeping the tradition alive. Better yet, plan a day to spend in the kitchen baking or cooking this dish together—even if that means they are just giving you tips while you measure the ingredients and mix it up.
A gadget. Throw out the notion that technology is just for young people. New gadgets that make life at home easier are most welcome gifts. Consider a phone with large buttons or an iPad where they can play games, watch videos, and create schedules.
Monthly food subscription. Worried about healthy eating? Send a monthly fruit basket so they get a nutritious gift throughout the year.
For those family members who are giving care:
Listen. Even the person who appears to be successfully juggling it all might be keeping a lid on a variety of emotions throughout each day. When you engage them in a conversation during a holiday gathering, consciously hear what they are saying rather than listen just to reply.
Books. Turn it into an outing to a local bookstore if you can find an author doing a book signing and then let them choose a book. This is a double gift of time together and a treasured token of your appreciation for all that they do. Many books on caregiving can be practical ("How to Care for Aging Parents: A One-Stop Resource for All Your Medical, Financial, Housing, and Emotional Issues" by Virginia Morris) or humorously bittersweet ("Can't We Talk About Something More Pleasant?" by Roz Chast or "Measure of the Heart" by Mary Ellen Geist).
Movies. So this caregiver isn't much of a reader. More and more, movies are addressing caregiving. "Ask Alice" with Julianne Moore, "The Savages" with Laura Linney" and "The Notebook" all have characters who are caring for a loved one after a diagnosis of Alzheimer's disease.
Respite care. Yes, you are giving your time. A Caregiving.com survey found that 45% of respondents "do not have any help from other family members" and 61% have less than 8 hours a week to themselves." Also, 69% of respondents do not have a trained back up" and 48% do not have anyone who could be a back up. Caregivers need to take care of themselves so that they can continue in their role as the primary caregiver. If you can swing it, put them up in a local hotel for a night while you fill their shoes on the home front. Or offer to pay, or help pay, for professional services that can give them a break more often.
Simply being together makes for a wonderful gift any time of year.