Personalized Connected Care
Our Story
Homewatch CareGivers of Irving
At Homewatch CareGivers of Irving, we look forward to getting to know your stories and what brought you to us. It is only fair then that we share who we are with you.
I am Dinesh Fernando, the owner of Homewatch CareGivers serving Irving. I moved to the U.S. 20 plus years ago, leaving my family, including my parents and grandparents, behind to pursue a career in Engineering. At the start of this transition, my life was new and very exciting.
I was very close to my grandmother and talked to her daily over the phone. As the years went by, she was diagnosed with Alzheimer's disease. I personally experienced how quickly life could change. It took me a while to learn what was happening to her. Growing up my grandmother, who lived right across the street from us, would visit daily and she would always spoil us with her baking and we loved listening to her stories. As the years went by, each time I called her I gradually noticed she was getting forgetful and was starting to repeat stories and kept asking the same questions over and over. I thought this was normal for anyone in their seventies. Then one day I had a phone call from mum and she said she had gone shopping with grandma and grandma forgot she went with her and returned home without mum. Then there were concerns over her driving as she was gradually starting to become an unsafe driver. That was when we took her to the doctors and after multiple tests she was diagnosed with Alzheimer's disease. We realized we had to do something for grandma, but everything about the process was new to us. Personally, for me the fact that I lived so far away from her wasn't easy. I wanted to take care of her myself but by then I had a family of my own and my own life got in the way. Grandma was lucky as she had her kids close to her who were able to care for her however, it would have been better if there were experienced people caring for her. There were times that we needed someone we trusted to care for her so the kids could take a break.
This got me thinking and I started to worry about my own parents as they were getting older and weren't so lucky to have their kids close by.
A few years later, the next explosion happened in our family- dad had a heart attack and had heart surgery the whole burden of caring for him fell on mum who was physically not capable of managing this task on her own. Us kids felt hopeless. We had our own families, careers that stopped us from moving close to them. We needed someone who we could trust that could care for dad. Someone who would feel safe and comfortable with too. On my way back from visiting dad, I couldn't stop thinking about how many other people must go through this.
Over time I had seen so many friends, coworkers going through the same plight of not been able to care for a loved one or not having someone they trust to care for them. I understood the stress they felt. This was the drive behind my passion to care for others. I wanted to help others feel the peace of knowing their loved ones are cared for and in good hands with people they could trust and rely on.
This was my main drive behind partnering with Homewatch CareGivers. We take pride in our work so we are very careful in our selection of staff and we ensure all staff are thoroughly trained and matched to client needs. Throughout the process my team and I are guided by the significance of care, compassion, and empathy. We understand each individual is unique in their care needs. We assure you: your loved ones are in good hands and that we will work collaboratively with you in their care.
Providing the highest quality of care at an affordable cost. Our local caregivers are trained, background-checked, and insured. This is our promise to you.
About Our Caregivers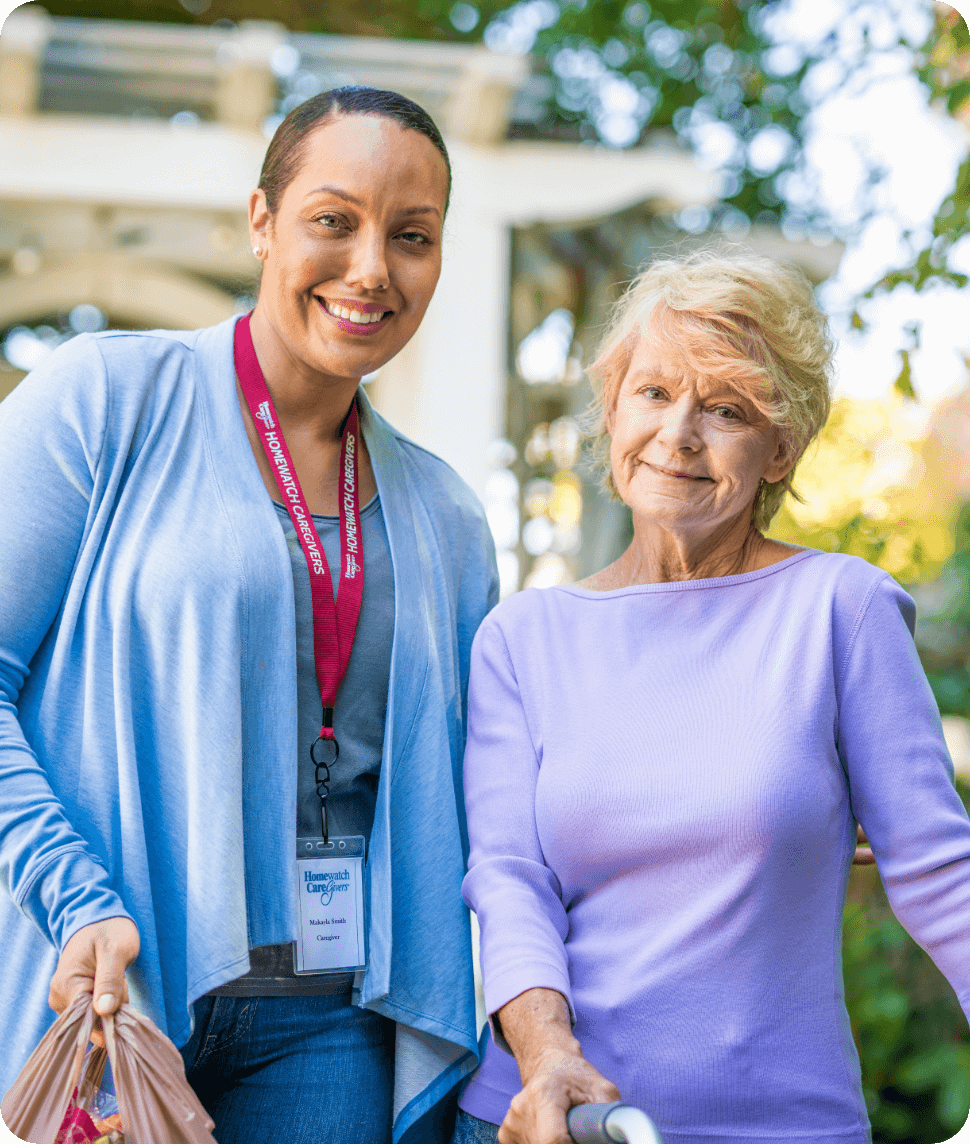 We conduct annual background checks on all local caregivers.

We provide at least 12 hours annually of employee training.

We perform in-person Quality Assurance visits at least every 90 days.

We conduct satisfaction surveys to monitor the level of care provided.

Ready to Speak with an Expert?
Homewatch CareGivers is Here to Help.