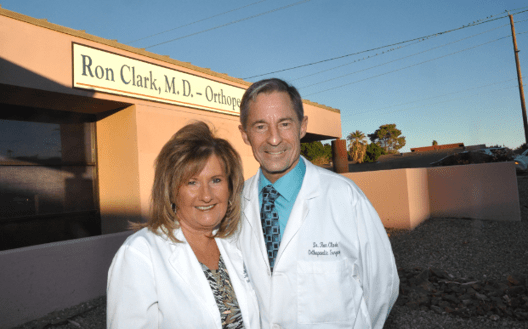 Doctors Ron and Heather Clark teamed up to combine their lifelong experiences as physician and nurse to establish the premier in-home service provider of Yuma County. With the nature of needs to both providers and recipients of care services continuing to evolve, the Clarks appreciate the trust that their patients and clients have given them by receiving services through Homewatch CareGivers of Yuma.
Ron Clark, MD, is an orthopedic surgeon and founder of the Bone and Joint Center of Yuma, PLLC and is an internationally recognized lecturer and scientist with numerous scientific publications, presentations, and honors. He has even invented and patented several medical devices used around the world. For over 10 years he served as an editor and reviewer for one of the world's most cited orthopedic medical journals. As an orthopedic surgeon he has decades of experience caring for and assisting with personal limitations on mobility, whether brought about by falls and broken bones, or the effects of arthritic conditions. He now brings his years of experience and innovation to improve on the ability to care for those with in-home care needs.
N. Heather Clark, RN, DNP (doctor of nursing practice), is a nurse educator who has over thirty years of healthcare experience in various roles from bedside, intensive care, post-anesthesia care, and currently in the education of the next generation of nurses where she is an associate clinical professor at a local nursing college. In 2020 she was honored as the "Teacher of the Year." Heather has a passion for giving guidance for those who want to join the ranks of healthcare providers and looks forward to her role as a consultant and advisor to our caregivers.
Both Heather and Ron have had firsthand experience in assisting their parents who had chronic health issues that needed care in their homes and respite needs for the other parent. Their experience, both as healthcare professionals and as adult children assisting their senior aged parents, has given them a first-hand perspective on how to meet the needs of those with diminished abilities and desire to remain in their own homes with dignity along with a level of independence and safety.
Homewatch CareGivers of Yuma is uniquely organized to provide the most capable and prepared caregivers to those with needs for services in their homes. You can be certain that if you trust our agency to provide care for you or your family member there will be a level of supervision and competency seldom seen in home care services. At Homewatch CareGivers of Yuma, the doctor, is always "in."