Personalized Connected Care
How to Talk About Home Care in West Essex:
The Caldwells, Essex Fells, Roseland, Verona, Fairfield, Cedar Grove, NJ
When your loved one suddenly needs care, following a fall or post-surgery, it can impact the entire family. When your senior parent or beloved spouse is diagnosed with an illness, the family struggles. When there is sudden or even gradual cognitive decline, the family of the loved one is affected, whether they are nearby or far away. In situations like this, you may find yourself asking the following questions:
How do you care for and support your loved ones in The Caldwells in the best way?
Can your mom stay home safely in Roseland?
How much in-home assistance can you provide on your own in Essex Fells?
Where can you find the resources for in-home care for seniors in Verona?
Can quality elder care be arranged in Cedar Grove?
These are all valid questions and concerns when a loved one needs help. All these concerns should be part of important and sensitive discussions for the family to have with their aging family members.
Understanding your Loved One's Needs
Along with finances, dealing with aging is one of the most sensitive topics that family members don't often discuss together. In order for these subjects not to be taboo, it is best to start talking about them well before there is any need. It is an opportunity to better understand the wishes of aging seniors about the lives they would like to have as they grow older. It is a time to share concerns about what will happen when an elderly person's independence is impacted. Starting early with compassionate conversations about wishes for the future can also lead to exploration of options available to your family members, including those you perhaps may never have considered.
These caring conversations should ideally take place in-person and not under duress. Explore the following topics together:
What kind of care would your loved one want?
Do they know others in similar situations?
What appeals or doesn't appeal to them?
Have they given thought to their own aging?
How do they feel in their everyday life?
Are there things that are too difficult for them to do on their own?
Having these conversations can bring you closer, as you show that you care and respect what your loved one wants as they age. You might also experience pushback, which is natural, so starting the conversation and going slowly is preferable. If you are noticing cognitive decline, you should have this conversation as early as possible, so you can best understand what their preferences would be going forward. Engage other family members who can help by joining this conversation about care.
Understanding Senior Care
We have all heard about adult children promising they would never put their parent in a "home," but did they really understand the needs of seniors as they age when they made this promise? And was it really the best decision for their loved one? Knowing which senior services are available nearby and in the local community can help family members avoid crises and chaos, when and if the time for care comes. This is preferable to scrambling at the last minute to find the right services your loved one needs.
Call for a Free Consultation with One of Our Social Workers
At Homewatch CareGivers of South Orange, we have often received calls from frantic children saying, "My dad is being discharged from the hospital this afternoon. He can't come home to an empty place, and I live far away. Or, "My mom fell and I don't think she should be living alone anymore. What can I do?" We pride ourselves on being responsive to these emergency needs, but also welcome families to call for a free consultation, to understand what services are available before a crisis.
Today there are so many options available to seniors as they age, including home care and senior residential facility care. Understanding which services are available to meet the needs of your loved one, and the type of care they prefer, is important and should be taken into consideration.
When your mom or dad is returning home after a hospital or rehabilitation stay, are they able to come home to an empty house, even for a short time? Do they need some help temporarily, even if they are not ready or not interested in moving to a facility? Is the need for care short term and the result of surgery, illness, or a fall, or will the need be ongoing? Is home where your loved one wants to be? Whatever the need, Homewatch CareGivers of South Orange is there to help you with short or long term senior care assistance, and to provide a safe option for your loved one in Essex, Union, Passaic and Morris Counties. Our certified, background checked, insured, and trained home health aides provide compassionate care to seniors in their homes or in residential facilities. They help with many things, including the following:
Personal care (bathing, grooming, dressing)

Safety and fall prevention, transfers, ambulation, practicing PT exercises

Dementia care

Companion care

Errands and homemaking

Hospice support

Medication reminders

Hospital discharge assistance

Respite care

Transportation services
Our caregivers are supervised by a dedicated nurse and social worker who serve as a medical and support care team for the family. With a wide network of related senior resources, Homewatch CareGivers is there to ensure that your loved one lives where they want to be as happily, independently and safely as possible, for as long as possible.
To learn how Homewatch CareGivers of South Orange can keep your senior safe at home, call

(973) 755-0996

.
Homewatch CareGivers of South Orange
973-755-0996
Apply Now

Providing the highest quality of care at an affordable cost. Our local caregivers are trained, background-checked, and insured. This is our promise to you.
About Our Caregivers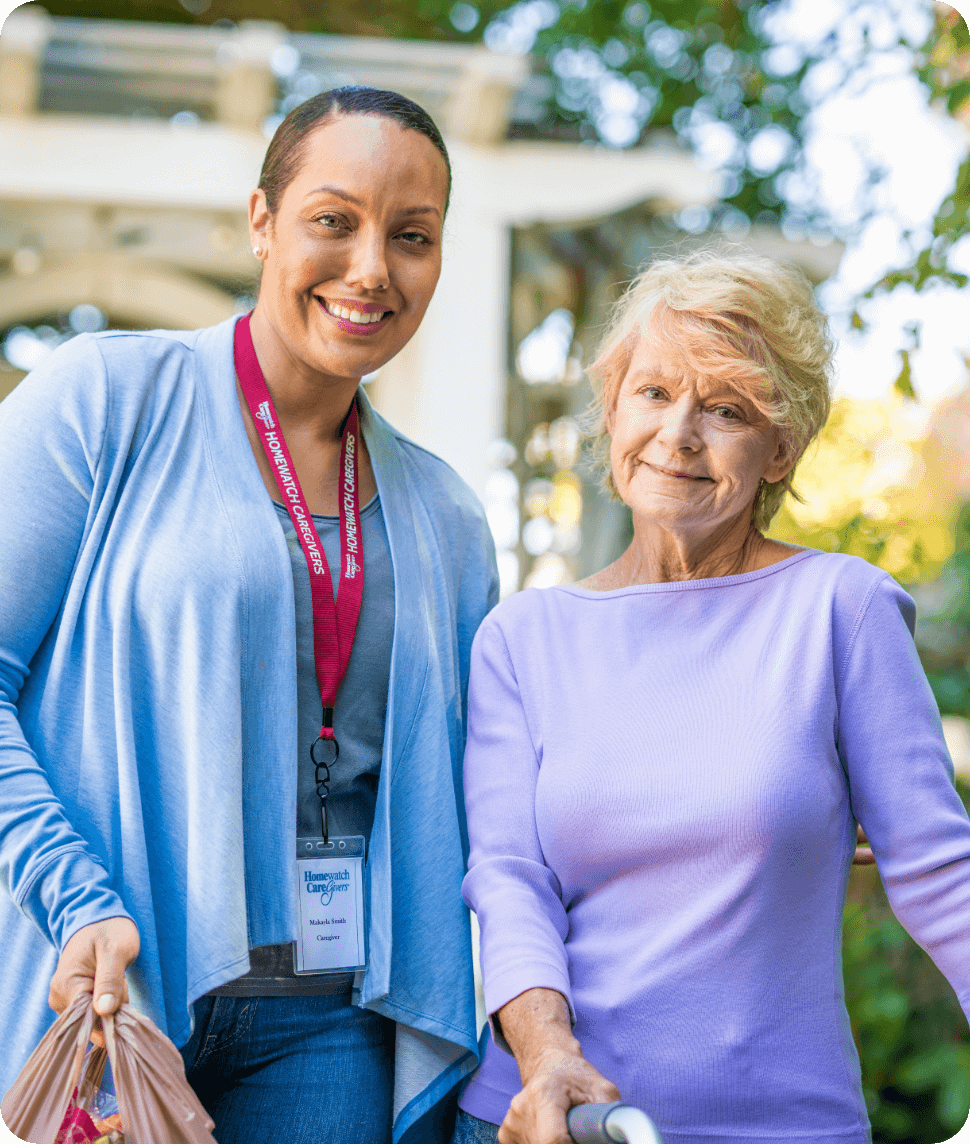 We conduct annual background checks on all local caregivers.

We provide at least 12 hours annually of employee training.

We perform in-person Quality Assurance visits at least every 90 days.

We conduct satisfaction surveys to monitor the level of care provided.

Ready to Speak with an Expert?
Homewatch CareGivers is Here to Help.