Personalized Connected Care
Are You Looking for Home Care for your Mom or Dad in Livingston, NJ?
Homewatch CareGivers of South Orange is here to help.
Homewatch CareGivers provides a personalized care solution that is uniquely designed to help clients stay in their home and maintain independence as long as possible. The care we offer allows clients to age in place in the comfort of their own home while receiving the individualized care they want and need. Homewatch CareGivers' clients also receive personalized care in a variety of local residential facilities. We provide premier in-home care services with our fully vaccinated, boosted, bonded, and trained caregivers, who are supervised by our dedicated nurses and social workers. Our focus is on customized care that preserves dignity, protects independence, and provides peace of mind for the entire family.
Our Homewatch CareGivers staff are trained and supervised to help with:
Safety - Our #1 priority
Meaningful physical, intellectual and social engagement
Promoting independence
Companionship
Personal care - Bathing/hygiene/grooming/dressing
Homemaking - Cooking/assistance with feeding /light housekeeping/errands
Transferring/ambulation/safety support
Medication reminders
And more
To learn more about how Homewatch CareGivers can provide a safe environment for your loved one and peace of mind for your family, call (973)810-0110 for a free consultation with one of our social workers.
Quality Home Care
Our full range of companion care and personal home care services keeps our clients safe at home, where they want to be, or in residential facilities where they live or require rehab services. Quality home care lies in delivering what our clients want as much as providing what they need. Sometimes it's the little things that make the biggest difference. We believe in putting the client's wishes up front, enabling them to maintain a personal lifestyle they choose, within a schedule they prefer, to enhance quality of life.
Elder Care Services for Adults with Cognitive Impairment
Many elderly people experience some level of cognitive decline as they age. However, various forms of dementia (such as Alzheimer's) are not a result of normal aging, but rather, degenerative diseases which affect how a person functions on a daily basis.
Our Certified Home Health Care Aides provide compassionate, personalized dementia care, helping your loved one with activities of daily living (ADLs) and enabling them to stay in the familiarity of their home, where they want to be.
Compassionate Dementia Care
To maintain quality dementia care, Homewatch CareGivers of South Orange's dedicated nurses and social workers are assigned to each client family. This arrangement enables consistent interaction with the same staff who best understand the specific situation and ensure the care plan remains relevant. Our aides also receive ongoing dementia care training, to strengthen their skills and create a positive atmosphere for their clients who are living with dementia.
Along with our compassionate caregivers, you will have a professional team to provide expert support for the client and peace of mind for their family.
Safety Measures for Individuals living with Alzheimer's or other Dementias.
Safety is always a concern when caring for seniors in their homes. Falls are common for the elderly due to diminished balance, reflexes and strength. It is important to help avoid falls leading to serious injury and hospitalization. Removing clutter and adding grab bars in bathrooms and staircases can be helpful. Assessing the general safety of all rooms in the home is important.
There are extra precautions which need to be taken when helping someone living with dementia. Since memory lapses can impact every aspect of daily activities, safety needs to be monitored more often. This is the case in overseeing medications, use of cooking and electrical appliances, and wandering. Cooking should be supervised so the stove is not left on, water is not left running and nothing is placed on electrical appliances which could cause a fire. Eating and drinking (of alcoholic beverages) as the person loses short term memory or confusion of day and night, should be supervised. Another major concern in dementia care is wandering, leaving home and not knowing how to return. Depending on the stage of the illness, there are steps which can be taken such as initially having reminder signs on the door, having alarms on the doors and windows which indicate when someone has opened them (in the later stages), notifying the local police and neighbors about potential wandering, and using a smart watch with tracking capabilities.
Engaging a person living with Alzheimer's disease
Seniors experience loss in so many ways; loss of their friends and family members, moving to a different community or a residential facility, loss of ability to get around when they stop driving, and loss of independence in many ways. For a senior with cognitive impairment, these losses are compounded by slowly losing their ability to comprehend what is happening around them. While there is no cure for Alzheimer's and various other dementias, compassionate, trained aides who know how to maintain a familiar and calm atmosphere can greatly benefit a person experiencing this confusion. Finding activities which encourage involvement, interaction and enjoyment enhances the quality of life for the senior. Knowing how and when to distract or redirect attention in unsettling times is also an important skill to develop when providing dementia care.
Homewatch CareGivers of South Orange is your trusted source for quality in-home care and residential facility care for seniors, (hourly and live-in) serving Essex, Union and parts of Passaic and Morris counties. Call (973)810-0110 for more information.
Homewatch CareGivers of South Orange
973-755-0996
Apply Now

Providing the highest quality of care at an affordable cost. Our local caregivers are trained, background-checked, and insured. This is our promise to you.
About Our Caregivers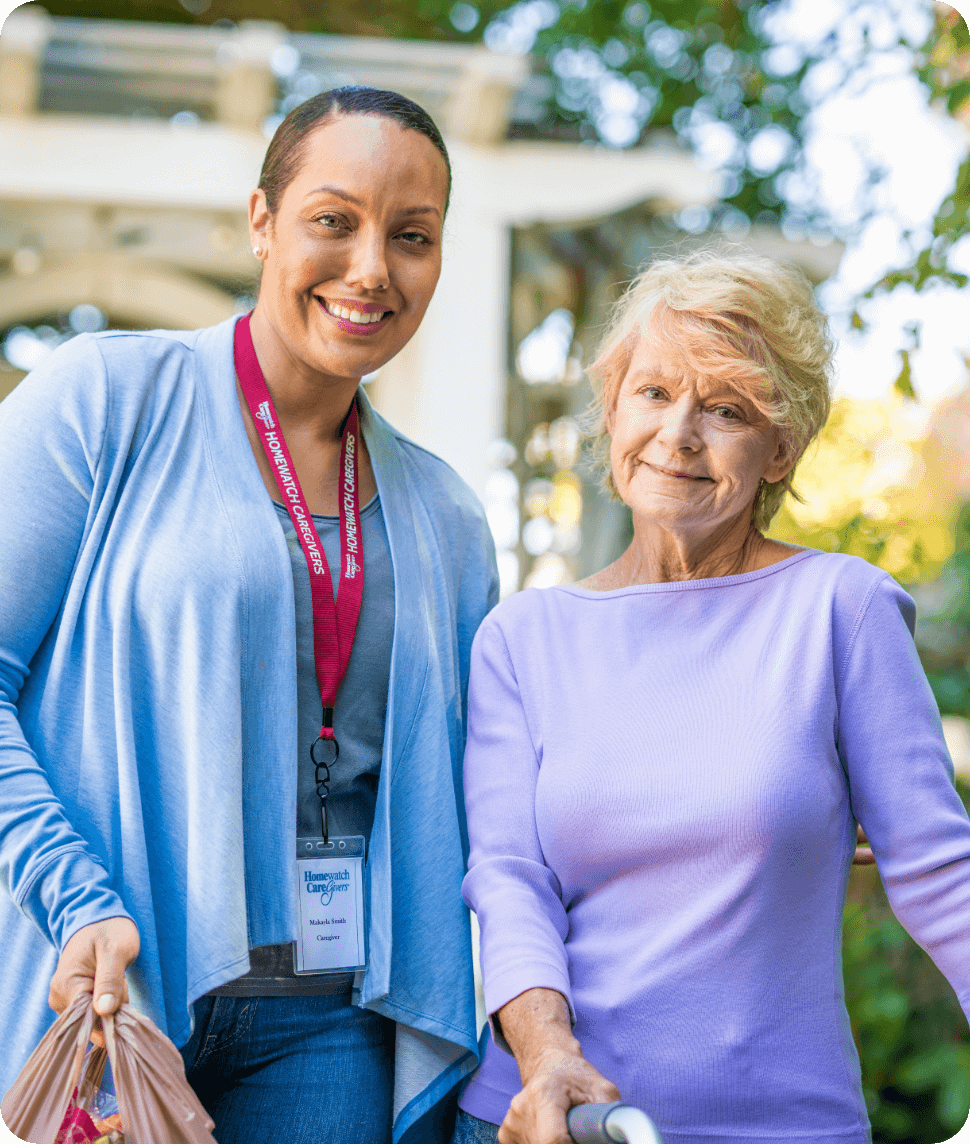 We conduct annual background checks on all local caregivers.

We provide at least 12 hours annually of employee training.

We perform in-person Quality Assurance visits at least every 90 days.

We conduct satisfaction surveys to monitor the level of care provided.

Ready to Speak with an Expert?
Homewatch CareGivers is Here to Help.