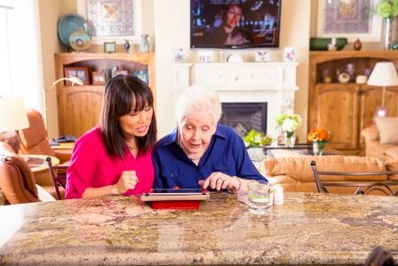 Whether on medication temporarily or long term, there are many opportunities for medicines to be taken incorrectly and cause additional health problems.
"We have had patients readmitted because of miscommunication about their medications," said David Craig, PharmD and Pharmacist Lead for the Moffitt Cancer Center in Tampa, Fla. "It's a big issue as people transition from in patient to outpatient or just transition within the hospital."
Common medications that are taken improperly include many pain medicines. An estimated more than 76 million Americans suffer from pain, according to The Joint Commission, an independent nonprofit organization that accredits and certifies more than 19,000 health care organizations and programs in the United States. As doctors and pharmacists address pain management, crucial information can fall between the cracks for those who are seeking relief and need hospital discharge services.
What Goes Wrong
Among the reasons for medication mismanagement are allergic reactions, incorrect dosage amounts and bad medication interactions. 
When there is a medication mix-up, people might experience insulin shock, breathing difficulties, require rehospitalization or even death.
According to Mr. Craig and other experts, several problems can occur as people try to self-manage their medications:
1. It is easy to become confused over brand names and generic names, leaving patients in the dark as to whether they are taking a double dose of the same medicine or adding a new medicine.
2. Patients might know which medicines they already have at home, but cannot remember how much is left and therefore will be prescribed too much or not enough of a new medicine. This can lead to "double-dipping" with a patient combining two or more pain relievers or other medicines.
3. People may not remember where their medicines are and therefore not be able to provide doctors or pharmacists with an accurate list or history of their medications.
Mr. Craig said that privacy laws prevent the various entities (different doctor specialists) from being able to communicate instantly about a patient's medication history. "There are safety concerns," he said. Mr. Craig along with the Joint Commission recommends that patients create a medication list.
Get Organized
A family caregiver or professional caregiver can provide assistance in cataloguing all of the necessary medicines—including both prescription and over-the-counter drugs—which should also include vitamins, natural remedies and many other supplements. Having a list like this to provide doctors and pharmacists can help ensure that new medications will be safe.
Medication reminders can also be scheduled in advance and help to avoid confusion if there is more than on caregiver or family member responsible for care.
Whatever method is used, taking the time to ask questions about medications and organize them ahead of time can be a life-saving measure in the long run.