Kadian Rowe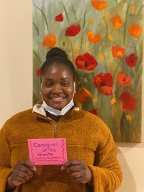 Kadian was very happy to be selected as our hourly caregiver of the month for November 2022. She joined Homewatch CareGivers of South Orange exactly a year ago but came to our agency with years of experience. She became a CHHA in 2012 after her cousin suggested that she try this career path. "It
felt right since I helped care for my grandmother at the end of her life," Kadian said. When she began working as an aide, Kadian was hired by Kessler Institute which she continues to work for. In addition, she worked for another home health care agency for many years. "The amount and timing of the jobs wasn't working out for me, so I began searching for another agency online," she explained. "I found Homewatch CareGivers, called them, went in for an interview, and now here I am today. It feels like home. Everyone at Homewatch CareGivers treats me so nicely. They make me feel so appreciated. They try to work with you and give you what you need. It makes you feel like you just want to stay with them."
Kadian has worked a variety of cases, helping people with dementia, bed-ridden patients, and people who require companionship. Most of her clients have been in Livingston and West Orange. When asked what she thinks about her work, Kadian says, "I try to get to know what my clients like and don't like. Then I try to do things their way, or explain to them what I am doing to keep them safe, so there are no arguments. I talk to my clients, do things with them. I'm very hands-on with the people I work with." Kadian says that her grandmother is her inspiration. "I think about my grandmother and what I would have done for her when I am with my clients." When asked what she would say to her fellow caregivers, Kadian shares, "When you go to your job, be kind, patient, and considerate. Think about how you would want your family cared for and show them kindness and respect. That's what my grandmother always taught me."
Before coming to the US from Jamaica in 2011, Kadian worked as a secretary at a doctor's office. She also helped her mom cutting hair at her salon. Kadian goes back to Jamaica every summer to visit her mother, grandfather and other family members who are still there. She lives in NJ with her two children who she likes to spend time with. Kadian considers herself a homebody and enjoys relaxing, watching Lifetime movies and hanging out with her children.
Sekou Camara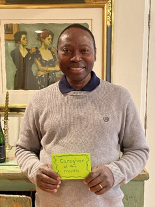 "Thank you, thank you!" was Sekou's response when he learned that he had been selected as caregiver of the month. "That makes me so happy and makes me smile," he said (all with a chuckle). Sekou was born and grew up in a small town in West Africa/Ivory Coast called Biankouma. Sekou lost his father when he was a child, so he lived and worked with his uncle helping with transportation of merchandise. After completing primary school, he moved to the center of the country for secondary school, to try to become a professional soccer player. When that didn't work out, he studied to become a teacher of languages. Sekou speaks French, English, Spanish, and his West African hometown dialect.
In 1991, Sekou was able to get a visa and came to the US. Sekou explained, "I had a friend from Ghana who was a CNA and when he told me about the job, I felt it was right for me. In my country, our parents stay with us and we care for them till their last day. I had the opportunity to help care for my grandparents. Before my youngest grandfather passed, he told me we were OMO, (share the same name), so I took my name Sekou from my grandfather.
After I became a CNA, my first job was at Kessler Institute where I worked for 9 years straight. I was very well trained as a rehab assistant and was promoted within Kessler. Later, I worked privately in upstate New York for a few years while my wife studied to be an LPN and my two daughters went to school." His daughters are now grown; one of them is an accountant and another is working for Loreal.
"I went back to Africa to become a minister and returned to be placed in charge of 5 Baptist churches," Sekou said. "This required too much travel, so I went back to school to be a CHHA. In NYC, I became a Patient Care Technician." Sekou worked privately in NY and Florida for a few years but wanted to come back to be with family. He came to Homewatch CareGivers in December of 2020 after seeing the agency on South Orange Ave. "I tried it and BINGO… The feeling was Welcome Home!" With all his years of employment in the field, Sekou has experience helping patients suffering from strokes, physical disabilities, dementia, accidents and more. He has worked for Homewatch CareGivers clients in Short Hills, Millburn, and South Orange.
When asked about what helps him do his job well, he responded, "First of all I like the work. To perform correctly or nicely you need to love what you are doing, and I love working with the elderly. I appreciate that I am well trained. I promised never to drop a patient and I am proud of my record. My inspiration is the Lord." He explained, "Anytime there was a hard case at Kessler, they called me to come. I prayed for help from the Lord. You must have patience because your client may have something else in mind. Always explain what you are going to do."
In his free time Sekou can always be found learning from the Bible. He continues to preach online, in French, with a group of people. "Though I was born and raised in a Muslim family, I found myself in the Baptist Church and I love being a minister."